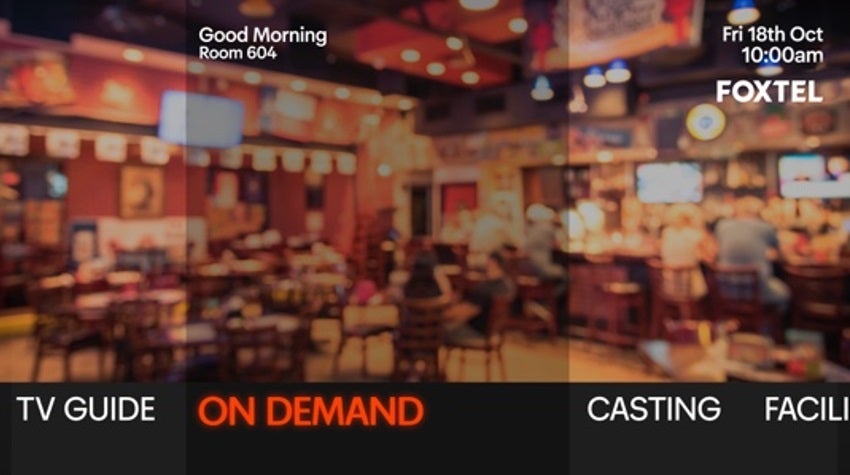 Foxtel has developed the Business iQ, an entertainment and information platform, specifically for the Australian mining and resources industry. It provides all the world-class content that Foxtel offers for the workforce to enjoy as well as a customisable platform that helps mining companies deliver important information to their workforce.
World-class content
The Business iQ gives workers access to the best entertainment with over 1,000 new and classic movies, over 4,000 episodes of the world's most popular TV series, as well as insightful documentaries and entertainment shows from Australia and across the globe. Workers can also keep up to date with the latest breaking news and cheer on their favourite team with unparalleled coverage of over 50 live sports.
Enable workers to cast their own content
The Business iQ has an integrated Chromecast so workers can easily cast their own streaming apps. This means they can watch their chosen content on the big screen in their room instead of watching it on the smaller screens of their mobile devices.
Customise the platform with site-specific information
The interface of the Business iQ is customisable, enabling operators to upload their branding, imagery and insert additional channels to appear alongside the Foxtel channels. This feature allows the mining company to have a channel containing safety and training videos for example or alternatively health and wellbeing channels. On-screen information can also be added to the interface and the in-built QR code generator enables the mining company to link their mining personnel with external assets such as flight schedules at the local airport or bus timetables. The on-screen messaging service means operators can send messages directly to all users' TV screens to let them know about events that might be happening on-site, or there are some pre-loaded emergency messages that can be activated such as severe weather warnings.
Future-proof technology that's operated remotely
All aspects of the customisable platform can be updated remotely using a self-service online portal. Manage 1 to 10,000+ screens via the online portal and customise services by region, brand, site, area or screen. The portal provides the operating status of every box so any offline boxes can be identified and fixed, often before the user even reports the issue. Updates and feature releases are pushed to all boxes remotely so the technology is constantly evolving, ensuring the product keeps up with global technology trends.
Contact us today to get more information or for a no-obligation demonstration of the Foxtel Business iQ.