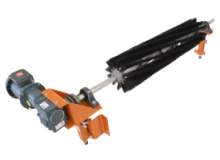 Martin Engineering's brush belt cleaners are designed to remove fine matter and residue from conveyor belts that are ribbed, flighted, grooved, or chevroned. Martin offers a selection of brush belt cleaners so customers can choose one most suitable for their operation and budget.
Martin brush cleaners operate against the direction of belt movement for maximum effect, and they are available with a one or two-horsepower motor:
The Martin brush conveyor belt cleaner for light to medium-duty applications is suitable for belts between 18in and 72in. It performs well on belts with cleats between 3in and 8in in height
The spiral brush conveyor belt cleaner uses 0.038in polypropylene bristles in a spiral wrapped around the hub
The strip brush conveyor belt cleaner uses 12 brush strips to form brush that sheds even moist material that would plug other brushes. Strips are made with 0.040in polypropylene bristles
All brush cleaners are available with polypropylene, oil-tempered wire or nylon brushes and in a variety of bristle diameters.