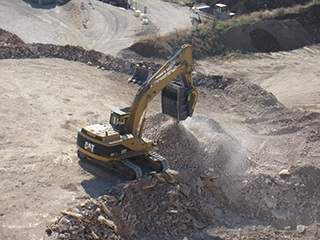 Unique of its kind in size and performance, the BF 150.10 is the largest crusher bucket in the world. Designed for excavators exceeding 154,000lb and ideal for applications in quarry, mining, and general crushing on large job sites, the BF 150.10 crusher bucket yields high results, productivity, and efficiency.
Weighting more than 23,000lb with a load capacity of 3.00 cubic yards, the BF 150.10 crusher bucket is a machine capable of a production rate from 96cy/h to 157cy/h.
With an unmatched bucket opening of 57in (W) x 28in (H) in and an output adjustment from 4.5in to 8in minus, this machinery is essential for primary crushing in quarries and large scale operations.