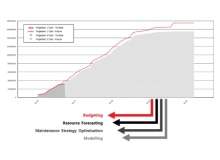 AMT Focus: lifecycle management works in conjunction with your ERP or eAM to deliver strategic asset management capability.
Cost savings and performance improvements result from analysing consolidated and integrated data using AMT's advanced reporting and analytics outputs.
Reduce maintenance costs
AMT's lifecycle cost models provide continuous feedback on areas with the largest impact on cost. Variance can occur in repair cost, frequency, duration and labour hours so it is important to understand and manage them.
Early feedback mechanisms alert managers to high impact issues before they become problems.
Reduces component risk
Component risk is one of the largest contributors to lost production time and maintenance costs, and can be up to seven times more expensive than replacing components before failure.
AMT uses condition-based maintenance to understand the health of components and alert maintenance as components approach failure, and a financial risk measure to determine if there is an economic benefit of extending the component life.
Improve maintenance budget accuracy
AMT´s dynamic lifecycle costing gives an accurate, on-demand budget; updating the work plan with the latest maintenance information.
Functionality overview
Budgeting and forecasting – maintenance budgets show costs, availability, resources and productivity
Long-term planning – identifies bottlenecks, optimises plans in real-time, optimises inventory holding and reduces dead stock
Risk management – identifies and reports equipment and component risks
Maintenance strategy optimisation – continuously reviews lifecycle maintenance strategy
Economic life determination – determines the most economical disposal point for assets
Equipment benchmarking – analyses and benchmarks equipment