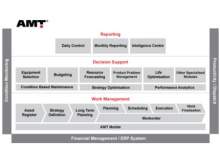 AMT is the leading asset management software for mobile mining equipment. AMT software is used by Caterpillar, Komatsu and Hitachi to manage some of the largest mining equipment fleets in the world, including sites such as KCGM, Curragh and Newman.
The system was developed using the latest technologies to be scalable from a standalone computerised maintenance management system (CMMS) to a fully integrated asset management decision support tool incorporating the latest methodologies.
Medium-term gains include increased workflow efficiencies, improved standardisation and quality of maintenance work performed. Longer-term benefits include risk identification, strategy optimisation and continuous improvement.
The result is more efficient processes and smarter decision making.
Improve mine operation profitability
AMT's dynamic lifecycle costing engine helps to understand future equipment cost and performance. This methodology results in more efficient use of resources, reduced maintenance expenditure and accurate cashflow forecasts; this contributes to reduced costs, increased productivity and improved profitability.
Control capital investment
With AMT's lifecycle modelling capability, you can make informed asset purchase decisions by understanding the drivers of asset cost and performance before you buy.
AMT equipment reporting and analysis will assist you to reduce the demand on capital by optimising equipment down time and identifying the most economic replacement points for equipment.
Work more efficiently
Using a structured maintenance workflow management process, AMT helps your entire maintenance team to work more efficiently. Reported benefits include increasing the ratio of planned to unplanned work, more efficient use of resources, reduced rework through improved quality and control of backlogs.