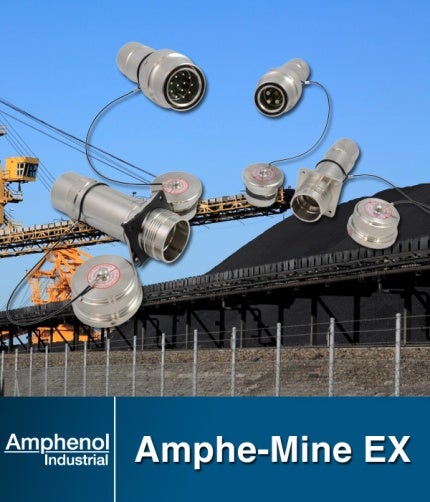 The Amphe-Mine EX series is a hybrid form of the parent Star-Line product line.
The series holds many certifications such as ATEX, IECEx, AEx, Canadian EX and GoST-R. In addition to these hazardous area classifications, Amphenol has added Australian Group I Mining approval. This new certification is through TUV Rheinland and meets the IECEx listing for Group I applications in Australia.
Features and benefits
Underground mining explosive proof design
Hazardous area, environmental connector IP68-8
Large coupling sleeve, secured with captive set screws
Double lead threaded coupling system
Rated for use up to 1,000VAC
With EEx d cable glands
Vast family of inserts, for power, signal and mixed applications
Five different shelf sizes with a number of insert combinations
18, 16, 12, 10, 8, 4, 1/0, 4/0 AWG / 350, 500, 535, 646 and 777 MCM
Extensive array of hardware and strain relief options
RADSOK® with a current rating up to 1,135 amps
The modern mining industry requires vast supplies of electricity to meet the demands of production...