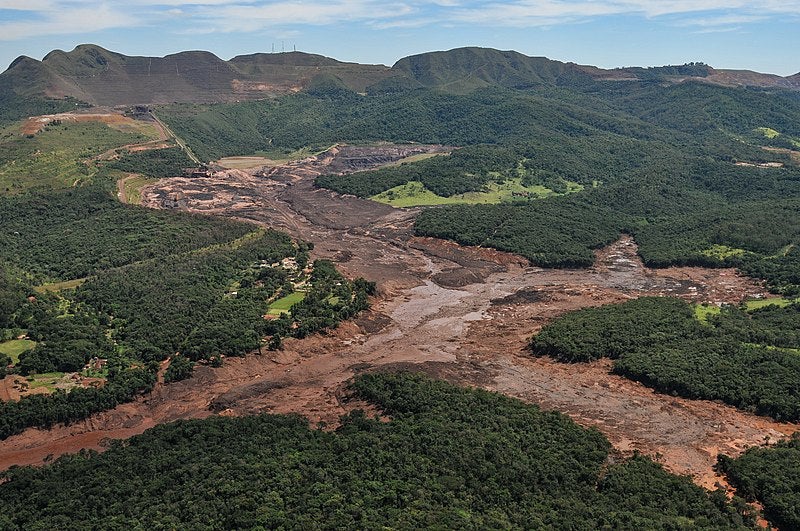 At a hearing held in a Brazilian court last week, Vale clarified that emergency payments offered to those affected by the collapse of a dam at its Córrego do Feijão iron mine will not be deducted from a larger pool of funds set aside for indemnity payments.
The announcement will reassure those affected by one of Brazil's greatest environmental disasters, the collapse of a tailings dam that has killed 217 people and left a further 84 missing. In the wake of the disaster, Vale promised to pay up to $26,878 to each family affected by the disaster, and continue to pay a further $38m to the nearby town of Brumadinho in mining royalties, financial obligations that contributed to expected losses of around $1.4bn.
However, in March the company announced a separate series of emergency payments for those in Brumadinho, with each adult eligible to receive a year's worth of wages at Brazil's minimum wage. Vale also pledged to pay half of this fee for each adolescent and a quarter of the total for every child.
More than 3,000 people have applied for these emergency payments, and Vale has now guaranteed that those affected will receive both the emergency and indemnity payments.
"Vale is still receiving registrations for the emergency indemnification payments for residents of Brumadinho and municipalities within a 1km radius of the Paraopeba riverbed, from Brumadinho to the city of Pompéu, at the Retiro de Baixo dam," Vale said in a statement.
"It has also been agreed that the affected people will receive support from an independent technical consultancy firm to negotiate their indemnification individually."
The company did announce that the emergency payments would be offset against the final compensation offered for "social and economic damages", which it will calculate once the missing persons have been found, and all of the emergency payments have been processed.
The court also ruled that two medical groups, the Fundação Ezequiel Dias and the Fundação Oswaldo Cruz will conduct tests on all Brumadinho residents, and those living along the Paraopeba River, to monitor and defend against the spread of yellow fever. A new water supply system for the city of Pará de Minas was also agreed upon at the hearing.
The news follows an investigation by a group of independent auditors into Vale's dams, which found a significant minority of the company's projects to be unsafe.  The investigators refused to extend the safety qualifications at 17 of the 91 projects assessed.