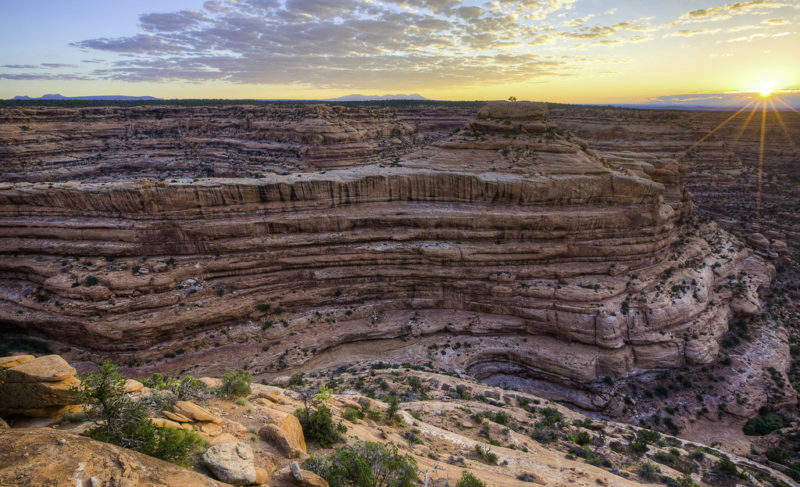 The US Government is pushing ahead with its plans to open up land formerly belonging to the Bears Ears and Grand Staircase-Escalante national monuments to mining companies, despite lawsuits filed against the Trump administration by environmental groups.
US President Donald Trump rolled back the amount of protected land at the two monuments, in the state of Utah, from 1.35 million acres during the Obama administration to roughly 200,000 acres in December 2017, claiming that a much smaller portion of the land contained 'objects of historical and scientific interest' than was originally declared exempt from mining projects.
Trump proclaimed that "the boundaries of the Bears Ears National Monument are hereby modified and reduced to those lands and interests in land owned or controlled by the Federal Government within the boundaries described on the accompanying map," in a statement in December. "These reserved Federal lands and interests in lands cumulatively encompass approximately 201,876 acres. The boundaries described on the accompanying map are confined to the smallest area compatible with the proper care and management of the objects to be protected."
The Department of the Interior's Bureau of Land Management has since invited members of the public, including private companies, to submit proposals for how the land will be used before 15 November. The draft management plan for the Grand Staircase-Escalante monument includes a report that highlights deposits of coal, oil, gas and other resources under the monument; environmental groups fear that private mining companies will be given free rein to disrupt the lands.
A total of 17 groups have launched legal action against the government, claiming the president's decree is illegal and runs contrary to popular opinion. The Bears Ears monument in particular has ties to Native American culture – five groups with historic ties to the monument, Navajo, Ute, Utah Mountain Ute, Hopi and Zuni, have sued the government independently of the environmental groups – which many have accused the government of ignoring. California-based outdoor apparel company Patagonia is one of the companies opposing the project, having filed a lawsuit against the government last December.
"The administration's unlawful actions betray our shared responsibility to protect iconic places for future generations and represent the largest elimination of protected land in American history," said Patagonia CEO and president Rose Marcario. "We've fought to protect these places since we were founded, and now we'll continue that fight in the courts."
While reducing the area of protected land in the US is not unheard of, taking land from sites that were recently granted protection has raised concern among environmental groups. Grand Staircase-Escalante was declared a national monument in 1996 by the Clinton administration, and Bear Ears was only granted protected status in 2016 by Barack Obama, raising fears that Trump's policies are reactionary.The