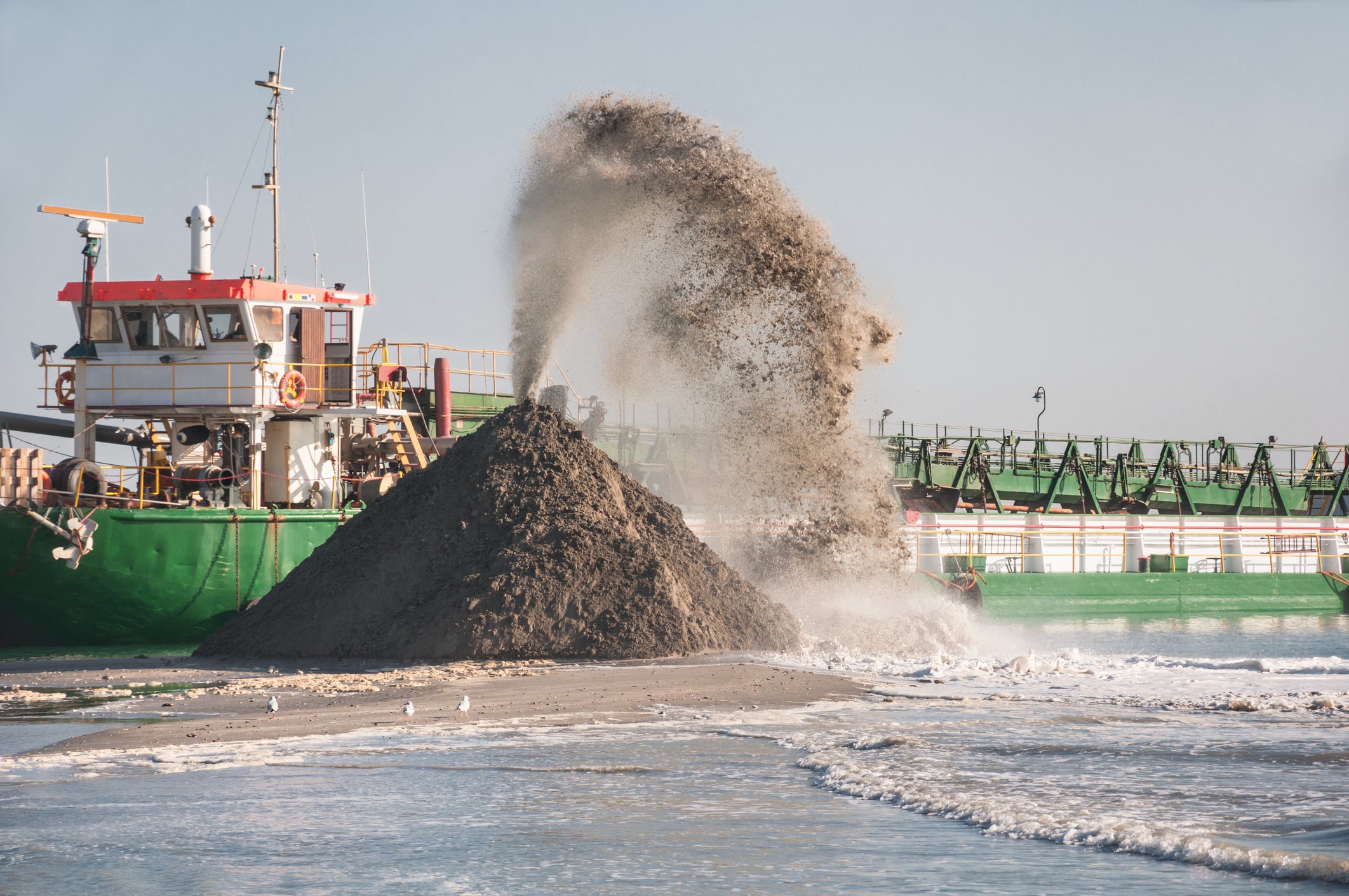 Around six billion tonnes of sand are dredged from the world's ocean floor every year, according to new data from the UN.
According to the data published by the Centre for Analytics within the UN Environment Programme (UNEP), sand is the most exploited natural resource globally after water. Sand is used to produce concrete, glass and technology such as solar panels.
The Marine Sand Watch data shows that the rate of dredging is growing and approaching the natural replenishment rate of 10–16 billion tonnes. 
The group estimates that around 50 billion tonnes of sand and gravel are used across the world annually, with six billion tonnes coming from the world's oceans and seas. 
Sand dredging can have significant impacts on biodiversity and coastal communities. In the face of rising sea levels and extreme weather such as storms, coastal communities will rely on sand to build coastal defences.  
Sufficient sand levels also support the offshore energy industry, including the construction of wind and wave turbines, according to the UNEP.
"The scale of environmental impacts of shallow sea mining activities and dredging is alarming, including biodiversity, water turbidity and noise impacts on marine mammals," said Pascal Peduzzi, director of GRID-Geneva, a partnership between the UNEP, the Swiss Federal Office for the Environment and the University of Geneva. 
"This data signals the urgent need for better management of marine sand resources and to reduce the impacts of shallow sea mining," he added.
The UNEP has called on the sand mining industry to consider sand a "strategic material" and to "engage in talks on how to improve dredging standards around the world". It also recommended that sand dredging be banned in certain areas of protected coastline.
Researchers found that in certain areas, sand dredging vessels act as a kind of vacuum cleaner, dredging sand along with numerous microorganisms that fish feed on. They also concluded that the South China Sea, the North Sea and the US East Coast are among the areas where the most dredging has occurred.