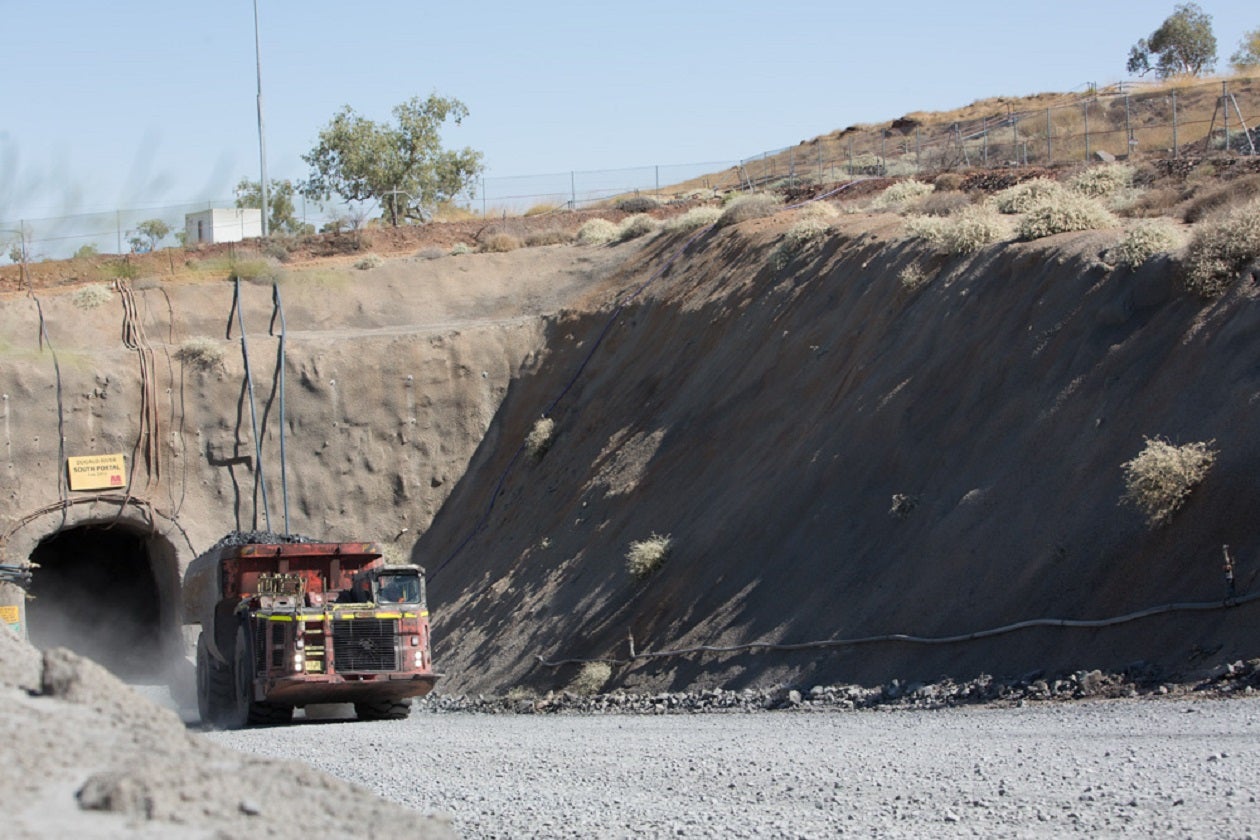 Two miners at MMG's Dugald River underground mine went missing on Wednesday afternoon, local time, after ground gave way into an ore extraction hole.
ABC News reports that the men were operating a utility vehicle that fell down a slope into a deep extraction hole. A drilling rig is said to have fallen into the hole first, with the person operating it escaping to safety. The ground then gave way beneath the two missing miners' vehicle, causing them to fall 25m down the hole.
Drones are currently being used to search for the men remotely. Both are contracted by mining services provider Barminco, which runs operations at the Dugald River site.
Mine owner MMG told ABC that there is no major structural damage to the mine, which produces mostly zinc concentrate.
The company said in a statement that "two Barminco employees working at MMG's Dugald River mine in Queensland were this morning involved in an incident and currently remain unaccounted-for.
"The site's emergency response has been activated and is working closely with Barminco and authorities to assist in search and rescue efforts. Operations at Dugald River have been halted while the search is underway. We have extended all available resources and support to Barminco and the Dugald River mine."
Barminco said in a statement that "the site emergency response team has been activated and Barminco is working with MMG and relevant authorities", adding that "while the situation is still evolving, the team is also focused on providing support to family members and colleagues".
The Queensland ambulance service arrived at the site at 2:30pm AEST, according to ABC.
The Dugald mine is owned wholly by MMG and employs approximately 500 people, including local residents and contracted workers.
In a tweet today Queensland Resources Minister Scott Stewart said: "Right now we are hoping for the best outcome for the two missing workers and Dugald River mine. Emergency services are responding and mine safety inspectors are expected on the site shortly." He added that his "major concern is the welfare of these workers".
In August 2021, a bus transporting contract workers at the MMG Las Bambas copper mine in the Peruvian Andes plunged off the side of a cliff while driving a dangerous route, killing 16 miners.
In 2022, mine collapses caused several mass casualty disasters across the world, although none of these occurred in Australia.
Edit (16/02/23):
Barminco's parent company Perenti Ltd said on Thursday that the two missing miners had been found dead at the mine site.
Rescuers confirmed that Trevor Davis, 36, and Dylan Langridge, 33, were fatally injured after falling approximately 15m into an extraction hole within a previously backfilled stope.
Managing Director and CEO of Perenti Mark Norwell said in a statement: "This is a devastating outcome and I want to extend my deepest sympathies and condolences to the families, friends, colleagues and loved ones of Trevor and Dylan, both of whom should have come home safely from work yesterday."
Perenti has said a "comprehensive investigation" will be completed to assess the incident.