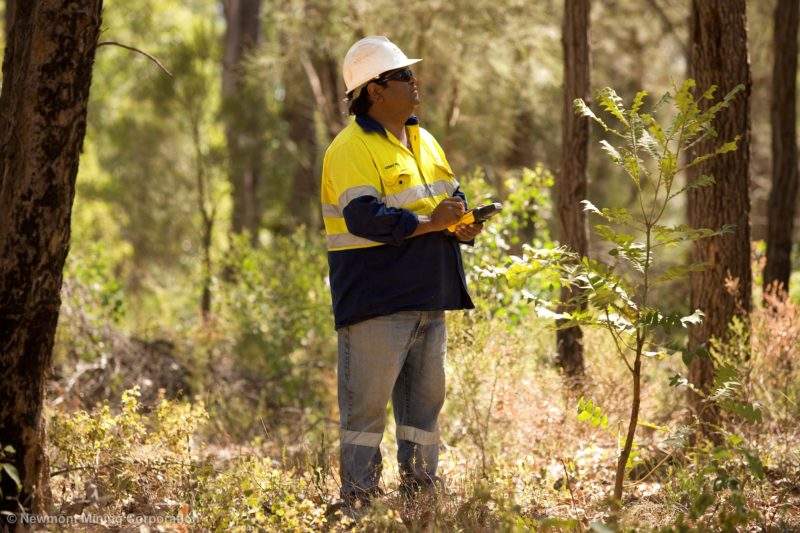 One of the five pillars of the economy described in 2013 by then-Prime Minister Tony Abbott, mining contributes 8.5% to the country's total GDP, yet has also been the driving force behind its dramatic increase in carbon dioxide production, from 88 million tonnes in 1960 to 361 million tonnes in 2014. Here, we look at ten sustainability projects from across Australia that are working to reduce the environmental impact of this integral sector.
Cleaning stagnant mine water with Virtual Curtain
Re-opening mines and pits can be challenging due to the presence of polluted stagnant water in abandoned mines which have flooded. Australia-based company Virtual Curtain has developed a clean-up solution under the same name, using a process that purifies water by exposing it to the mineral hydrotalcite. The mineral "acts as a sponge for a range of contaminants", said Dr Grant Douglas who invented the system, and can instantaneously remove impurities from mine wastewater while only producing "a very small amount
of sludge".
As interest in mining has increased, environmental legislation on new mines has tightened up. Processes such as Virtual Curtain could help simultaneously remediate existing sites, while helping Australia's mining industry expand within legislative boundaries.
Virtual Curtain's machinery at the Baal Gammon operation. Credit: Virtual Curtain
Resources 2030 Taskforce
A new taskforce to 'seize the opportunities inherent in global challenges' was created in March this year by Australia's Minister for Resources and Northern Australia Matt Canavan. The group is led by Andrew Cripps, former Queensland Minister for Natural Resources, and will produce a resource statement later this year, which will look at the state of natural resources in Australia and how they can be used sustainably. This will be the first statement of its kind to be presented to the national government since the 1990s.
The Ranger 3 Open Pit in Australia's Northern Territory. Credit: Wikimedia
De Grussa Mine solar power project
The Australian Renewable Energy Agency has partnered with Sandfire Resources and Neoen Australia to build a solar plant at the De Grussa mine, 900km north of Perth. The 10.6MV solar photovoltaic plant will be constructed alongside a 4MV battery storage unit, in a project expected to cost A$21m. Also, the plant will be integrated with the existing 19MW diesel plant, enabling the solar portion to power all of the mine's day-time power needs, which could lead to a gradual increase of renewable energy over diesel power at the operation.
The De Grussa Mine Operation. Credit: Australian Renewable Energy Agency
Lithium Australia's sustainable Sileach process produces lithium
Most lithium is produced by roasting ore, which requires high amounts of energy and produces a significant volume of waste lithium, as high production costs prohibit all of the lithium from being extracted. However, Perth-based Lithium Australia uses a hydrometallurgical process called Sileach, where lithium ores are processed at atmospheric pressures, a process which is much cheaper and easier to complete, and that produces far smaller volumes of waste lithium. The company has signed agreements with Alix Resources to continue to develop the technology, and a processing agreement with MetalsTech, as it aims to grow and commercialise the process.
Lithium Australia's Sileach process can produce lithium cheaper and more easily than conventional methods. Credit: Henri Koskinen
Newmont plants trees to offset carbon emissions
For close to a decade Newmont has operated a carbon offset project, which has planted more than 800,000 mallee tree seedlings in New South Wales and Western Australia. The trees are part of the government's Carbon Farming Initiative, launched in 2011, and conform to the Clean Energy Act as they are predicted to capture 300,000t of carbon over the next 30-50 years. Since the project's implementation, annual carbon dioxide production across Newmont's operations has declined from five million tonnes to 4.69 million tonnes between 2013 and 2017.
Newmont's Boddington Project in Western Australia. Credit: Newmont
Laboratory for Imaging of the Mining Environment develops 'fingerprinting' system
Dr Simit Raval leads the Laboratory for Imaging of the Mining Environment at UNSW Sydney and has deployed his 'ecosystem fingerprinting system' to measure a range of characteristics of local environments in areas affected by mining. Sensors are attached to a drone and flown over sensitive ecosystems, e.g. wetlands above underground mining operations, and measure characteristics such as species composition and structure, and biological, physical and chemical content.
The laboratory also uses a remotely triggered vacuum pump to collect mine water, which is then transported to the drones for analysis. This technology can be used to sample water in real-time and has attracted the attention of Sydney Water.
Dr Simit Raval, leader of the Laboratory for Imaging of the Mining Environment at UNSW Sydney. Credit: UNSW Sydney
Centre for Social Responsibility in Mining educates Anglo American leaders
The Centre for Social Responsibility in Mining, based at the University of Queensland, has delivered its Advanced Sustainability Management Program to leaders of Anglo American for eight consecutive years. The initiative is a collaboration with the Cambridge Program for Sustainability Leadership and aims to teach managers of the importance of social and environmental consequences involved in mining, and 'develop informed, skilled and effective managers' who are able to reduce the environmental impact of operations. Around 200 senior managers have received training as part of the initiative.
The University of Queensland, where the Centre for Social Responsibility in Mining is based. Credit: Wikimedia
MinEx CRC develops safe and sustainable drilling
The Kensington-based MinEx Cooperative Research Centre (MinEx CRC) aims to develop safer and less environmentally destructive drilling techniques. The federal government and mining companies have contributed $200m to the project, which will use in-field sensing and real-time data analytics to guide drilling projects and minimise environmental damage. MinEx CRC will also conduct research into coiled tubing drilling, which can go deeper than conventional drilling and costs roughly one-sixth of other techniques.
The centre will also work on education programmes – it will invest 7% of its funds into securing future skills for the mining industry and will support 50 PhD researchers – to ensure that its technologies continue to be used in the future.
MinEx CRC has already received $200m in funding. Credit: Wikimedia
Rio Tinto solar photovoltaic plant
The Australian-British mining company has installed a 6.7MW solar photovoltaic plant to reduce diesel usage at its bauxite mine near the Queensland town of Weipa. The plant fulfils 20% of Weipa's daytime electricity needs and reduces carbon dioxide emissions by 1,600t per year. Rio Tinto also plans to add an energy storage component that would increase the volume of carbon saved by close to four times. The mine has been producing bauxite since 1963 and now produces more than 30m tonnes of the mineral a year.
Rio Tinto's Weipa operation, which includes a 6.7MW solar photovoltaic plant. Credit: Rio Tinto
Lepidico produces battery-grade lithium from mine waste
Lithium-bearing micas such as lepidolite and zinnwaldite are often left behind in commercial lithium mining operations, but mining company Lepidico has developed a process to extract useful minerals from these deposits.
The L-Max system involves the crushing and heating of these micas in sulphuric acid, producing up to 99.98% pure lithium carbonate that can be used in batteries, and large quantities of potassium sulphate, commonly used as a fertiliser. The simplicity of the process, which uses industry standard equipment and readily available reagents, means it could be implemented at a range of lithium mining operations across Australia.
Lepidoco's L-Max system, which can produce battery-grade lithium from mine waste. Credit: Lepidico