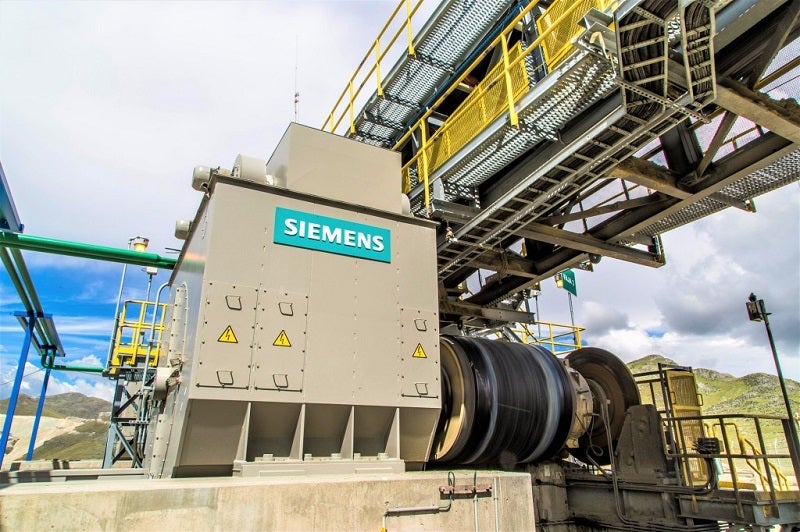 Germany-based thyssenKrupp has employed Siemens' new gearless drive technology for its 4,700m-long and 1,830mm-wide overland conveyor, which will access the Quellaveco mine in Peru.
The Quellaveco mine contains approximately 7.5mt of copper in ore reserves.
Siemens' technology will enable thyssenkrupp's new conveyor system to transport 127,500t of primary crushed ore per day from the pit to the stockpile adjacent to the copper concentrator.
Compared to high-speed a motor and gearboxes combination, the gearless technology offers various benefits.
With the gearless technology, the required belt driving power can be provided with one drive per drive pulley, which means that the number of switchgear enclosure could also be scaled down, thereby saving space.
thyssenkrupp Mining Technologies CEO Torsten Gerlach said: "This order again shows how gearless conveyor systems meet today's demand for ever more efficient mining solutions and increased safety requirements.
"It is the seventh overland conveyor project of this magnitude utilising gearless drives that have been awarded to us since 2010. Together with our partner Siemens, we have managed to become one of the world leaders in bringing this technology to the market."
thyssenkrupp's overland conveyor features Siemens' dual 5.5MW gearless drives. It operates at a design tonnage of nearly 11,000t per hour.
Siemens noted that the automation of the conveyor system and for the complete mine will be realised with the process control system Simatic PCS-7.
In February 2016, ThyssenKrupp Industrial Solutions and Siemens agreed to extend their collaboration in the mining sector for another five years.