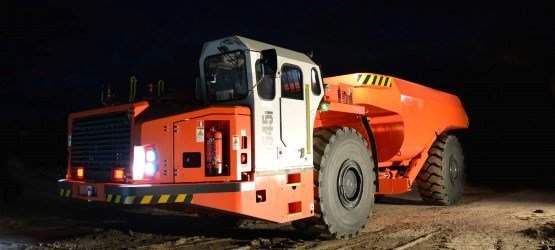 Swedish mining company Sandvik Mining and Rock Technology has introduced the TH545i underground mining truck, which offers greater carrying capacity and more sophisticated artificial intelligence than its predecessor.
The TH545i can carry up to 45t, compared with the TH540's 40t, and the truck's engine power has been increased from 405kW to 450kW, enabling it to travel at up to 30km/h. The new vehicle is also the same size as the older truck, so it can be easily integrated into existing mining operations.
Sandvik vice-president of the product line Wayne Scrivens said, "Sandvik TH545i complements our newly launched i-series truck offering. We follow our strategy, setting the industry standard, by adding intelligence not only to our new products, but also to existing offerings."
The truck features the Sandvik intelligent control system, so the vehicle can collect and report data automatically. It can also be equipped with an AutoMine system, allowing operators to give the vehicle a series of instructions it can complete independently, generating increased productivity, safety and cost efficiency.
This is not Sandvik's first automated technology project, as it follows on from the DD422iE auto drilling vehicle. It also features a 3D scanning system that automatically scans overbreak and underbreak, to help with setting up operations more quickly and improve safety.
The company's emphasis on safety is continued in the TH545i. "From a safety point of view, the new model brings benefits to the maintenance personnel by means of a greatly improved access system to the top of the truck and safety rails – keeping in mind that all daily checks can be performed on the ground level," said Sandvik in a statement.
"Automation compatibility provides the possibility to move equipment operators from underground to other locations, which greatly improves overall safety."