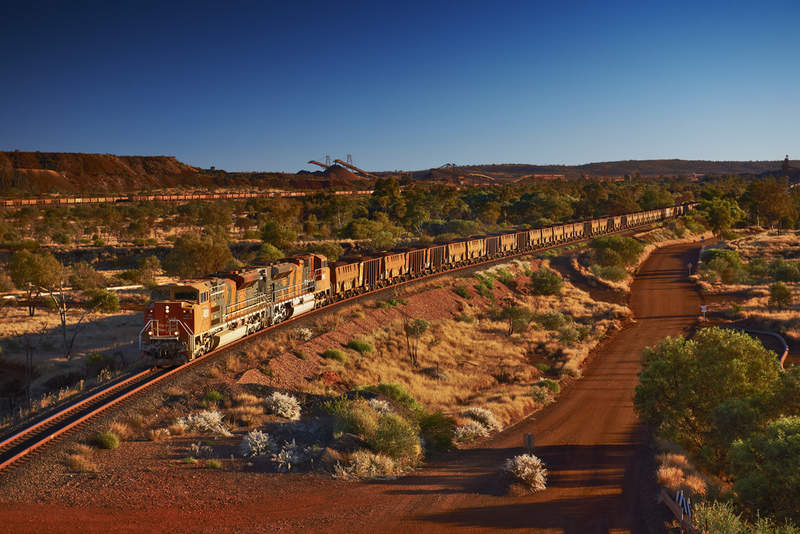 The Australian Transport Safety Bureau (ATSB) has released its preliminary report into last year's derailing of a runaway BHP iron ore train, which suggests that faulty brakes and a misguided maintenance crew were key contributors to the incident.
The incident, which took place last November in the Pilbara region of Western Australia, began when communications between the front of the train and a monitor at its rear were interrupted, prompting the driver to stop the train. The driver, named as Peter Frick by The West Australian, then called for help, and left the train in order to manually active the handbrakes of each of the train's 268 cars. It had been unclear how the train could move with all of these brakes in place.
The new ATSB report claims that the train controller ordered a crew from the nearby Redmont maintenance camp to travel to the stalled train and begin applying the handbrakes from the rear of the train forwards, moving in the opposite direction to Frick with the intention to meet in the middle.
The report finds that this crew mistakenly applied handbrakes to a different train, an empty ore train on a parallel set of tracks that had been stopped as a safety precaution when Frick first called the train controller.
Frick, who had been informed the crew had reached his train and were putting the handbrakes on the rear cars, then reported hearing air venting from the car brakes at the front of the train, before the front cars began to move, leaving him behind. The cars' brakes continued to malfunction, allowing the train to reach speeds of up to 144km/h on the downhill route to the coast, before ultimately being derailed, destroying two trains and 2km of track infrastructure.
However, a BHP spokesperson said that even if the Redmont crew had applied the brakes to the correct train, the brakes on the front cars would still have failed, splitting the train in two. The ATSB's investigation is ongoing, and the bureau will focus predominantly on the mechanical failures that contributed to the incident.
"The ATSB is continuing to gather documentation about the design of train braking systems operated by BHP and the procedures contained in the BHP safety management system for the management of risk and the development and dissemination of safety critical information to rail safety workers," said the ATSB in its report.
The incident has disrupted BHP's iron ore production, with the company's second-quarter output falling 9%, contributing to a $600m decline in profits. The company has also been involved in a protracted dispute with Frick, who was sacked in the wake of the disaster and sought a claim of unfair dismissal in response. Frick and BHP have since agreed on a confidential settlement to end the dispute.