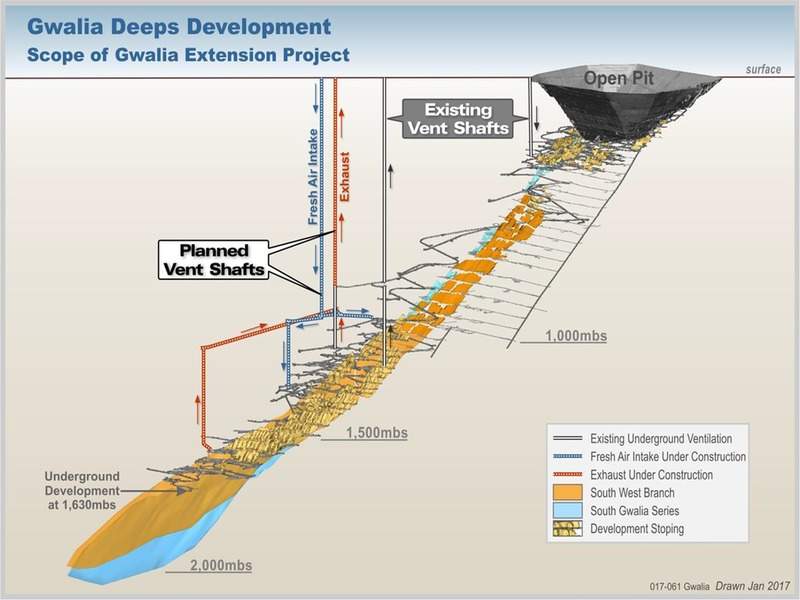 St Barbara's board has approved capital expenditure to the Gwalia Extension Project in Western Australia, which is expected to generate strong financial return and extend mining at the project to around 2,000m below surface (mbs) by 2024.
The extension project carries an overall budget of $100m and is scheduled to be completed within two to three years.
St Barbara MD and CEO Bob Vassie said: "The approval of the Gwalia Extension Project begins an exciting new phase in St Barbara's and the Gwalia mine's history.
"Gwalia started in 1896 and it just keeps going. The project will ensure Gwalia can continue delivering strong, high-margin gold production until at least 2024, with the foundation laid for further extensions to the mine life beyond this, as well as potential for increased production."
Gwalia Extension Project comprises two main components, which are a ventilation upgrade and paste aggregate fill (PAF).
The project provides additional ventilation via raise-bore intake and exhaust ventilation shafts and related power and cooling infrastructure needed to mine between 1,800mbs and 2,000mbs.
To manage the primary execution risk associated with long raise-bore shafts, the design uses shorter, two-stage raise-bore shafts, connected by horizontal development.
The timeframe for completion of the raise-bore shafts will depend on eventual sequencing of the four individual shafts.
"The project will ensure Gwalia can continue delivering strong, high-margin gold production until at least 2024."
PAF is expected to complete within 12 months and includes mixing paste from surface with waste rock crushed underground for stope fill.
Disposing waste underground will enable truck and ventilation resources to perform ore production efficiently, thereby improving production. PAF is also expected to allow for faster stope filling, thereby decreasing cycle times.
In January, the board allocated $6m for project readiness and early works in the March 2017 quarter. Early works at the project include engineering, hiring project staff, contacting vendors and commencing underground works.
Current mining is predominantly between 1,500mbs and 1,540mbs, and this is planned to be extended to 1,940mbs in 2024.
If the current drilling programme identifies sufficient resources below 2,000mbs, the feasibility study will define additional infrastructure that could extend ventilation from 2,000mbs to allow mining to 2,200mbs at a cost of between A$30m and A$35m.
---
Image: Conceptual illustration of scope of Gwalia Extension Project. Photo: courtesy of St Barbara.