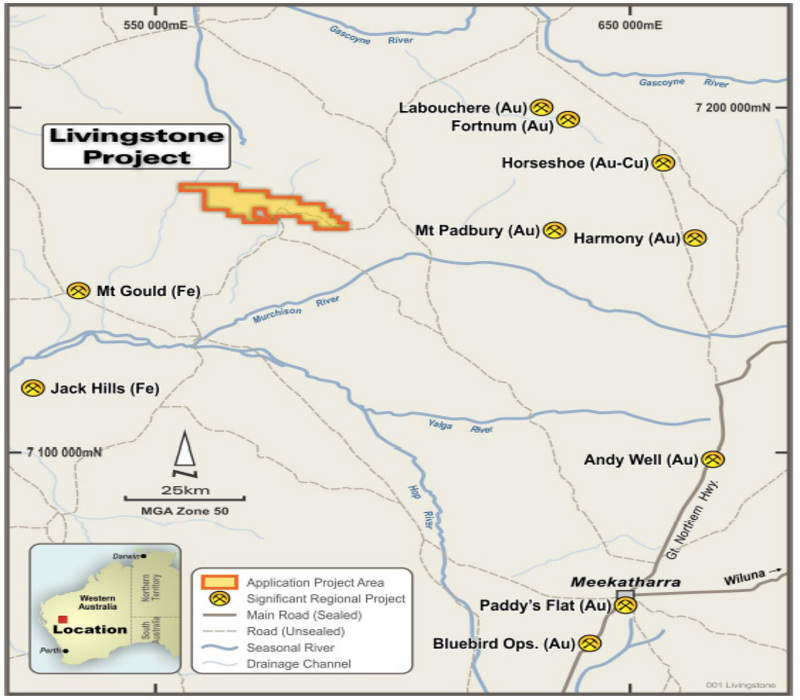 Kingston Resources has signed an option agreement to acquire a 75% interest in Western Australia's Livingstone Gold Project from Trillbar Resources.
The Livingstone Gold Project is located north-west of Meekatharra in Western Australia. It is an advanced exploration project with an existing JORC2004 Inferred mineral resource of 49,900oz and a number of high-grade drilling intersections that indicate excellent potential for additional discoveries.
The agreement gives Kingston (KSN) a 12-month period to explore the project and can be exercised at any time over this period.
"There are some very significant drill hits on a number of prospects along 31km of strike."
Kingston Resources managing director Andrew Corbett said: "The Livingstone agreement represents fantastic value for shareholders, and we intend to demonstrate that value in the short-term by building on the work done at Livingstone by previous explorers.
"There are some very significant drill hits on a number of prospects along 31km of strike, and we will be testing these areas. The Homestead deposit also has high-grade mineralisation at surface, which we intend to look at in the near future."
The agreement involves a consideration of 5.5 million of restricted KSN shares and five million KSN options with a 12-month exploration commitment of $200,000. Upon exercising the option, KSN will need to pay $300,000 in shares.
The Livingstone Gold Project offers a complementary opportunity for Kingston with potential for near-term production and cash flow while the company continues to advance its prospective Mt Cattlin lithium project, alongside exploration on the company's extensive lithium projects in the Bynoe and Arunta regions in the Northern Territory.
---
Image: Location of Livingstone Project. Photo: courtesy of Kingstonresources.com.au.