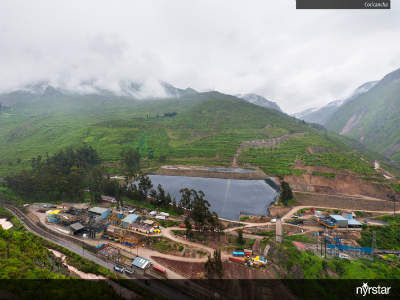 Great Panther Silver has entered an agreement with Nyrstar subsidiaries to acquire the Coricancha mine and adjacent mill complex (CMC).
Coricancha is a poly-metallic mine that primarily produces gold and silver with lead, zinc and copper.
CMC is situated in the central Andes of Peru, nearly 90km from Lima, the capital of the country.
Under the agreement, Great Panther Silver's fully owned subsidiary in Peru will acquire all shares of Nyrstar Coricancha from subsidiaries of Nyrstar.
Coricancha holds 100% interest in the CMC. This share purchase based acquisition is expected to close by the first quarter of 2017, subject to customary conditions and approvals.
Great Panther Silver president and CEO Robert Archer said: "We have built Great Panther by acquiring past producing mines in Mexico and successfully bringing them back into production. We now hope to replicate this success in Peru, starting with the CMC.
"The work we completed in 2015 and 2016 during the option term demonstrated substantial upside and we believe that we have the expertise and discipline to capitalise on that.
"The project has the potential for annual production of approximately three million silver equivalent ounces, which would be a significant contribution to our growth. Importantly, with more than $54m in cash, the company is fully financed to bring the mine back into production."
This polymetallic mine has an operational 600tpd flotation and gold Biox bio-leach plant with ancillary mining infrastructure.
Since August 2013, CMC has been under care and maintenance phase. Comprising more than 3,700ha in the Central Polymetallic Belt, the CMC mine hosts gold-silver-lead-zinc-copper mineralization at its sulphide veins. Nearly 80% of this mineralisation comprises gold and silver by value.
In May 2015, both companies entered an option agreement following which Great Panther conducted extensive exploration and evaluation work on the CMC in these two years.
"The project has the potential for annual production of approximately three million silver equivalent ounces."
The continued negotiations finalised the acquisition this year.
Under the agreement, Great Panther will pay $100,000 on closing with an amount equal to cash on hand in Coricancha at completion. It will also pay an earn-out consideration of $10m.
In addition, Nyrstar will receive 15% of the free cash-flow generated by the mine in the subsequent five years.
Currently, engineering and technical evaluation of CMC is underway. This analysis conducted by Great Panther will help to estimate the cost and timeframe to restart the mine.
Based on previous engineering studies, it will take around 12 to 18 months to commence production at CMC.
---
Image: Coricancha mine. Photo: courtesy of Nyrstar.