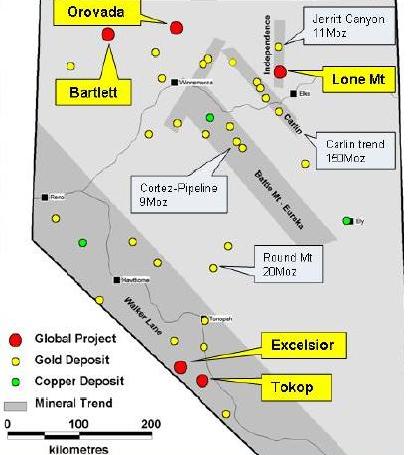 Australian greenfield exploration firm Global Geoscience and North American gold production company Osisko Mining have entered into a binding agreement to explore the former's five gold projects in Nevada.
Osisko will earn a 45% interest in the gold projects and will spend up to $8m on the five projects, including Nubian's Excelsior Springs Gold project, over a maximum period of four years.
Global Geoscience said it will continue to manage and operate all projects during the earn-in period.
Osisko will spend a minimum of $2m during the first year, and subscribe for 14.2 million ordinary shares in Global Geoscience for a total of A$852,000 ($917,549).
The company will have to independently fund the project through to completion of a bankable feasibility study if the company opts to increase its interest in Global Geoscience's share of any project to 70%.
Global Geoscience will retain 100% of its original interest in any project not funded or selected by Osiko.
Global Geoscience managing director, Bernard Rowe, said: "The agreement with Osisko is a major development for the company."
He continued: "Further the agreement validates the successful targeting methods we have used to select these areas and the results we have achieved thus far as it was Osisko that initially approached Global about its interests in the projects."
The five gold projects in Nevada currently held by Global Geoscience include Excelsior, Lone Mt, Tokop, Barlettand, and Orovada.
The company holds an option to acquire 100% interest in all of its projects with the exception of Excelsior, where it is earning a 70% stake by spending $3m over four years.
In 2011 Nubian signed an agreement with Global Geoscience regarding its Excelsior Spring Project in Nevada.
The company successfully drilled 3,000m at Excelsior and it intends to follow-up with an additional drill programmes in 2012.
Image: Global Geoscience and Osisko will jointly explore five gold projects in Nevada. Photo: Global Geoscience