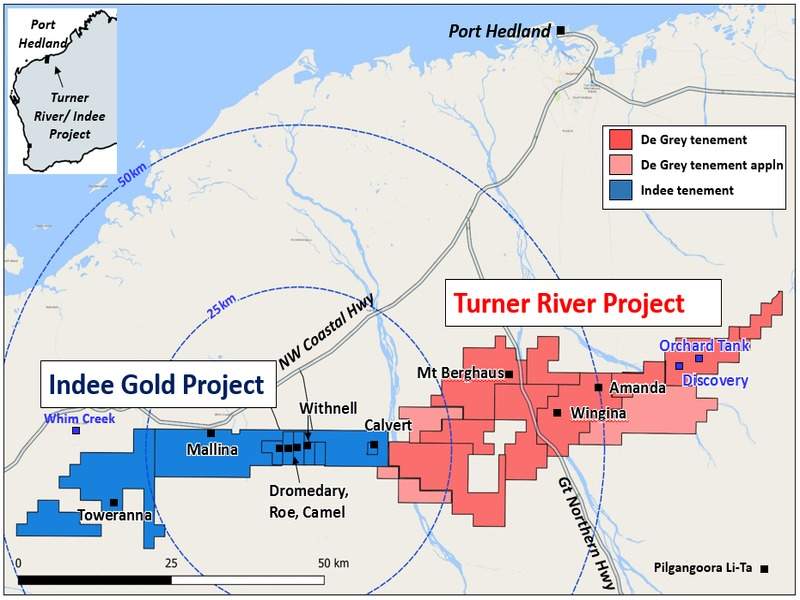 De Grey Mining has entered an exclusive and binding heads of agreement (HoA) with Northwest Nonferrous Australia Mining (NNAM) and wholly owned subsidiary to analyse and explore Indee Gold project in Western Australia (WA).
The NNAM subsidiary Indee Gold Pty Ltd owns gold assets to the west of De Grey's Turner River Project near Port Hedland.
Under the HoA, De Grey receives an initial 12-month option period to evaluate the property with the right to acquire Indee Gold for $15m by July next year.
De Grey needs to perform an initial scoping study to identify potential operation scale and then conduct the detailed feasibility studies.
De Grey executive chairman Simon Lill said: "This acquisition not only consolidates ownership of the regionally significant and highly prospective Mallina Shear Zone, but dovetails very well with our Turner River Project and fast-tracks De Grey into development studies.
"The potential scale of operation will place us within reach of a small and select group of ASX-listed gold developers. We have an exciting year ahead of us."
The Indee Gold Project features a large contiguous landholding that includes an area of 414km² alongside De Grey's 100% owned Turner River Project, which covers 823km.
This project possesses mining and exploration licences with existing defined in-situ shallow gold resources with a large advanced near-term exploration target called Mallina.
The field hosts shallow gold mineralisation and resources that are similar to the Turner River Project.
De Grey plans to conduct a detailed review of the existing resources and then undertake further exploration, resource definition drilling and a scoping study.
"The potential scale of operation will place us within reach of a small and select group of ASX-listed gold developers."
It also intends to advance the detailed economic studies that will end with definitive feasibility study before acquiring Indee Gold.
Both projects are expected to be suitable for open-pit mining methods that feature well drilled shallow gold deposits.
Most of the measured and indicated resources show minimal drilling requirement to upgrade the resources to reserve status during any future feasibility study.
The project acquisition is expected to significantly increase De Grey's resource base and facilitate economic studies towards development and production.
---
Image: Map of Turner River (Red) and Indee Gold (Blue) Projects. Photo: courtesy of De Grey Mining.