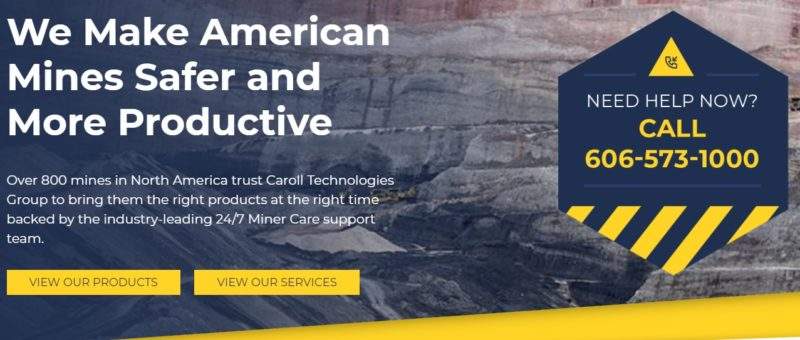 The Carroll Technologies Group has unveiled a new website to showcase the range of products and services it provides to over 800 mines in North America.
The new site features a responsive design and is optimised to be viewed on all devices. It also highlights many of the group's signature services, such as the provision of over $7m worth of parts and products from over 70 manufacturers, and a miner support team that can be called 24 hours a day.
"Carroll Technologies Group leads the mining products and services industry with MinerCare 24/7 – the most comprehensive service and support organisation available to mining companies," said Carroll on the site.
"With MinerCare 24/7 your mining operations have instant access to repair technicians, troubleshooting support, a vast inventory of spares, and comprehensive repair facilities."
Carroll is keen to offer a comprehensive service to its clients, which includes Aggregate Industries and Alpha Natural Resources, beyond repairing and replacing parts. The company offers same-day delivery from a network of distribution centres across the United States, and a range of training courses and videos for clients to familiarise themselves with the products.
Carroll also meets regularly with clients to inspect, repair and replace delivered products as part of its services exchange programme, which provides a highly personal and specialised service to its clients.
The site also discusses a range of Carroll's products in depth, all of which comply with MSHA regulations and the Miner Act. From personal safety equipment such as self-contained self-rescuers to infrastructure developments such as a communications network based on their leaky feeder system, the company provides a range of products for a variety of mining operations.
The new site and corporate logo for Carroll has been produced by London-based Verdict Media Strategies.
These products are also versatile. Many individual products are connected via the leaky feeder system, enabling a range of new and highly specialised devices to be added to the original communications framework once it is in place.
The Miner and Equipment Tracking System (METS), for instance, which can be used to monitor the position and behaviour for a range of individuals and vehicles, uses this same system. Data from the METS is then collected, and used to form the basis of the reports that Carroll publishes on trends in mining safety.
The group consists of two operating subsidiaries, Carroll Engineering and Delta Electric, and has serviced the North American mining industry for over 30 years. It has grown from its origin in West Virginia to become the largest electronic services group in the United States.