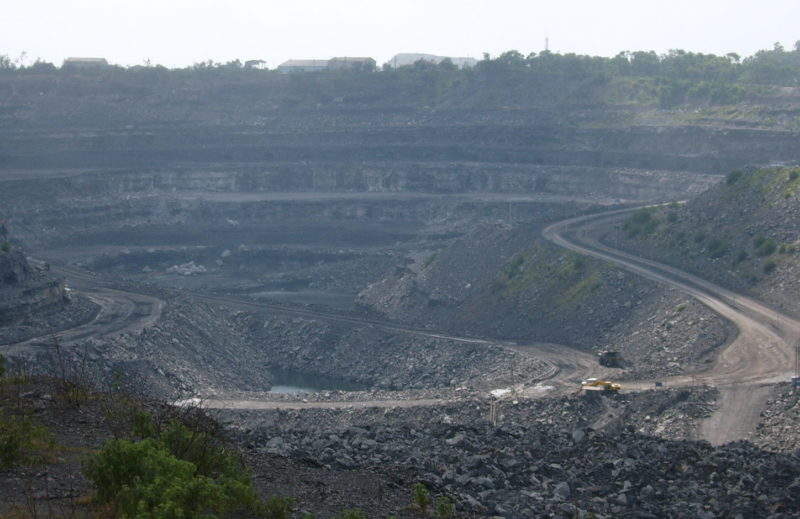 An article by Itifaq Lone, which first appeared on the Kashmir Reader in October 2019, describes how Residents of the village of Salamabad Dachina in the Kashmir region, which crosses the India-Pakistan border, are complaining that local gypsum mining operations are posing a threat to their safety by polluting water sources and damaging local roads.
Operations at the Neelam Valley Gypsum mill have restarted this year, after local court for the Indian district of Uri, where Salamabad Dachina is located, approved a resumption of mining operations, which had been halted since 2013.
Locals have complained that the mine, which is located at the top of a hill, has produced waste materials that are polluting tributaries that feed into ground water reserves, which are the village's primary water sources.
The Kashmir Reader reported that drinking water "smells foul" and is unsafe for consumption. The mine's operations have also intensified the effects of heavy rains in the village, as eroded soil is carried into the village as the water sources overflow during rainfall, which can lead to flooding.
The presence of trucks and heavy vehicles has also been a source of disruption, a resident known as GM Khan told the Kashmir Reader.
"Trucks and tippers loaded with gypsum shake our homes, even during nights and we feel like a quake. During the days the dust is trolled into our homes by vehicles running through the village. Many houses close to the road have got cracks on the compound walls."
The damage comes in the wake of news that five people were killed, and a further 11 injured, when a bridge in the Pakistan-administered region of Kashmir collapsed in May.
Residents of the village, which is home to around 5,000 people, have petitioned the court to withdraw permission to mine again and protect local infrastructure, but their efforts have so far been unsuccessful.
Tehsildar Mubashir Amin Khan, a local official, claimed that higher authorities had been contacted, but that no instructions had been given.
"The instructions are yet to come from the district level committee, we will do what needs to be done to benefit public," said Khan. "I cannot comment on the lower court decisions for letting the mining to resume, and we are bound to follow the instruction of district level."
Mining Technology's Mining Safety content is supported by USA mining safety specialists Carroll Technologies Group.