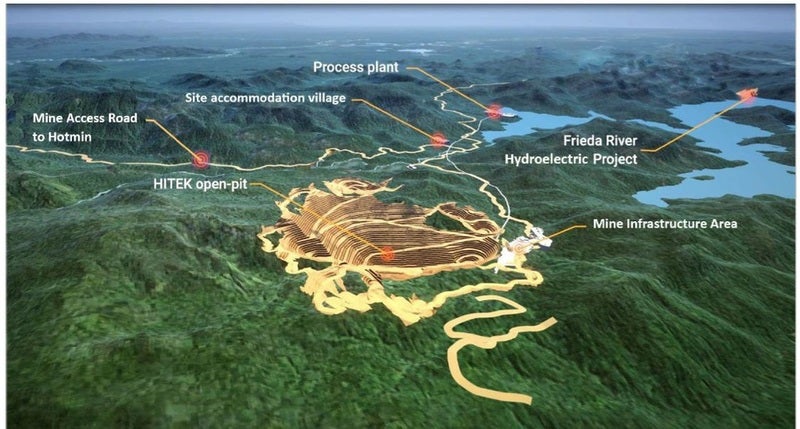 The Frieda River copper-gold project in Papua New Guinea is estimated to require an aggregate capital investment of more than $7bn, according to a feasibility study completed by project manager PanAust.
The project is owned by a joint venture between PanAust and Highlands Pacific, which hold 80% and 20%, respectively.
Highlands stated that the new feasibility study adopted a fundamentally different approach to the project when compared to the previous study, which was conducted in 2016.
The study considers the Frieda River project within an inclusive development model that requires significant government or third-party funded regional development as a prerequisite.
According to the new study, a total investment of $739m, funded by government and/or public-private partnerships, is required to undertake road, airfield and port upgrades.
An additional $351m is required to build a 340-km slurry pipeline connecting the process plant at the mine site with the Port of Vanimo. The pipeline would be operated by a third party on commercial terms, the study revealed.
The project is expected to require a pre-production capital expenditure of around $6bn, including $2.8bn for mine and process plant, and $3.2bn for a hydroelectric facility.
"The project faces significant hurdles, not least of which is the substantial capital cost."
The plan involves the construction of an integrated storage facility, comprising a power station integrated with a tailings and waste rock storage facility.
Furthermore, the new feasibility study has proposed an increased mine life of 33 years, with average annual production of 670,000 tonnes of concentrate containing 175,000t of copper and 230,000 ounces of gold.
Highlands Pacific managing director Craig Lennon said: "The project, as currently proposed by PanAust, faces significant hurdles, not least of which is the substantial capital cost, but also the need to identify government and other third parties to develop and fund the roads and other regional infrastructure required as a pre-requisite to construction of the project."