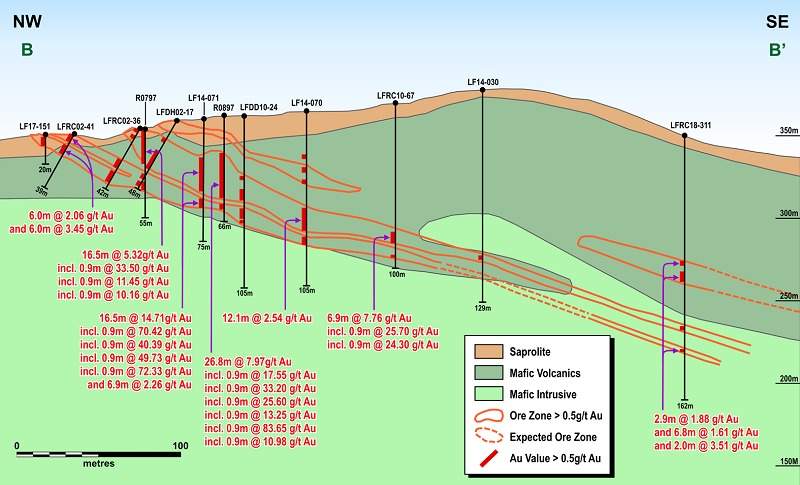 Endeavour Mining has reported a significant extension of high grade mineralisation at the Fetekro greenfield exploration property, located in north-central Côte d'Ivoire around 500km from Abidjan following a drilling campaign.
The positive drill results position the company towards realising its aim of discovering a standalone greenfield project.
During 2017-2018, the company drilled nearly 32,000m on the property with focus mainly on the highly prospective Lafigué target.
At the target, a large mineralised vein system has been defined over an area 2.5km long by 0.6km wide, with the company stating that the system remains open at depth and towards the southeast.
Endeavour identified three mineralised zones at the Lafigué target, namely Lafigué South, Centre, and North.
Key intercepts include 7.97g/t Au over 26.9m, 25.90g/t Au over 10.9m, and 13.21g/t Au over 7.6m.
A preliminary assessment of the recently concluded gold-in-soil geochemical campaign pointed to the presence of additional targets near Lafigué. A drill programme is set to take place in this area next year.
"The discovery of extensive mineralisation over such a large area is very encouraging."
Endeavour Mining Exploration and Growth executive vice-president Patrick Bouisset said: "Following the significant near-mine exploration success already achieved, in line with our first objective of extending mine lives, we are now excited to report the results from Fetekro, which is our most advanced greenfield exploration property.
"The Lafigué target, located within the Fetekro property, has been the primary focus of our recent greenfield exploration programme.
"The discovery of extensive mineralisation over such a large area, coupled with the identification of nearby prospects, is very encouraging."
Endeavour expects to publish a maiden resource the Fetekro property in the fourth quarter of this year and commence a follow-up drill programme during the same period.