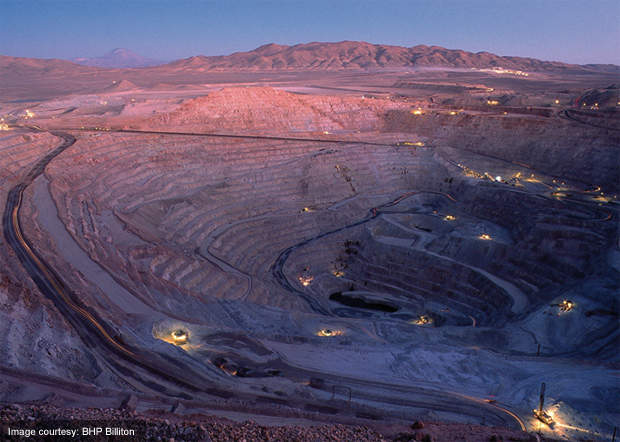 Workers at the world's biggest copper mine, the BHP-owned Escondida operation in Chile, have voted to reject a new wage offer and go on strike following the end of their 30-month contract.
A total of 2,330 union members voted on strike action, with 1,955 in favour of striking and 370 accepting BHP's new contract, alongside four blank votes and one spoiled ballot.
The workers said in a statement: "We hope that given this clear wish to reject the company's offer, which has been expressed in a mature and democratic way by our bases, the company will see the need to find an agreement that recognises our rights."
Last week BHP reportedly offered the workers an increase of 1.5% to their salaries, in addition to a signing bonus of $18,000. The workers themselves, however, asked for a signing bonus closer to $36,000 and a raise of 5%, leaving considerable distance between the two sides.
The miner's union says BHP has raised the production threshold needed for workers to be given bonuses from 96% of the mine's potential output to 98%, a demand that workers claim will lead to increased health and safety risks as workers are pushed towards the higher target. The proposed new contract has driven an addition wedge between unions and BHP as its signing bonus and related benefits were also offered to non-union workers; the unions called this 'discriminatory'.
The value of copper has struggled recently following President Trump's trade war with China, which has placed a 25% tariff on $200bn of Chinese goods, and the threat of industrial action at the Escondida operation has continued to push the value lower. The price of copper reached $6,010 per tonne this week, down 18% from a four-year high in early June. Industrial action at the Escondida mine, which produced 5% of the world's copper in 2012, will likely continue this trend.
Earlier this week, workers at Codelco's Chuquicamata copper mine, which produces the second largest volume of copper behind the Escondida operation, went on strike to protest what they considered to be the unfair dismissal of two workers.