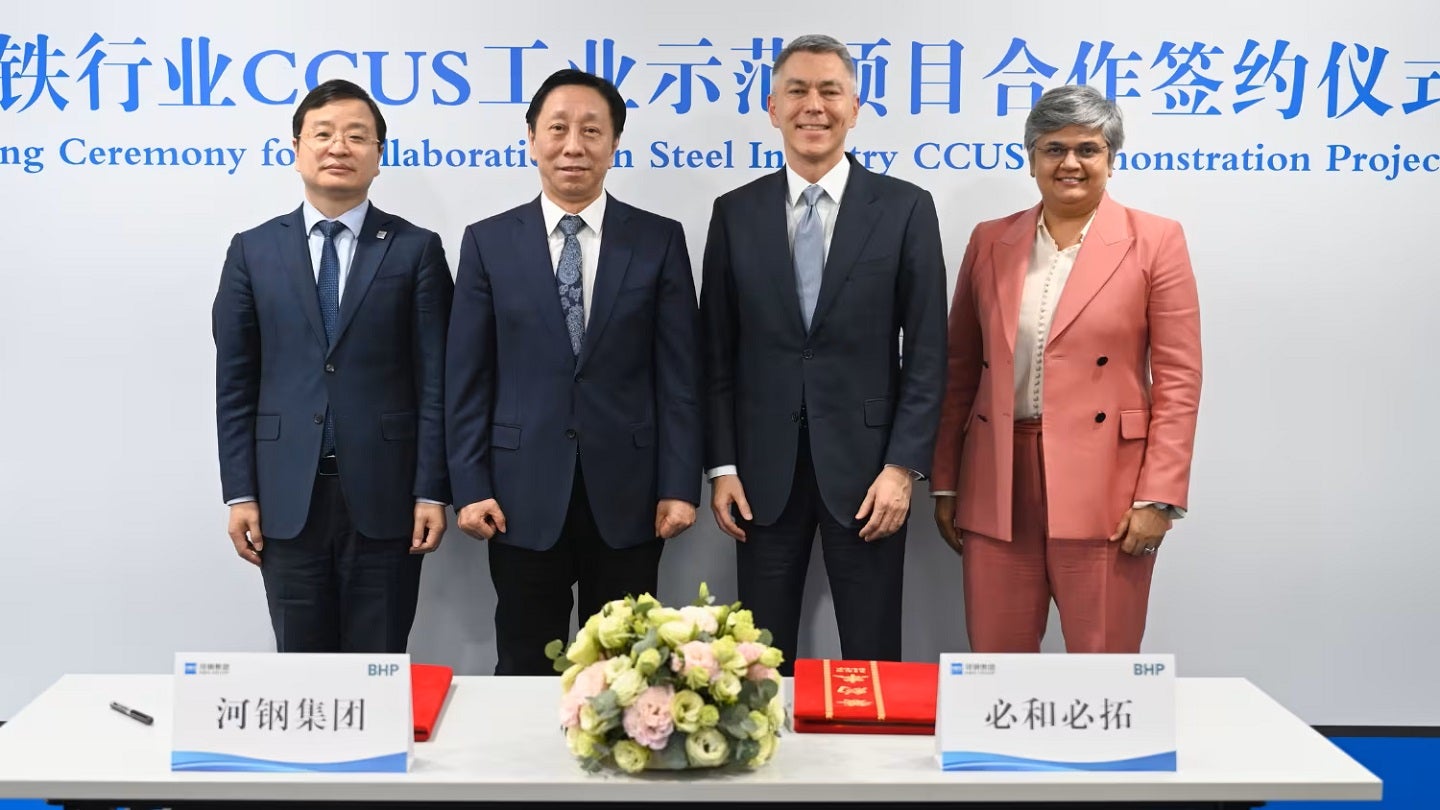 Global miner BHP Group has signed an agreement with Chinese steel company HBIS Group to trial carbon capture, utilisation and storage (CCUS) technologies at the latter's steel mills.
The project involves the development and testing of pilot-scale CCU technologies, which will enable integration into steel production processes to reduce CO₂ emissions.
The technologies include vacuum pressure swing adsorption (VPSA), an alternative technology for carbon capture, as well as two utilisation technologies constituting slag mineralisation and biological conversion to protein to sequester CO₂. 
Furthermore, BHP will help in developing and implementing absorptive desulphurisation at the HBIS ZXHT Hydrogen Metallurgy Demonstration Project in Xuanhua, Hebei.
The absorptive desulphurisation will allow HBIS to use nearly 60,000 tonnes per year of captured CO₂ from the direct reduced iron process in the food or industrial sectors.
BHP chief commercial officer Vandita Pant said: "Our multi-faceted partnership with HBIS will now include pilot testing of novel carbon capture technology at their operating sites in Hebei, and builds on the separate carbon capture trial with ArcelorMittal, Mitsubishi Heavy Industry and Mitsubishi Development, announced in October 2022.
"Hebei province accounts for around 20% of China's reported steel production and represents one of the locations in which we aim to support future carbon capture, utilisation and storage initiatives."
With support from BHP, HBIS will also trial options to use captured carbon to produce saleable products and store CO₂ in waste slag.
The trials will have an investment of up to $15m over three years, as outlined in a memorandum of understanding (MoU) signed by BHP and HBIS in 2021.
HBIS chairman Yu Yong said: "CCUS has been identified as a breakthrough technology for reducing carbon emissions from steel and this has anchored CCUS technology as a key component in HBIS Group's low-carbon technology roadmap."