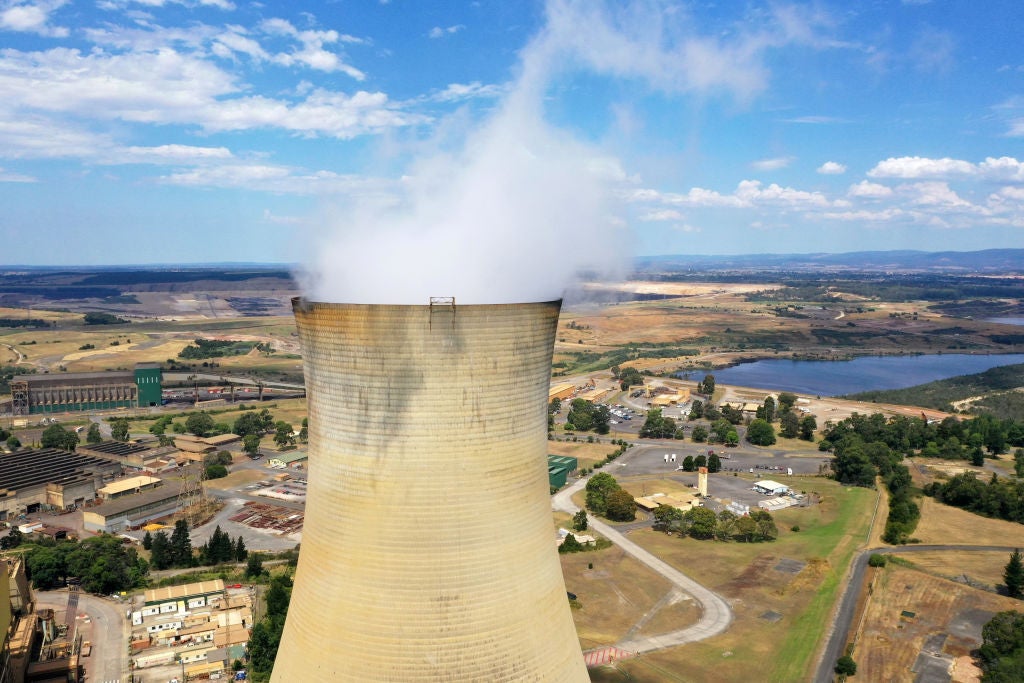 Australia and South Korea are on average the top two coal power polluters out of all G20 member states, a position both countries have held since 2020, according to analysis from the climate think tank Ember published on Tuesday.
Per capita, both nations produce more than triple the world's average coal power emissions. While pollution from coal power has been declining in both countries, they still remain far ahead the rest of the G20, Ember's report finds, although it excludes the EU as a region from its analysis. The report comes as G20 leaders prepare to meet for their annual summit in New Delhi, India, on 9–10 September.
Australia ranks top for per capita emissions from production and consumption of coal power in the G20, despite a recent uptick in installed renewables capacity, with 47%, or 130.9 terawatt-hours (TWh), of its electricity still coming from coal. Last year, the country's coal power emissions fell by approximately 5% as coal generation dropped by 8TWh.
Second on the list, 34% of South Korea's electricity mix is coal, with solar and wind capacity at 5%, falling well below the global average, which stands at 12%.
The report also found that 12 of the G20 economies have seen per capita coal emissions fall as a result of renewables ramp up, with the UK leading the way with a 93% drop in coal power emissions since 2015. However, emissions from some emerging economies, such as Indonesia and Turkey, are still increasing. Between 2015 and 2022, per capita coal power emissions surged in Indonesia by 56%, with emissions in Turkey increasing by 41%. Russia, China and India have also seen large increases in coal power emissions over the past seven years.
G20 nations account for approximately 85% of global gross domestic product and contribute 80% of the world's total power sector emissions.
According to Ember, the report shows that uptake of clean energy technologies remains too slow to meaningfully drive down fossil fuel use and keep the world within reach of the 1.5°C average global temperature rise limit set out in the Paris Agreement. As climate change intensifies, G20 countries must be "united in their efforts to triple renewables and plan for rapid and deep cuts in coal power generation", the authors write.
Non-profit Global Energy Monitor published a report earlier this year suggesting that coal plants must be retired at four-and-a-half times the current rate if the world is to maintain its 1.5°C target. It also noted that China's planned coal capacity increase far offsets phase-outs in other parts of the world.
Dave Jones, global insights lead at Ember, said in a press statement: "China and India are often blamed as the world's big coal power polluters. But when you take population into account, South Korea and Australia were the worst polluters still in 2022. As mature economies, they should be scaling up renewable electricity ambitiously and confidently enough to enable coal to be phased out by 2030."
Australia's grid operator, AEMO, has warned that without innovation and proper investment, the country is at high risk of power shortages if it retires 62% of its coal power fleet over the next decade as planned. The New South Wales Government has now entered into talks with Origin Energy to discuss extending the life of Australia's largest coal-fired power station.
G20 countries are divided on proposals to aim to triple installed renewable capacity by 2030, and double this again by 2040, with no consensus either on the specifics of a fossil fuel phase-out. Seven G20 nations – Brazil, China, India, Japan, South Korea, South Africa and the US – have not yet unveiled coal phase-out strategies.
Aditya Lolla, Asia programme lead at Ember, said: "India, as the host of the G20 summit [on 9–10 September], has the opportunity to assume climate leadership in the G20 and hold the bloc accountable. India's plans to ramp up renewable energy seem to align well with the COP28 president's call for tripling renewables by 2030. India's early backing to this call can not only influence the G20 into action but also ensure that the developed countries bring their per capita emissions down."