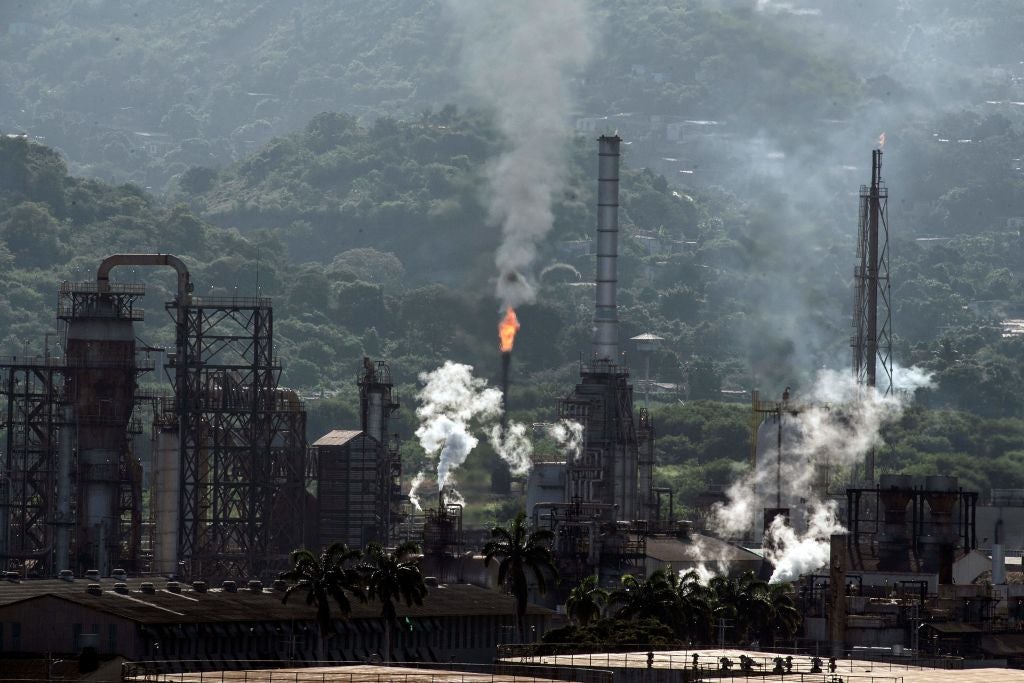 Once considered the richest country in Latin America due to having the largest oil reserves in the world, Venezuela's fortunes have since taken a sharp turn and the country has been suffering a humanitarian crisis since 2014. An estimated six million people have fled the country following the collapse of its economy, driven out by violence, food and medicine shortages, hyperinflation and political corruption.
In fact, in 2021, the minimum monthly wage in Venezuela hit a record low not seen since 1990, just $4 a month, after steadily dropping since 2012.
At the heart of the conflict stand two opposing political figures: Venezuelan President Nicolás Maduro and leader of the opposition (and unofficial interim president) Juan Guaidó. Following Guaidó's 2015 majority win of the national assembly, Maduro's creation of his own competing national constituent assembly in 2017 and the widely disputed presidential election in 2018, Maduro and Guaidó have been working with parallel disparate governments since 2019, leaving the country divided.
This political divergence brought with it a worldwide split over which president countries recognised as Venezuela's legitimate leader. A total of 50 countries, including the US, the UK, Canada, Brazil, much of the rest of Latin America and the majority of Europe, backed Guaidó's presidential claim, at least as an interim president. Belarus, China, Cuba, Iran, Russia, Syria and Turkey were among the countries backing Maduro, strengthening his alignment with the world's more authoritarian regimes.
Victor Hugo Rodriguez, founder of LatAm Alternatives – a financial services company focused on the Latin American market – says: "Whether we like it or not, Maduro is still in power. He is controlling the army and, as a result, the country. Even though lots of governments have tried to put a stop to this by lending support to a so-called interim government under Guaidó or enacting sanctions, the reality is that Maduro is still in control."
How well do you
really

know your competitors?

Access the most comprehensive Company Profiles on the market, powered by GlobalData. Save hours of research. Gain competitive edge.
Company Profile – free sample
Thank you!
Your download email will arrive shortly
Not ready to buy yet? Download a free sample
We are confident about the unique quality of our Company Profiles. However, we want you to make the most beneficial decision for your business, so we offer a free sample that you can download by submitting the below form
By GlobalData
Economic sanctions against Venezuela were imposed by Canada, the EU, Mexico, Panama, Switzerland and the US. They took particular aim at Maduro's inner circle and Petroleos de Venezuela – the state-owned oil company.
To understand the impact of these sanctions and what the ramifications are for current global oil markets, it is important to understand the historical importance of the oil sector in Venezuela.
Venezuela's resource curse
After a substantial oil well was discovered in 1922, Venezuela became the largest global exporter of oil in 1928.
Following the nationalisation of the country's oil, a process started in 1976, Venezuela became increasingly dependent on its hydrocarbon resources, while other sectors shrank in economic importance. As a result, the country became a heavy importer of essentials such as food and medication, while also becoming particuarly vulnerable to volatility in the oil sector.
Ultimately, Venezuela fell victim to the 'resource curse' – a theory that resource-rich countries can be impacted negatively if the resource is poorly managed and/or the government is prone to corruption.
This economic pattern has been long-standing for the country, with petroleum dominating Venezuelan exports in 2020, making up 96.6% of them, at a value of $7.96bn. While this monetary sum may seem high, oil exports from Venezuela have been in decline since 2011 following a period of volatility in production between 1996 and 2010.
Venezuela has a long and turbulent history when it comes to the mismanagement of its vast oil resources. As a result, when the country's humanitarian crisis and political situation worsened in recent years, the oil sector became an obvious target for sanctions from countries hoping to punish corruption and cultivate peace and aid.
Who are Venezuela's enemies and allies?
Sanctions imposed by the administration of former US president Donald Trump in 2019, which banned the trade of Venezuela's crude oil, dealt the country a particularly harsh economic blow. In an initial bid to avoid breaching the sanctions, Venezuela had used Russian integrated energy company Rosneft – the third-largest Russian company by market capitalisation – to trade crude oil. Trump retaliated by placing additional sanctions on Rosneft.
Leonardo Vivas, a former fellow at the Carr Centre for Human Rights Policy and lecturer on Latin American at Emerson College, says: "The sanctions against Rosneft made it difficult for Venezuela to get its oil out. They had to find other ways to sell oil to India, among other countries."
Vivas explains that Venezuelan oil is unique in being a heavy oil that is "thick like butter", which means that special processes are required for extracting, refining and transporting the product. With Rosneft sanctioned by the US, that too was a more difficult process for Venezuela.
These sanctions were indeed putting pressure on the country, but perhaps an unforeseen result was the strengthening of the relationship between Russia and Venezuela. This laid the foundation for a troubling global partnership in 2022 for those countries opposing Russia's invasion of Ukraine.
Putin and Maduro versus the West
Speaking at Russian Energy Week in 2018, Russian President Vladimir Putin seemingly repudiated the US's sanctions on Venezuela, saying: "As for various instruments and tools to influence the situation in Venezuela – I understand [all countries] influence each other – nobody should use tools that deteriorate the situation of the civil population."
Now, in 2022, similar sanctions are being enacted against Russia in the wake of the Ukraine invasion, with the recent war showing similar global alliances when it comes to opposition to the conflict.
Russia's unfriendly countries list – countries that will no longer have access to simplified visa rules when entering the country – has many similarities with countries and blocs supporting Guaidó, such as the US, Canada, the EU and the UK.
In a bid to target "the main artery of Russia's economy", US President Joe Biden announced a US ban on all Russian oil and energy imports on 8 March 2022.
Alongside this, Maduro has been vocal in his support of Putin and Russia. Speaking about the economic sanctions against Russia at a press conference in March of 2022, Maduro said: "It is a crime what they are doing with the Russian people, an economic war."
However, the sanctions against Russia impact Maduro and the Venezuelan economy too.
Vivas explains: "Another aspect to the banking sanctions [on Russia] is that Venezuela had been storing as much money as it could (including money from the state and oil companies) and some of that went into Russian banks. Now some of these deposits are locked in limbo."
As the Russian ruble fluctuates, the unknown sums sitting in Venezuelan accounts within Russian banks will likely be impacted.
Russia and Venezuela's relationship becomes even more nuanced when oil is factored in. Russia was second only to Saudi Arabia in terms of global crude oil exports in 2020, with 11% at a value of $72.6bn, according to Statista.
In a bid to undermine this economic power following the Ukraine invasion, Biden announced that the US would be tapping into emergency oil reserves to alleviate spiralling energy prices in the interim. However, in the long term gaining access to new oil reserves has become a priority for the Biden administration.
Will Biden strike oil with or without Venezuelan help?
On 5 March 2022, senior White House officials met with Maduro's government in Venezuela in the first trip of its kind for more than 20 years. The visit was reported as having three main objectives. The first was to measure how close the allyship between Putin and Maduro is, and the second was to scope out the possibility of Venezuela becoming an alternative oil source for the US in Russia's absence.
The third reason for the trip, it was alleged, was to continue quiet negotiations over the freeing of US prisoners in Venezuela. This objective has since seen some success with at least two prisoners – Gustavo Cárdenas and Jorge Alberto Fernández – being released, although US officials have since stated that the release of both men is not an indicator of any deal to restart Venezuelan oil sales to the US.
The meeting met with bipartisan backlash in both the US and Venezuela. Cynthia Arnson, the director of the Wilson Centre's Latin American programme – a Smithsonian think tank – highlights the US's perspective. "There is a real pariah status that both Venezuela and Russia have in the West," she says. "That is only reinforced by Maduro's support and his defending of Putin. Maduro is indefensible."
Arnson goes on to explain that she believes the intention of US officials to get the Maduro regime back to the negotiating table over sanctions being relaxed in exchange for more ethical behaviours – such as releasing prisoners and electoral reform to guarantee fair future elections – was lost amid the backlash to the visit.
Instead of this more humanitarian lens for potential sanction-easing, a picture was painted in congress of Biden cosying up to one dictator, in retaliation to another dictator pushing the bounds of what was acceptable too far, with the main interest being to access oil.
Despite this, there is some support for better oil partnerships between the US and Venezuela. US energy corporation Chevron has been pushing for sanctions to be eased in Venezuela in a bid to boost production. Vivas states that Chevron is "perhaps the only [Western] company that still has direct interest" in Venezuela, explaining that "Chevron put pressure on the Biden administration for that meeting to happen".
Poor infrastructure and rigid regimes
Following the talks and Chevron's public support, Rodriguez is optimistic that relations between the US and Venezuela could start to thaw. "I think it might be a window of pragmatism that will allow Venezuela to regain some sort of opportunity to give oil to the US without necessarily breaking ties with Russia," he says. "Remember that even though Russia is invading Ukraine, it is still doing business with its non-friendly countries. We are seeing a cascade of change into the dawn of the relationship between Venezuela and the West."
Arnson and Vivas are more reserved on the potential outcome of the talks and remain unconvinced that a deal – humanitarian or otherwise – will come to fruition. Vivas explains that a lack of existing efficient infrastructure for the production and transport of oil would prove troublesome. Vivas also highlights that a lack of meaningful exploration in Venezuela over the past 15 years by oil companies would result in a need for deep pockets to bolster production.
"Hypothetically, if the sanctions were lifted, the question of how quickly and efficiently PDVSA [Venezuela's state-owned oil and natural gas company] could function would be a big problem," says Arnson. "The disrepair, theft, infrastructure and lack of engineers would all act as barriers."
Indeed, PDVSA dominates Venezuela's oil production when ranked against the top five companies for net entitlement of crude oil, meaning that its lack of efficient operations would be a serious hurdle to overcome following any deal with the US. Alongside this, GlobalData projects that total gross crude oil and condensate production in Venezuela is set to decline until at least 2025, for both onshore and shallow water terrains.
Also, if a deal were to be brokered on humanitarian ideals that would force Maduro to alter his regime, there is no clear indication that he would oblige.
Eric Hershberg, director at the centre for Latin American and Latino Studies at the Washington, DC-based American University, says: "If sanctions were to be relaxed there would be a modest benefit to Venezuela's economy, because the combination of domestic mismanagement and harsh sanctions have eroded much of the country's production capacity."
Hershberg does not believe that Maduro is likely to risk a future of free elections in Venezuela or take steps towards a political settlement with Guaidó, particularly for a metered economic reward from the West.
With Venezuela's political leaders (namely Maduro) continuing such rigid regimes, the country's complex geopolitical relationships, the multiple sanctions impacting Venezuela and any capital it has tied into Russian banks – combined with oil reserves that have been left in a poor state of maintenance and a US president under pressure to win mid-term votes – a revolutionary deal between the West and Venezuela seems unlikely. Indeed, given the long-term amicable relationship between Maduro and Putin, it wouldn't be the biggest of surprises if Venezuela were to move closer to the top of Russia's list of friendly nations.