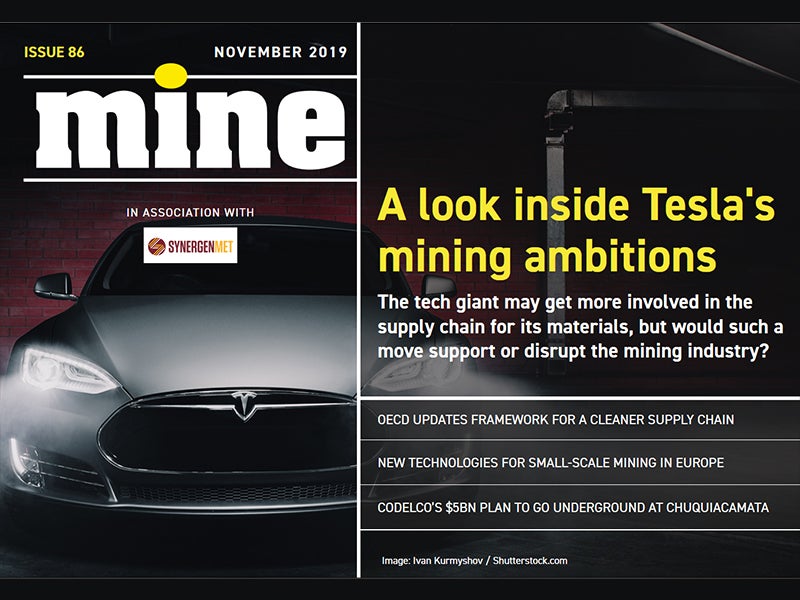 MINE is back for another issue packed with industry news and analysis. In this issue we discuss whether it makes sense for companies such as Tesla and Apple to get more involved in the supply chain for their materials, look at new technologies for small-scale mining in Europe, and more.
Whether you are on a desktop, tablet or smartphone, you can read the magazine for free online.
Tesla CEO Elon Musk is reportedly considering venturing into the mining business to gain more control over his company's supply chain. With tech giants being hugely reliant on the steady supply of a wide range of materials, such a move seems to make sense. But will it improve or disrupt the mining sector? We explore the different angles of such a potential power shift.
We also investigate concerns over the sourcing of crystals, which have seen a surge in demand due to their popularity among consumers, and take a look at the Organisation for Economic Cooperation and Development's updated its framework for the production and distribution of cobalt and other commodities from 'high-risk' areas.
Also in this issue, we catch up with Codelco's $5bn plan to establish underground operations at its Chuquicamata mine, speak to Conservation International about the impact of its partnership with BHP, and take a look at innovative clean power solutions for mines.
Plus, we find out how the EU-funded IMP@CT project is developing new technologies to make small-scale mining in Europe more viable, and speak to ThyssenKrupp about the journey of its materials handling system from Germany to an iron ore port in northern Canada.
In this issue
The cost of crystal mining
The crystal industry is growing fast, with celebrity endorsements driving up the sales of 'healing' stones such as amethyst, rose quartz and lapis lazuli. But the boom has also raised questions about sourcing, including concerns about human rights and environmental abuse in the supply chain. Scarlett Evans investigates.
Read the article.
Cleaning up the minerals supply chain: new OECD recommendations
With minerals such as cobalt and bauxite seeing increased demand, the Organisation for Economic Co-operation and Development (OECD) has updated its framework for the responsible mining of the commodities. JP Casey breaks down the group's recommendatons and how a range of companies are implementing them.
Read the article.
Debate: should Tesla, Apple & co take on mining?
As Tesla CEO Elon Musk is rumoured to go into the mining business to gain more control over the company's supply chain, we discuss whether this could be a smart move for major technology companies.
Read the MINE team's opinions.
Project IMP@CT: new ideas for small-scale mining
By developing innovative technology and rethinking business models, the EU-funded project hopes to improve the commercial viability of mining modest but high-grade critical raw mineral deposits across Europe. Heidi Vella reports.
Read the article.
Going underground: Codelco's $5bn plan to convert the Chuquiacamata mine
Chile's state-owned miner Codelco is investing $5.6bn into its vast Chuquiacamata mine to convert the century-old operation from an open pit mine to an underground project. While the transition is progressing ahead of schedule, concerns remain over the mine's longevity, profitability and workforce satisfaction. JP Casey looks at the planned transition, and considers how effective it can be.
Read more about the project here.
Bremerhaven to Baffin Island: Thyssenkrupp's Canadian odyssey
German engineering multinational Thyssenkrupp is developing a new materials handling system for one of the most challenging and remote locations in the world, an iron ore port in northern Canada. Umar Ali finds out more from Thyssenkrupp's external communications manager Isabel Reinhardt.
Read the interview.
Renewable energy projects lead the way to cleaner mining
Mining is one of the most energy-intensive industries on the planet, but many companies have started to incorporate renewable power sources into their operations in a bit to offset some of their environmental impact. Umar Ali takes a look at some of these clean power projects arond the world.
Find out more about the projects.
Conservation International on partnering with BHP to reduce mining's impact
Scarlett Evans speaks to Conservation International about is partnership with BHP and how it is helping to reduce the environmental and social impact of mining operations.
Read the interview.
Next issue preview
The Amazon rainforest is one of the most contested spaces for mining in the world, but the effects of mining operations have been devastating to the environment. In the next issue, we check in on the state of mining in the Amazon and ask whether it can be done sustainably.
In Europe, we take a look at the future of coal mining in Poland, which is currently the biggest producer of coal in the EU. We also review new data on the UK's dependence on critical minerals and ask whether the country's biggest mining project – Sirius Minerals' polyhalite underground mine – can go ahead after recent financing plans have fallen through.
We also explore the impact of political tensions and trade bans on the global nickel market, take a look at South Africa's efforts to promote a revival of mining interest after years of falling production, and ask whether the mining supply chain is ready to embrace automation.

Subscribe to be notified when the next issue of MINE is available.
Visit our archive to read past issues for free.