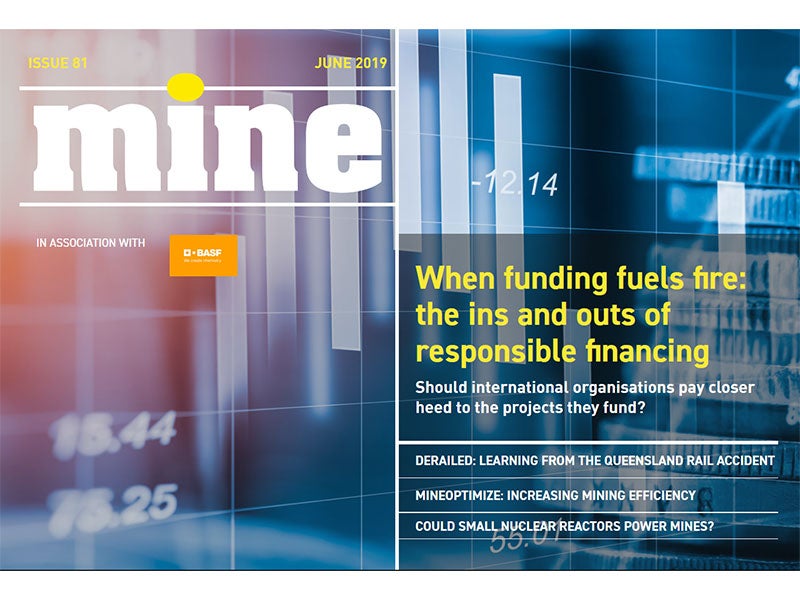 MINE is back for another issue packed with industry news and analysis. In this issue, we ask whether international organisations need to pay closer heed to the projects they fund, find out what motivates mining jobseekers, look at new power solutions for mines, and more.
Whether you are on a desktop, tablet or smartphone, you can read the magazine for free online.
Residents of 13 villages in western Guinea have filed a complaint against the IFC, the World Bank's private-sector arm, for funding the expansion of a harmful bauxite mine. We consider whether international organisations should pay closer heed to the projects they fund.
In technology, we take a look at ABB's new predictive software and remote operating service, MineOptimize. We also consider the potential of small modular reactors for powering remote mines, weighing the pros and cons. And in a special video feature, we look at the 80 carriage train that derailed in Queensland.
Finally, we ask what motivates jobseekers, talk to Bluebird Merchant Ventures about Redeveloping historic mines in South Korea, and take a look at palladium as it hits an all-time high.
In this issue
Redeveloping historic mines in South Korea
Bluebird Merchant Ventures recently announced the progression of plans to develop the Kochang and Gubong mines in South Korea, two gold ore sites that last operated in the 1970s. Scarlett Evans spoke to Bluebird COO Charles Barclay about the process of reviving operations at these historic mines, and what the future of South Korean mining might look like.
Read the article here.
When funding fuels fire: the ins and outs of responsible mining finance
The World Bank's Compliance Advisor Ombudsman (CAO) is currently considering a complaint made against the International Finance Corporation, a sister organisation of the World Bank, for funding the expansion of a controversial bauxite mining project. Such grievances are not uncommon and it is hard not to wonder, is CAO powerful enough to hold organisations, including its own, to account? Heidi Vella investigates.
Read the article here.
Palladium performance: can the price go any higher?
Palladium prices spiked in March as a vehicle emissions controversy in the US and a potential export ban in Russia drove demand for the electric vehicle component. Julian Turner talks price volatility and long-term supplies with Ross Strachan, senior commodities economist at Capital Economics.
Read the article here.
Could small nuclear reactors be the answer to powering off-grid mines?
At this year's Prospectors & Developers Association of Canada convention, Canadian Nuclear Laboratories extolled the benefits of small nuclear reactors as an alternative to diesel generators for powering remote, off-grid operations. Here, Scarlett Evans looks at the benefits of such a shift, and what it could mean for the wider energy landscape.
Read the article here.
What is motivating mining jobseekers?
As a new era of mining professionals enter the industry, the expectations and motivations of workers are changing. Heidi Vella finds out what a revealing new survey by Mining People International (MPI) has to say on the matter.
Read the article here.
Electric dreams: ABB discusses MineOptimize and the mines of the future
MineOptimize, ABB's portfolio of digital, automation and electrification solutions, is being employed at mines worldwide to improve safety, efficiency and environmental performance. Julian Turner talks to Max Luedtke, VP global product group manager, mining, aluminium & cement at ABB, about the sector's electric revolution.
Read the article here.
Video: what can we learn from the Queensland Rail accident?
Historically severe rains in Queensland derailed a stowed Glencore train in February, wrecking wagons, flooding tracks, and raising questions about what can be done to minimise the risks of disasters along the 1,000km-long Mount Isa line. JP Casey took a look at the accident.
View the video here.
South African platinum should recover supported by national strategy and global demand
Despite a rough couple of years, the future looks bright for South African platinum mining, according to Globaldata analysts.
Read the analysis here.
Next issue preview
In Tanzania, the government is establishing mineral trading hubs in an effort to cut down on illegal exportation and tax evasion. We take a look at mining in the country, and how this scheme will be rolled out.
In technology, we take a look at Airobotics's drones and how they can improve mine safety. As well as looking at whether batteries really are best for mining vehicles, and Russia's first metallurgical accelerator, Severstal's SteelTech Accelerator.
We also investigate how mining lobbies are changing and adapting as the mining industry itself adapts to become more environmentally aware. We caught up with Anglo American to see how they are implementing sustainability initiatives.
Plus, with the Trump administration signalling a move to impose limits on the imports of the radioactive metal, we ask who would really win from such a limit. Finally, as the race for copper heats up, these are biggest copper discoveries and investments of the last few years.

Visit our archive to read back issues of Mine for free.
Subscribe to our email alerts to be notified when a new issue is published.