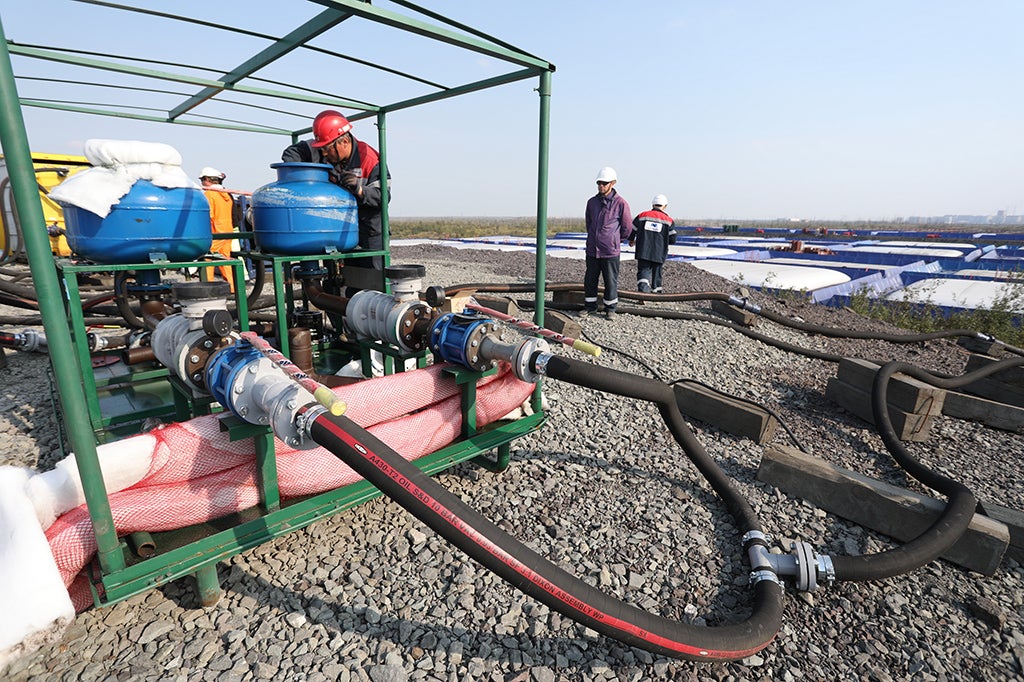 Russian mining giant Nornickel has faced a challenging 2020. While the company's production of nickel was unchanged this year, output of copper and platinum group metals fell. Additionally, the ongoing financial uncertainties connected to Covid-19 triggered a significant decline in the miner's profits, with its profit in the first six months of 2020 just $45m, compared to $2.9bn in the first half of 2019. The miner has also been dealing with the fallout of an oil spill in Siberia, which is believed to have cost the company $163m in lost revenue and production costs, and also led an environmental watchdog to launch a $1.88bn lawsuit against the company, incidents that have further undermined the miner's financial security.
Yet Nornickel has remained optimistic in the face of these challenges, with its annual capital markets day, held on the first of December, highlighting a number of targets for the years ahead. Ranging from improving environmental performance to recovering from the economic challenges posed by the Covid-19 pandemic, the miner is set to improve both productivity and profitability in 2021 and beyond. Among the announcements was the adoption of a new "tokenisation" scheme, that will use blockchain technology to effectively source metals and minerals across the miner's supply chain, as it looks to improve both financial performance and environmental responsibility.
We speak to Anton Berlin, Nornickel's vice president of sales and commerce, about the announcements made at the event and what the miner plans to change going forward.
JP Casey (JPC): 2020 could be considered a challenging year for Nornickel. What has the company learned from its experiences?
Anton Berlin (AB): I think the company moved on rather well. The margins have performed better than you would expect based on the fall in demand, so that was helpful, and we do see the market is slowly going back to normal [as] they're better than they were in the midst of the crisis. Not all of them are at the pre-crisis level but we're heading towards that direction. And we believe that next year, 2021, will be kind of transitional and in 2022 we should be on the same trajectory as we were before the crisis and the pandemic.
I think the lessons have been learned, and the main changes that we were bringing to the company [have since been] accelerated. We have built an environmental, social, and governance (ESG) management structure throughout the company, we've appointed a senior vice president in charge of ESG. Previously we had a division within the company that was looking after health and safety and environmental protections,
and now these are two separate and distinct functions. Health and safety is still part of operations and environmental protection is now part of ESG, so they're not subordinate to the production executives, which probably makes perfect sense.
How well do you really know your competitors?
Access the most comprehensive Company Profiles on the market, powered by GlobalData. Save hours of research. Gain competitive edge.
Company Profile – free sample
Thank you!
Your download email will arrive shortly
Not ready to buy yet? Download a free sample
We are confident about the unique quality of our Company Profiles. However, we want you to make the most beneficial decision for your business, so we offer a free sample that you can download by submitting the below form
By GlobalData
At a big company I think management procedures and [effective] decision-making are essential, because it impacts how quickly the company can react to change, and I think that in our case, we're actually a rather high-tech company. Most people think about mining as a very basic industry, and that nothing new and exciting is happening in this sector but this is not true, we are very much embracing digitalisation, and there are many IT technologies we apply not only in managing the company but also in the production processes themselves. And I think this is what the general public often misses, because they still see us as a bunch of guys with shovels just digging rock.
JPC: What impacts could technological development have on company management?
AB: For large corporations, especially when you have many production assets, collecting and consolidating data is time-consuming. If you go back a few years, our annual report would be done at the end of April or May. Not because we paid no attention but just because it took lots of time to consolidate all the financial and production data and management accounts and put it all together, and make sure it was compliant to the reporting standards. Now it typically goes out in February, so that's a major change.
[Another] benefit is that you're decreasing the probability of human error because most of the time when mistakes about companies [are made] it's human errors that are grey areas. Computers are not very likely to make an error unless you've put the wrong software [in there] and that's the benefit that you skip all of the manual compilation.
JPC: What about other uses for new technologies, such as in mining processes?
AB: We are looking into introducing driverless machinery. Most of our mining is underground, so by definition underground mining has more risks for health and safety in comparison to open pit mining, or definitely in comparison to office workers, so automated machines are obviously a benefit. You can have a pilot with a tablet operating the machine, which makes it a lot safer. We're also looking into producing IT and big data into different processes like electrolysis, [and developing] exoskeletons that are used by workers that need to pick up a heavy load, which is incredible, it's like a science fiction movie!
Satellite images are now used extensively to supervise mines, for example, because you can see the development; you can see if you're approaching a cliff, or a water feature, [and] you can see if you're impacting the grass and the trees. So companies use it to manage themselves because visually you can see how the construction is going on, if it's an open field for a factory to get a very good idea of how this is developing. There are satellite services now that allow you to trace your vehicles, which is another level of transparency.
Typically, there are many ways you can do some kind of optimisation, even if you can't go to zero carbon emissions, you can still very much cut them; say, in our case, the share of renewable energy has increased. We have three sources of energy – that's hydropower, nuclear power, and natural gas – and by using more
renewable energy and less gas-based energy, our carbon footprint has improved. The next step we're looking at is switching the machinery we use from diesel to, say, natural gas, because it could be a low impact and switching the other bank machinery to electric, which can have another positive impact on carbon emissions. This is also becoming possible with advanced technology; unless someone can offer you a battery upgrade machine you can't use it, so it takes a global effort. It's not just individual companies but the technology is progressing, and we can use the fruits of it.
JPC: Could you talk about your new tokenisation scheme?
AB: We think that there are many benefits that it offers to the market. The existing metal trade was really formed more than century ago and there were not so many changes to it really; what we're getting with this tokenisation of commerce is [that] we can reach out to supply a broader range of customers. With this, you can address the end users, the ones that make the final product, [such as] those who make the batteries for electric vehicles, and the attraction of digital is you don't have to engage in storing or shipping the metals, which [requires] additional people.
With digital, you can, as a car maker, source your nickel and when you decide on your original equipment manufacturer supplier, just send them the nickel units by literally using your mouse and clicking, and that's it. It helps build a more direct relationship, without the necessity for intermediaries in between; you're still dealing directly but you have a lot more control over your sourcing.
The next benefit that comes with this is that because it's a digital technology [that uses] blockchain, you can connect the token not only to the physical metal that is being delivered but also to various ESG credentials, including its carbon footprint. The benefit is that you instantly have the data, you don't need to run a separate poll to verify because it's part of blockchain so it's undoubtedly true. This saves a lot of management effort and [regarding] carbon footprints it eases your calculations because otherwise, you have to go out polling your supply chain, collecting all the data and trying to build it into a model and this can be time-consuming.