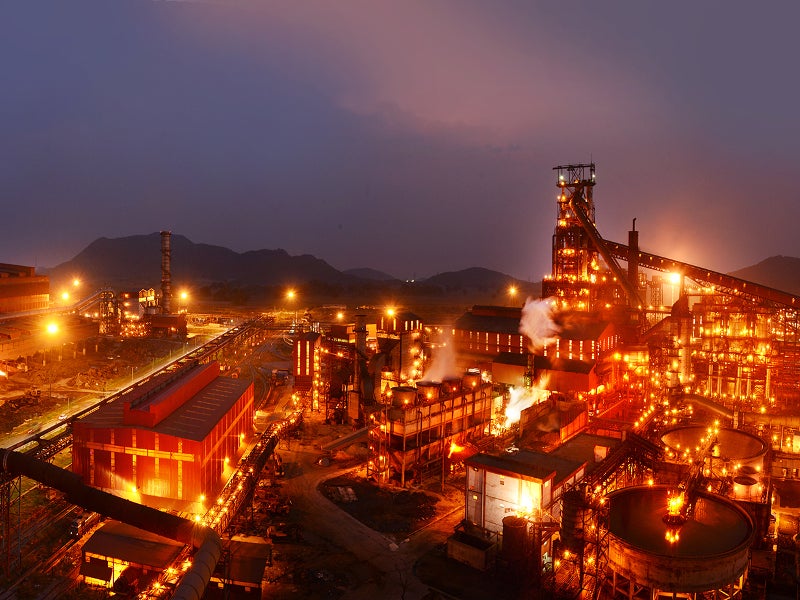 In 2010, mining was responsible for around a quarter of Indian GDP, and has been one of the driving forces behind nearly a decade of constant growth, with GDP nearly doubling from $1.32tn in 2009 to $2.6tn in 2017, according to Trading Economics and The World Bank. However, legal instability and a weak mining policy has encouraged rapid resource depletion, and investment that does not fully consider the environmental impacts of the industry, leading to uncertainty regarding the future of mining in India.
Mining in India: Depleting resources and increasing production
While India boasts significant resources, with the world's fourth-largest deposits of coal according to World Atlas, stores of many of these minerals are geographically disparate, raising the potential for conflict between local and national governments over the wealth of the country's five separate mineral belts.
According to the national government, Indian copper ore reserves totalled 207 million tonnes (Mt) in 2015, for instance, but 154 million of these deposits were located in the central state of Madhya Pradesh, which also boasts the country's largest diamond reserves.
The country also had 656Mt of bauxite in 2015, but around half of this total was found in the eastern state of Odisha. A similar concentration is seen in the distribution of silver ore, where Rajasthan has 138Mt of the country's 2015 total of 150Mt. However, while nine states are known to have bauxite reserves, just two states – Rajasthan and Karnataka – are reported to have deposits of silver ore, a more dramatic concentration of resources.
The distribution of iron ore, of which India is the third-largest producer in the world, is more balanced with Odisha and Chhattisgarh possessing reserves upward of 2.5 billion tonnes (bnt) and 1.4bnt respectively. Yet the primary concern surrounding iron ore is the rate at which India is depleting its reserves. The country's deposits of the ore, including both haematite and magnetite sources, fell from 8.3bnt in 2010 to 5.9bnt in 2015.
The rapid depletion is in line with India's dramatic ramp-up of iron ore production, from a slump of 129.3Mt in the 2014-15 financial year to an estimated 201.0Mt in 2018-19, and a record high of 225.0Mt in 2019-20.
Small-scale miners are trying to maximise production in the short term, with the operating licences of 288 mines slated to expire in 2020 at which point ownership of the mines will transfer back to the government, which will re-auction them on the open market. While this has resulted in dramatic improvements in production, the depletion of reserves combined with the inherently unstable nature of many of these operations has cast doubt over the long-term profitability of the sector. Trading Economics, using statistics from the Indian Central Statistical Organisation, predicts that GDP from mining will fall to below $11.3bn by July 2019, from a high of $16.3bn in January 2018.
A new National Mineral Policy
Another significant driver for change in India is the National Mineral Policy (NMP), a directive released in 2019 that will govern the country's mining sector, and replaces the 2008 version of the policy that has been in place for the last decade. The NMP grants states some powers with regard to mineral exploration and permitting, but stresses that local governments are encouraged to "endeavour to auction mineral blocks with pre-embedded statutory clearances" in order to avoid delays in the process of mine permitting and construction.
As a result, the NMP could be described as company-friendly, with an emphasis on streamlining the permitting and construction processes. The document introduces "triggers at higher level in the event of delay", enabling decision-makers to expedite the permitting process if it is being delayed. The clause highlights the apparent importance of ensuring mining work begins quickly, rather than necessarily once thorough environmental assessments have been completed.
Similarly, the policy makes few provisions to ensure operational safety, only making a vague recommendation that the directorate-general of mine safety should be "strengthened through adequate manpower, equipment, and skill sets." India has struggled recently to ensure safety at its mining operations, with 377 deaths reported between 2015 and 2017, fatalities increasing year-on-year since 2016, and the collapse of a rat-hole mine in December 2018 killing up to 13 people. The new policy introduces no new measures or practices to address this decline in safety.
The new law also designated mineral-rich areas as "Mining Land," which are to be reserved for mineral development, enabling companies to quickly build mines without obstacles. However, the policy also applies to deposits that have been claimed and on which mining work has not yet begun. This raises the possibility of miners claiming large swathes of land for themselves, with the stated intention of developing them in the near future, but without a legal timeframe within which to develop the land. The policy places a lot of trust in both private companies and, where applicable, government bodies tasked to develop mining projects, to develop the land responsible and in a timely fashion.
Addressing environmental damage
The new NMP could be particularly disappointing to environmental groups, who have argued that the previous NMP did not do enough to protect India's land in general, and forests in particular, from the damage of mining. A 2019 study by Ram Ranjan at Macquarie University Sydney found that districts that produced coal, iron ore, and limestone experienced, on average, 450km2 more forest loss than other districts. The same study found that districts with minimal mineral production had, on average, 350km2 less forest loss than average districts.
Furthermore, a key motivator behind the updated NMP is a 2017 decision by the country's Supreme Court, which ruled against a number of illegal miners in three Odisha districts who "destroyed the environment and forests and perhaps caused untold misery to the tribal [communities] in the area." The court encouraged the government to implement a more robust mining policy, that did more to protect the environment and could be effectively enforced on a larger scale, but it is unclear if the new NMP achieves either recommendation.
The NMP also fails to address existing holes in India's environmental regulations, with no specific references to mining in policies such as the Environment Act, Water Act and Air Act, which cover pollution in the country. While the Environmental Protection Rules of 2010 introduced some standards for iron ore operations, the remainder of mineral extraction projects remain unchecked, and Srestha Banerjee wrote in Indian environmentalist magazine Down To Earth that introducing pollution checks is almost impossible as "baseline pollution monitoring data in most mining areas is nearly non-existent or extremely poor."
A 2017 study found that waste from chromium mining in Odisha polluted local water sources, highlighting the dangers of mining by-products. The report found that levels of chromium, which is toxic to humans, in local water sources reached up to 1.46mg/L, orders of magnitude above the limit of 0.05mg/L considered safe by the government. The pollution was primarily caused by waste storage facilities overflowing during India's rainy season, and the new NMP introduces no specific regulations with regards to safety in relation to seasonal or meteorological changes.
While these shortcomings will not necessarily lead to the further decline of India's natural environments, the fact that the government has neglected to protect these areas in legislation that is infrequently updated could encourage environmentally irresponsible developments in the next decade.