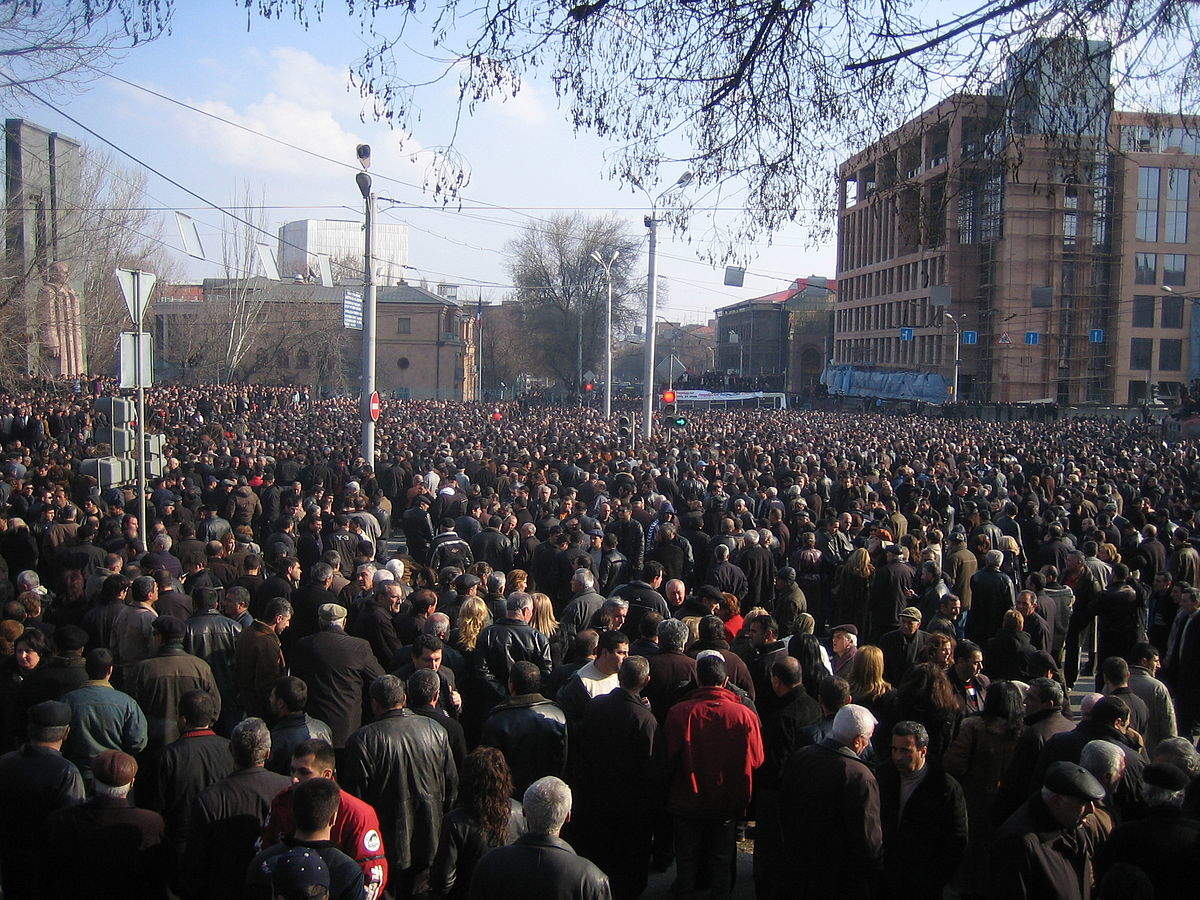 Since achieving independence in 1991, Armenian politics has been dominated by the right-wing Republican Party and its leader Serzh Sargsyan, who has served as either the country's president or prime minister from 2007 to 2018.
When Sargsyan was elected to his second term as prime minister in April this year, his fourth consecutive term at the head of Armenian politics, many feared that he was setting himself up for indefinite rule.
In response, leader of the centrist, pro-European Civil Contract party Nikol Pashinyan led a series of peaceful protests through April and May, which culminated in the resignation of Sargsyan.
Pashinyan was elected prime minister on 8 May without opposition, and while Sargsyan remains in politics as the leader of the opposition and head of the Republican Party, which is still the country's largest single party, there is hope that the new prime minister's government will introduce a more transparent democratic process to Armenia.
Uncertainty in mining
However, many of Pashinyan's policies are as yet unclear, beyond a desire to remove corruption from Armenian politics, which has created uncertainty in the country's crucial mining sector. In 2016, mining contributed 2.6% to Armenia's GDP, provided 16.7% of its industrial output, and accounted for over half of all exports. The Zangezur mine, for example, sits atop 6% of the world's molybdenum reserves, and with reserves of over 2 billion tonnes is expected to be in operation for at least a century.
Director of the Extractive Industries Transparency Initiative (EITI) Eddie Rich explains: "Armenia has an abundance of mineral resources such as gold, copper, molybdenum. Revenues from the minerals sector are increasing, and the sector has the potential to play a significant role in the development of the country's economy."
How well do you really know your competitors?
Access the most comprehensive Company Profiles on the market, powered by GlobalData. Save hours of research. Gain competitive edge.
Company Profile – free sample
Thank you!
Your download email will arrive shortly
Not ready to buy yet? Download a free sample
We are confident about the unique quality of our Company Profiles. However, we want you to make the most beneficial decision for your business, so we offer a free sample that you can download by submitting the below form
By GlobalData
On an individual scale, the average wage for a miner is $710, compared to the national average wage of $364, according to financial analyst Check in Price. The mining sector makes a significant contribution to both national and individual wealth in Armenia.
A lack of transparency
Uncertainty in the sector's future is compounded by a lack of transparency in the history of mining, which the Pashinyan government will need to address to restore faith in Armenian mining.
The names of mining shareholders are not publicly available, a lack of transparency that makes understanding the sector – and determining responsibility for its future – difficult. Many of the country's largest mines are also owned by companies based overseas, making it even harder for Pashinyan's government to influence these operations.
The Zangezur mine produces 18 million tonnes of copper and molybdenum per year, and is owned by Germany-based Cronimet Mining. The country's largest zinc and gold mine, the Shahumyan project, is owned by Polymetal International, which is listed in London and Moscow, while the Amulsar mine is owned by UK-based Lydian International.
Armenia has taken steps to improve the transparency of its mining sector through its work with the EITI. The initiative has reported on 394 fiscal years' worth of data, and disclosed $2.4tn in revenues from mining companies across 51 countries. Rich is optimistic about the potential for the EITI to improve mining in Armenia, saying the initiative "will strengthen domestic resource mobilisation and improve the investment climate."
"The government of Armenia has already demonstrated clear commitment to beneficial ownership transparency," he said. "In January of this year it published a legal review on beneficial ownership in Armenia and a roadmap on how to get to beneficial ownership disclosure."
This review has been the result of years of work often derailed by political upheaval. Armenia attempted to adopt the EITI into its laws as early as 2015, and the process is now led by first deputy prime minister Ararat Mirzoyan, a founder of the Civil Contract party and committed opponent of Sargsyan. Yet Mirzoyan has only held the position since the revolution in May, and so is effectively starting from scratch. The application process will take place next year, with EITI's first report on Armenia due in early 2019, ahead of the initiative's final consideration of Armenia's status on 9 September.
While Armenia is one of 51 countries to have implemented the EITI, it has not yet been assessed against the initiative's standard, and any improvements to the country's performance would have come from an external body, rather than the Armenian Government itself. Following years of internal strife, the country has struggled to ensure transparency in its mining sector, creating tensions that came to a head with recent protests at the Amulsar gold mine.
Amulsar protests
The Lydian-owned Amulsar operation was due to begin gold production this year after securing approval from the Armenian Ministry of Nature Protection in 2014, but operations have been halted by local protests. The Armenian Environmental Front (AEF) has blocked access to the mine, claiming that the mine will cause significant damage to the local environment for relatively little gain.
Lydian plans to use a process known as heap leaching to extract gold from ore, which involves pouring cyanide into ore in the ground to separate gold from the rest of the deposits. The AEF claims that the mine's heap leach facility in the nearby Gndevaz village poses a significant health risk, as supplies of cyanide are stored just one kilometre away from residents' homes.
Similarly, open-pit operations at the mine are expected to kick up dust – further polluted with cyanide – which is expected to contaminate the air in a 30km radius around the mine, affecting people in the resort city of Jermuk, and an additional six local villages. The mine also plans to dump its waste into the Lake Sevan basin, polluting a body of water of "environmental, economical, social, scientific, cultural, aesthetic, medical, climatic, recreational, and spiritual value," according to the 2001 Law on Lake Sevan.
The Amulsar project is also expected to produce only 7.8 tonnes of gold per annum, significantly lower than the 750,000 tonnes of gold and zinc produced at the Shahumyan mine. The mine's short life expectancy, of just 11 years, combined with the fact that Lydian will operate the mine through its wholly-owned subsidiary Lydian Armenia, makes it hard to see the operation as anything more than a short-term financial opportunity for Lydian, rather than a long-term project to benefit Armenia. While Lydian has claimed the mine will create 770 permanent jobs at the site, these will only last for the duration of the mine's life, and will do little to ease unemployment in Armenia.
Armenian lawyers have also opened a criminal case against Lydian for illegal mining at the Amulsar site that cased $37,200 worth of damage, and Pashinyan himself has called for an internal investigation to determine the "undeniable facts" of the mine's potential economic and environmental consequences.
Yet there is no timeline for Pashinyan's enquiry, nor is there a clear idea of how it will be conducted. Mine workers have set up counter-protests at the mine, demanding the mine to be opened to enable them to work and earn their wages; Pashinyan's unique situation of leading a minority government with few policies means that matters such as the mine may not be considered a priority.
Ultimately, questions remain about the future of mining in Armenia, the transparency of its industry and how this critical sector will affect the government, companies, the environment and individuals who rely on mining for their livelihoods.