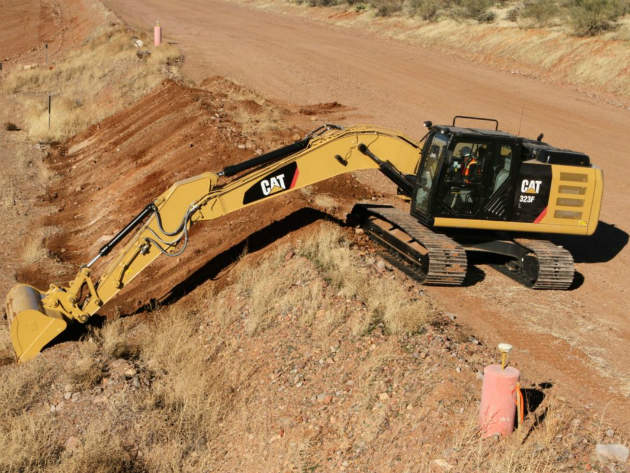 In March 2017, Caterpillar chairman and CEO Doug Oberhelman will retire, calling time on a storied career spanning four decades, eight US presidents and, since 2010, unprecedented market conditions.
Oberhelman's life and career reads like an American fairytale. The son of second-generation German immigrants, he joined Caterpillar after graduating college in 1975, becoming vice president of the Peoria, Illinois-based company in 1995 and serving as chief financial officer from 1995 to 1998. On 1 July 2010, Oberhelman succeeded Jim Owens as CEO and as chairman of the board four months later.
His replacement by another Caterpillar lifer, Jim Umpleby, has surprised many analysts in the wake of better-than-expected quarterly revenue of $10.3bn and a stock price rise of 29% year to date.
A spokeswoman said the CEO's departure was his choice and that the transition is in line with that of past CEOs. Scratch the surface, however, and something appears to be rotten in the state of Illinois.
In July, Caterpillar cut its full-year sales and profits forecast as weak demand for mining and energy equipment forced the company to adopt a leaner, meaner business model. Restructuring costs in 2016 are forecast to reach $700m, with a total decrease in the global workforce of close to 14,000.
In a statement announcing his retirement, Oberhelman admitted that the company to which he has devoted his life has suffered from a global industry downturn that is expected to endure into 2018.
"During the last four years, Caterpillar has faced unprecedented global economic conditions that have significantly impacted industries served by our customers, as those industries and economic growth in many regions around the world have slowed or severely contracted," Oberhelman said.
China crisis: Oberhelman's multi-billion dollar gamble
In 2010, Oberhelman took the helm of a company that had weathered the global financial crisis well. The newly installed CEO turned bullish, investing billions in mining in China, India and Brazil, where growth, especially in infrastructure, was greatest, including two major acquisitions; US equipment manufacturer Bucyrus International for $7.6bn and Chinese firm ERA Mining Machinery for $886m.
It was a major vote of confidence in Caterpillar's financial clout and the commodity supercycle, the name given to the prolonged price surge that followed China's rapid industrialisation in the 1980s.
"We are stepping it up big-time and putting our money where our mouths are."
"We are stepping it up big-time and putting our money where our mouths are," Oberhelman told Wall Street Journal in 2010. "We're going to play offence, and we're going to win. We will win in China."
Oberhelman's bravado came back to haunt him. Almost as soon as Caterpillar doubled down on mining, key commodities such as copper and coal and iron ore began to tip into oversupply, China's stellar growth stalled, Brazil slipped into recession, and demand for Caterpillar machinery dried up.
The company has also been hit by the slump in the US coal industry thanks to the boom in natural gas and stricter environmental legislation. According to the Wall Street Journal, Caterpillar's mining unit lost $163m in the second quarter of 2016 as sales dropped 29% compared with a year earlier.
Still, the balance sheet remains strong
Despite these setbacks, Caterpillar recorded sales and revenue of $65.9bn in 2012, the highest in its 91-year history and industry analysts have also credited Oberhelman with trimming the fat, cutting the workforce by 20%, or 30,000 jobs, in the past four years while boosting production capabilities.
The company's balance sheet is strong. The Financial Times reports that at the end of the second quarter of 2016, Caterpillar's machinery, energy & transportation debt-to-capital ratio stood at 39%, with $6.7bn in cash as of 30 June 2016. Market position for its machines has significantly increased.
With 2015 sales and revenues of $47bn, Caterpillar remains the world's leading manufacturer of construction and mining equipment, diesel and natural gas engines, industrial gas turbines and diesel-electric locomotives. The firm has also increased its quarterly dividend by 83% since 2010.
"Decisions to make investments are long term, they're not just made for tomorrow," said Charles Yengst of machinery market consultancy Yengst Associates. "Some of the decisions Caterpillar has made [in the last 40 years] have not looked very wise at the time but 15 to 20 years afterward they look like they did the right thing".
Forward thinking: Caterpillar sets its sights on the long term
Oberhelman appears, in public at least, to be at peace with both himself and his legacy as he prepares to officially hand over control of the company to Jim Umpleby − currently a Caterpillar group president with responsibility for the energy & transportation division − effective from 1 January 2017.
"Our people have heard me say many times that my greatest responsibility as chairman and chief executive is to manage Caterpillar for today and position the company and its future leaders for long-term success," Oberhelman said in the statement announcing his early retirement.
"I am confident that Caterpillar is stronger than ever, with product quality, power, technology and innovation that is the envy of our competitors," he continued. "Add to that lean and agile manufacturing capabilities and an unrivalled global distribution channel. The future is bright."
"Umpleby, Caterpillar's heir apparent will inherit a firm committed to minimising operating costs by $1.5bn a year."
The markets were cautiously optimistic about the company's immediate future, with shares in Caterpillar initially trading slightly lower after the announcement of the management changes.
As for Umpleby, Caterpillar's heir apparent will inherit a firm committed to minimising operating costs by $1.5bn a year, reducing its overall workforce by as much as 10,000 by 2018 and selling two of its equipment lines for underground mines to focus on products with greater growth potential.
Specifically Caterpillar is exiting the room and pillar products business, which includes machines for underground soft rock mining and for highwall mining. The company will continue in three other underground equipment segments: longwall mining systems, hard rock vehicles, and hard rock cutting machines.
All of this is set against a backdrop of the downturn in emerging markets, and uncertainty surrounding the UK's decision to leave the EU and Donald Trump's shock victory in the US presidential elections.
"For more than 91 years, Caterpillar equipment has been renowned for its quality, durability, innovation and value," Umpleby said in a statement released in October. "I have been privileged to work with Caterpillar employees and dealers in supporting our customers as they develop the world's infrastructure and improve standards of living and quality of life. I look forward to leading our dedicated team as we build upon the accomplishments of those that have come before us."
Like Oberhelman, cut Umpleby and he likely bleeds Caterpillar yellow. And like his predecessor, he will need all of his experience as he attempts to revive the fortunes of an iconic American brand.