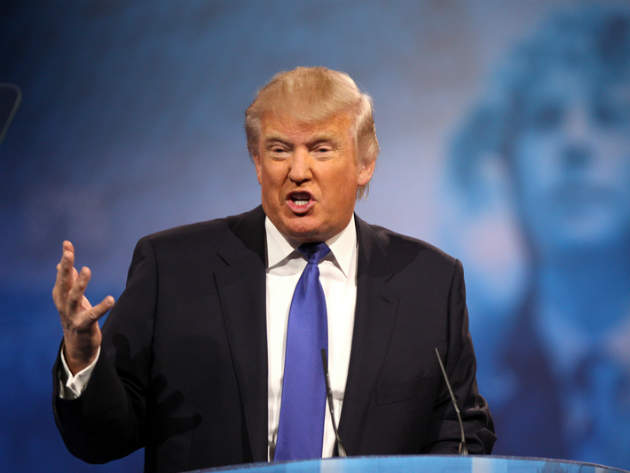 When pushed forward, the Stream Protection Rule was widely condemned by leaders in the energy sector and Republicans on Capitol Hill.
They said it was too expensive and risked introducing an additional layer of threat to the already beleaguered US coal mining industry. Critics included Representative Ralph Watts from Iowa who at the end of January, called on Trump to "remember his campaign promises to lift restrictions on this vital energy source and use his first 100 days to bring clean coal back into the political dialogue."
The state of Iowa ranks in the top ten states in the nation for coal use per capita and its five largest power plants by capacity are all coal-fired. Agreeing with the sentiments, on 28 February, Donald Trump signed an Executive Order calling for the Environmental Protection Agency (EPA) to formally review the water protection rule.
Republicans back plan
Trump has made no secret of his intention to support the US coal and oil industries – even, critics argue, at the expense  of jeopardising growth in the nation's rapidly expanding renewable energy sector.
At the end of January, Rick Perry of Texas, a stalwart supporter of oil and shale, was confirmed by the Senate Committee on Energy and Natural Resources as Trump's Secretary of State for Energy. And this was expected to sound the death knell for Obama's brave but ultimately futile last minute attempt to protect US streams and waterways from pollution by the coal mining process.
"Trump's strategy is certainly nothing if not ambitious."
Trump's strategy is certainly nothing if not ambitious. His newly updated website says the administration "is committed to eliminating harmful and unnecessary policies such as the Climate Action Plan and the Waters of the US rule."
It continues, "The Trump Administration is also committed to clean coal technology, and to reviving America's coal industry, which has been hurting for too long. In addition to being good for our economy, boosting domestic energy production is in America's national security interest."
Trump to unleash Executive Orders
It is widely thought that Trump will soon issue an Executive Order lifting the Obama administration's moratorium on coal leasing of federal lands. In addition, the White House is expected to take aim at the Clean Power Plan (CPP).
Designed to meet US commitments made under the Paris agreement, the plan requires power plants to cut carbon emissions by 32% by 2030. Should this pledge be met, US coal production could shrink by another 26% through 2040, according to the US Energy Information Administration (EIA).
In his first address to a joint session of Congress at the end of February, Trump – to the relief of environmentalists – made no mention of rolling back the CPP. Yet, the CPP is already some way into an appeals court process and there is much anticipation over whether the President will direct the EPA to reverse the decision as planned, in early March. That said, reversing the CPP would not be a simple option but, rather, would start a lengthy regulatory process likely to draw legal challenges.
However, there are real doubts, and not just from the environmental lobby, about whether Trump will succeed in his aim of rescuing the US coal industry. Firstly, coal has a fierce competitor in the form of cheap, clean, natural gas, and the President himself is a supporter of the expansion of US shale gas drilling. Secondly, there is a plethora of voices arguing that the US coal industry's demise is too far advanced for it to be resurrected.
Even Robert Murray, CEO of Murray Energy, the largest US private coal miner and supporter of the Trump plan, recently told CNN Money that coal employment "can't be brought back to where it was before the election of Barack Obama," and Trump needs to "temper" his promises to the industry.
Can US coal's decline be reversed?
So it seems that, should Trump choose to dismantle or not enforce the CPP, it is unlikely that this will significantly reverse the decline of US coal.
In 2008, coal's share of electricity generation stood at 48%. By 2012, this had dropped to 37.4% and by 2016, just 30.4% – the biggest plunge in US coal-fired electricity production since 1949. Compounding the issue, the swift incline in the number of coal-fired power plants put out of commission will make them difficult to bring back online.
That's not to say, though, that Trump's pro-coal strategy will have no observable effect on the US coal industry's fortunes. In fact, there are a number of reasons to believe that some in the anti-coal lobby could be overestimating the extent of the industry's demise. For a start, the steep decline in US coal output over the last eight years appears to be slowing.
Indeed, the latest EIA forecast actually predicts a slight rise in coal-generated electricity, from 30.4% last year to 31.6% in 2018, before flattening out through 2040. This means that, even more than 20 years from now, coal will still generate close to a third of US electricity.
Lessons from shale
The development of shale oil and gas provides a salutary, albeit sombre, lesson to those who believe the coal era's end to be imminent.
America's oil industry is almost as old as that of coal, and for more than a century oil and gas were the bedrock for industrial development in southern states, such as Texas and Louisiana.
By the 1970s, the industry appeared to peak and it was widely thought to be in terminal decline. But that was before the commercialisation of the fracking process, first developed for gas, which led to a near miraculous recovery in US oil production.
"For the coal industry to replicate this 'miracle', however, much will depend on whether Trump can deliver on his clean coal promise."
Such has been the extent of the recovery that in April 2014 US daily crude oil and natural gas liquids (NGL) combined output actually exceeded that of Saudi Arabia for the first time.
For the coal industry to replicate this 'miracle', however, much will depend on whether Trump can deliver on his clean coal promise, which will require a technological leap every bit as groundbreaking as the fracking process was for oil and gas. Fortunately, a collection of clean coal technologies are currently being developed.
Some of the techniques involve chemically washing impurities from coal, gasification, improving the technology for treating flue gases to remove pollutants, and carbon capture and storage (CCS).
On 10 January, the nation's first large-scale 'clean coal' facility – the Petra Nova project in Texas, said to be the largest of its kind in the world – was completed and declared operational. And on 31 January, the $7bn Kemper County, Mississippi, IGCC Project – a 582MW coal gasification-based power plant – was slated to start generating electricity and capturing CO2 from coal.
Has Trump undermined his own plan?
But there are fears from within the coal industry that by vowing to kill-off Obama's CPP, Trump may inadvertently have undercut an important incentive for the energy companies to invest in costly clean-coal technology going forward.
Meanwhile, bodies such as the New York City-based international environmental advocacy group, Natural Resources Defense Council (NRDC), are taking the fight to Trump. The organisation argues that his 'America First' energy plan "not only fails to put America first, it threatens to pull America back to the 20th century".
The NRDC blames "basic laws of economics" for the sharp decline in US coal generation (and consumption) in recent years. It points out that even Rick Perry's home state of Texas is now a national leader in wind energy.
"The Trump administration can't revive the US coal industry in the face of these market forces. Energy markets have swiftly moved away from coal toward solar, and wind energy and other lower-carbon electricity sources," it says.
Trump is unlikely to derail the inexorable march towards a sustainable energy future with his 'America First' energy plan. However, it could be enough to make some investors think twice before sinking money into what are, after all, still nascent CCS technologies.