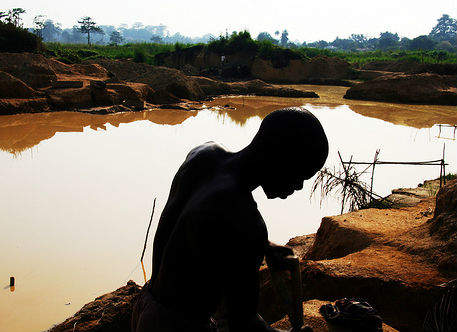 Diamond production has been fairly flat since 2009, and there is likely to be a supply and demand imbalance in the near future. It's not all bad news for companies though, as earlier this year, Stellar Diamonds announced that the Sierra Leone Minerals Advisory Board had verbally approved a mining licence for a major project in the country.
Stellar has several diamond assets in both Sierra Leone and Guinea, and the new focus will be on a project called Tongo, a 1.45 million carat resource.
Stellar chief executive Karl Smithson said he was "very happy" with news of the approval, especially as shares in the company jumped 20% to 7.85p after the announcement at the end of May.
"It is a step in the right direction and it shows that things are moving forward, so we're very happy that we've gone through essentially two stages now," Smithson says, referring to the submission of the licence application in November 2015 and the review by the Minerals Advisory Board. "It's fairly long-winded but we're getting there in the end."
Tongo: What's to gain?
The process of getting approval for Tongo is extensive, but Smithson is confident in the resources available to Stellar. The licence is located in the heart of the Tongo Diamond fields in eastern Sierra Leone, where Stellar has carried out extensive exploration programmes since 2007.
"All the technical work on the ground has been done; the reporting, the resource…it's really a matter of getting this through the various government departments," says Smithson. "It is a fairly lengthy process but there's no hurdle that we will not cross and we're moving in the right direction."
For the company, the licensing process has been a new experience. Smithson says he expects the remainder of this process to be completed within two to three months, but it could take longer. Smithson is assured in the development of the project though, as Stellar is a long-term investor in Sierra Leone, and has remained stable through national difficulties.
"The relations are good, they're strong," he says. "Our application is the first large-scale mining licence application to go through this process since the onset of Ebola, which I think is a very positive thing for the government and obviously for Stellar as well."
"The Tongo project could produce carats of diamonds for over 18 years, and generate around $387m in revenues."
A preliminary economic assessment last August showed that the Tongo project could produce carats of diamonds for over 18 years, and generate around $387m in revenues.
"This is at a high diamond grade, high diamond value, which offers what we believe is very interesting and compelling margins of when we move into production," Smithson says. "This is from one kimberlite on the property, [but] there are another three that we know have economic potential and we'll bring those into the resource in due course."
Three more kimberlites can only increase the longevity of Tongo, which will earn an estimated $424.8m in initial investment during the first four years.
"I think this is going to be a long-term and sustainable operation for Stellar and for the country," Smithson says.
Stellar hasn't had a hugely successful year, with shares hitting a 52-week low in July at 5p. While this doesn't look promising for the company, high gem quality diamonds fetch strong prices. This month at an auction, Stellar sold diamonds from its Baoulé site in Guinea for an average of $72.65 per carat, profiting $228,000.
Back in March, the company noted that lower diamond prices were caused by "a different mix of goods with a higher proportion of lower quality stones, as well as a broadly weaker rough diamond market since mid-last year".
Incidentally, two 5ct diamonds raised $3,500 per carat. If the stones retrieved at the Tongo site are of a high quality, they are much more likely to fetch a better price.
Considering the environmental impact
In February, Stellar received environmental approval for the project through the Environmental, Social and Health Impact Assessment (ESHIA) by the Environmental Protection Agency (EPA). Smithson noted that the company had also successfully made agreements with landowners and stakeholders.
"This phased development model will not only create significant local employment opportunities but also support early cashflow generation and a long-term sustainable operation," he says. "I look forward to updating shareholders in due course on progress relating both to our licence application and mine development."
Sierra Leone has had a dirty past with diamond mining, as miners in the Kono district have left behind thousands of abandoned pits. These fill with stagnant rainwater and become a breeding ground for malaria-spreading mosquitoes.
As a result, a lot of wildlife has vanished from the area and topsoil has eroded, which made farming impossible for a long time.
"Sierra Leone has had a dirty past with diamond mining."
In general, diamond mining isn't as damaging to the environment as other practices such as those used in gold excavation which require toxic chemicals like cyanide. This means that, with the proper planning and effective regulation, the impact the mines have on the environment can be significantly reduced.
In fact, even in the Kono district, things are improving, with local communities and international partners helping to fill the mining pits and replace topsoil, in an effort to revive the ecosystem and restore the landscape.
As the EPA approved Stellar's environmental assessment, the hope is that the Tongo project will not be a threat to surrounding wildlife and ecosystems.
A stellar future for diamonds
While Stellar is optimistic about the upcoming project, trends in the global diamond market cannot be ignored. The diamond business has more or less retained its value over the past few years, but global revenue dropped 2% to $79bn in 2015. Also, a lack of demand from China has resulted in an oversupply and slump in prices.
Millennials – people who reached adulthood around the year 2000 – are not generally enthused by diamonds, and this is likely to have an impact on future demand for the stones. De Beers' famous slogan 'a diamond is forever' could very well change to appeal to the younger generation if the market is going to remain affluent into the future.
There is also increasing concern about where diamonds come from, particularly as they are often associated with conflict and poor working conditions. Nonetheless, diamonds are still rare and clever marketing could help them stay a symbol of commitment. Transparency of the industry has also helped to protect the reputation of the product.
The big players in the market are still De Beers, which is the largest producer of diamonds by value, followed by Alrosa, Rio Tinto, Dominion and Petra. Stella isn't on this list, and whether it will make a mark on the industry with the Tongo project is questionable.
However, if the public can be once again convinced that diamonds are worth the money, then the smaller players in the gem game, such as Stellar, may well be very profitable.