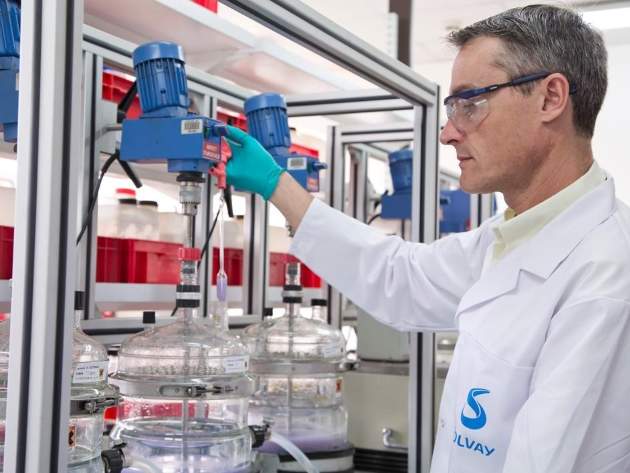 Can chemistry provide the key that will unlock increasingly complex, low-grade ore reserves and offer hope to mining companies beleaguered by low commodity prices and shrinking margins?
From niche to mainstream, the use of chemicals in the mining industry continues to grow in volume and sophistication as operators look to enhance recovery and extraction techniques, and maximise yields from complex fields containing once plentiful commodities like zinc, lead, copper and nickel.
The mining chemicals market is set to be worth in excess of $38bn by 2024 and demand for frothers, flocculents, grinding aids and solvent extractants is expected to spike during the next decade as the declining quality of mineral reserves drives the development of more advanced processing methods.
In addition, investment in R&D aimed at commercialising new chemical solutions may ultimately force potentially hazardous substances such as cyanide out of the market as both major and junior operators adjust to strict new legislation aimed at mitigating the environmental impact of mining.
In this article, we look at the projected growth for the mining chemicals market in the medium-term, examples of leading edge grinding and frothing products, how borax and lithium mining in Argentina is serving the gold and electric vehicle markets, and the new field of gold extraction from electronics.
How well do you
really

know your competitors?

Access the most comprehensive Company Profiles on the market, powered by GlobalData. Save hours of research. Gain competitive edge.
Company Profile – free sample
Thank you!
Your download email will arrive shortly
Not ready to buy yet? Download a free sample
We are confident about the unique quality of our Company Profiles. However, we want you to make the most beneficial decision for your business, so we offer a free sample that you can download by submitting the below form
By GlobalData
Bull market: demand for mining chemicals to increase to 2024
A report on the mining chemicals market to 2024 published in August by Grand View Research (GVR) confirms that the declining quality of ore has led to the increased usage of complicated processing methods that is expected to drive robust demand for mining chemicals over the next eight years.
According to 'Mining Chemicals Market Analysis By Product, By Application and Segment Forecasts To 2024', grinding aids dominate the global market and increased floatability of the ore − resulting in easy extraction − is expected to propel demand. The growing popularity of frothers in the froth floatation process of nickel, copper and other rare elements is also set to fuel market growth.
"The declining quality of ore has led to the increased usage of complicated processing methods."
Environmental protection legislation such as the 2003 Environment Protection Water Quality Policy in Australia is driving growth in the flocculents market as mining companies focus on improving the sedimentation and filterability of wastewater. Solvent extractants including ketoxime blends and modified aldoxime are also being increasingly used for the purification and extraction of minerals.
GVR also notes that the explosives and drilling segment is expected to grow at a CAGR of more than 6.5% as depleted reserves force companies to turn to deep surface mining to extract high-quality minerals, and use of coolant and corrosion inhibiting chemicals becomes increasingly widespread.
In terms of competitive market share, GVR identifies BASF, Chevron Phillips, SNF Flomin, Cytec and Ashland as key players in the highly fragmented mining chemicals industry. Expanding production capacity and new product development are key strategies as these major companies prepare for rapid mining industry growth in Asia-Pacific, Canada, Chile, Brazil, Russia, Peru and the US to 2024.
Chemical production: Orocobre leads the way in Borax and Lithium
Borax is rapidly replacing mercury as the preferred method for extracting gold in small-scale mining facilities. Australian mineral company Orocobre is serving this and other global markets via its Borax Argentina project, one of only a few important borate deposits currently in production worldwide.
Orocobre's Salar de Olaroz Lithium Facility is also providing lithium, a vital component of batteries for electric vehicles. A little over a year after opening, the plant in Argentina has already reached a production rate that is expected to produce 10,000t per annum, reports Mining Journal.
For graphite to be battery-ready, the producers and plant operators have to make a flake graphite concentrate and mill it to micron-sized spherical graphite with consistent and limited impurities.
Proprietary grinding aids from Zalta are specifically designed to work in demanding environments, reducing ore cohesion and adhesion, increasing throughput and eliminating production bottlenecks.
Zalta grinding aids increase productivity by reducing cohesion and adhesion in the ore slurry leading to reduced maintenance, improved environmental performance and reduced overall CAPEX costs.
Froth flotation is the name given to the process for separating minerals from gangue by exploiting differences in their hydrophobicity, makes processing complex, mixed ores economically feasible.
The AEROFROTH® and OREPREP® range of frothers developed by Cytec encompasses alcohol-based, glycol-based or blends used in conjunction with the company's collector / depressant chemistries.
Gold standard: using hydrogen peroxide to extract gold from electronics
Using hydrogen peroxide and hydrochloric acid to extract gold from used electronics is a developing field that has the potential to gain traction among enthusiasts, academics and the mining industry.
Laptops, cameras and smart phones use gold to connect various components – a typical handset contains around 0.2g, legacy technology such as industrial video equipment as much as a couple of ounces (56g) per machine – that can, with care, be mined relatively easily, reports Wired UK.
"Using hydrogen peroxide and hydrochloric acid to extract gold from used electronics is a developing field."
In phones most of the gold is in the SIM card, the main board and the smaller components on the back of the LCD screen. A magnet can then be used to separate the gold-plated steel parts and the circuit board submerged in two parts hydrochloric acid and one part weak hydrogen peroxide (a concentration of 3%). Over time, the acid darkens and the gold flakes detach from the scraps.
The mixture is then filtered, the gold flakes saved and any remaining parts containing gold saved for re-dipping. The flakes can then be washed with water and methanol ready for melting. The gold is mixed with the chemical borax, allowing it to be melted using a blowtorch at a considerably lower temperature. Once cooled, the gold can finally be chipped out of the re-solidified borax.
In large-scale gold and uranium mining operations, hydrogen peroxide is already used as an oxidant in metallurgical process steps including ore leaching, concentrate preparation and eluent treatment.
Toxic debate: environmentally friendly alternatives to cyanide
The environmental impact of mining is well-known and finding alternatives for sodium cyanide that are both workable and cost-effective – cyanide remains the primary reagent for gold processing because it allows for efficient extraction of gold from low-grade ore − are now producing results.
In June, the Australia-based research organisation CSIRO announced that its patented cyanide-free thiosulphate process was adding value to Barrick Gold's Goldstrike plant situated in Nevada, US.
"Replacing cyanide with the non-toxic thiosulphate stands to reduce environmental risks and open other opportunities in countries where gold cyanidation is banned," said CSIRO's Dr Paul Breuer.
Other potential alternatives to cyanide include the Haber Gold Process, which technology company Haber says is both non-toxic and more efficient than regular solvents such as mercury and cyanide.
In addition, the cyanide-free biocatalyzed leaching process from YES Technologies, also known as Yellowstone Environmental Science, Inc. (YES), is said to be 200 times less toxic than cyanide.
These innovations, and the mining industry's continued focus on improving chemical efficiency as a pinch point in production, may prove crucial as the sector looks increase efficiencies and cut costs.