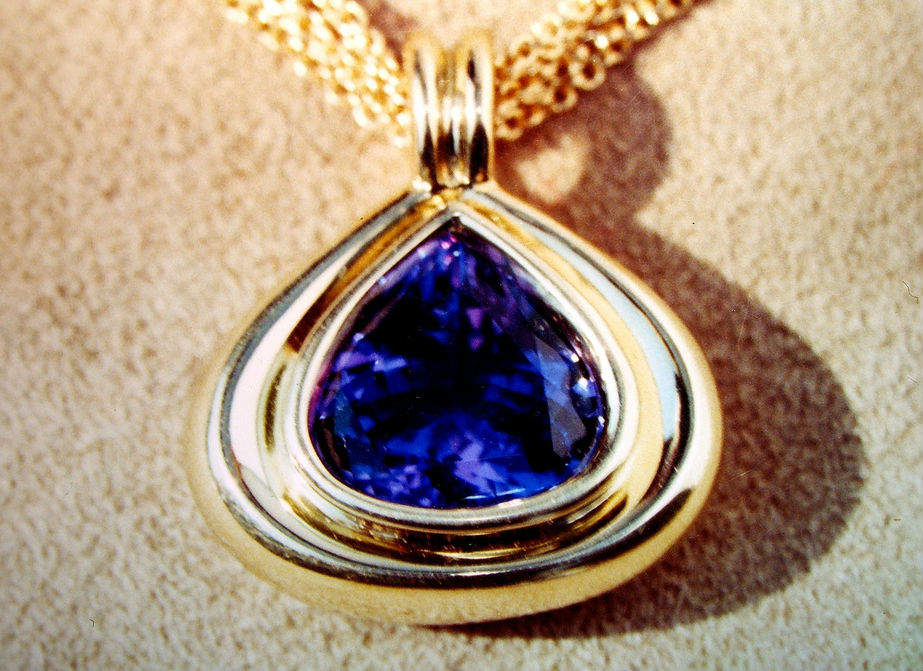 Tanzanite is a striking blue jewel that is found near the base of Kilimanjaro in Tanzania. The mines in the Mererani Hills cover around five square miles, and it's the only place in the world that produces Tanzania's native stone.
Gemmologists estimate that tanzanite is 1,000 times rarer than diamond, and due to the small scale of the area in which it is found, they warn that supply will probably only last another 30 years. It wouldn't be wrong to assume that scarcity drives profitability, but in the case of tanzanite, the potential doesn't appear to have been fulfilled.
Tiffany & Co had the rights to sell tanzanite for a decade, which conjured up some attention, but since the 1960s the stone has failed to make its prominent mark on the world's gem industry.
"Generally, the market is not good at the moment," says minerals valuation manager George Kaseza of the Tanzania Minerals Audit Agency. "Tanzanite should have the best prices right now, but it doesn't because of several factors."
A diamond is forever – what about tanzanite?
Tanzanite may be in short supply, but it doesn't have vast market value. The estimated worth of the market is $50m, compared to the sales of diamonds which can reach an enormous $13bn in annual market value.
Haggai Kinyau is a gemmologist from Tanzanite Experience, a retail company that is dedicated to improving awareness of what it calls "the most intriguing and desirable gemstones of modern times". Kinyau believes the reasons that tanzanite is underrated fall into two groups – the natural factor and the human factor.
"The most intriguing and desirable gemstones of modern times."
The natural aspect involves tanzanite's properties. There are a lot of options for stones like diamond, which is valued for its hardness and thermal conductivity, making it useful for making cutting and grinding tools such as drilling bits. It can also be powdered for polishing other gemstones.
"It's true that tanzanite is a very rare stone because [it] is found at one place here in Tanzania, but it is only used for personal adornment," says Kinyau. "Rarity alone could not make it fetch more value than diamond."
Comparing tanzanite to sapphire, Kaseza says that many people often go for the latter gem because of its hardness and therefore its durability.
"If someone really wants to buy a blue stone that is worth the money… [they] will go for blue sapphire," he says. "Although blue sapphire is almost ten times more expensive than tanzanite."
Laws and illegal trade
In terms of human involvement, there is no control of tanzanite on the world market. Every diamond that enters the world market is controlled by organisations such as DeBeers, but tanzanite has no such system. That means the entire tanzanite industry is operated by supply and demand.
The Tanzanian Government has tried to produce certificates of origin for tanzanite, which would mean the importers or exporters would be obliged to go through legal channels. However, the main importers like India and the USA do not yet recognise them as official documents, meaning smugglers have no problems when selling tanzanite.
Smugglers who sneak out stones from the mines for illegal trading do not operate openly or pay taxes to the government from their sales. This means mining companies have a hard time keeping up. In fact, international gemstone mining company Richland Resources used to own half of Tanzanite One, the company with the largest mine in the area. It called time on its involvement last year because it couldn't compete with the illegal trade.
"It is undeniable that most of the stones traded illegally are undervalued," says Kinyau, who sees the effects of illegal trading on the market first hand.
"Illegal trade of tanzanite is suffocating the real value of this rare and beautiful gemstone," he adds. "Unless the government [can] curb this illegal trade, tanzanite trade will suffer a lot on the world market."
Consequently, tanzanite is failing to make a tangible contribution to the national economy of Tanzania, which is in need of new sources of revenue.
Encouraging domestic processing
If Tanzania's Ministry of Energy and Minerals made sure that no illegal trade was going on anymore, it would be a win-win situation in Kinyau's opinion. "The government gets it revenue and the dealers get their profit," he says.
He also believes that some of the taxes on the gemstone industry should be lowered so that more people are able to pay them, and there should be more rules in place to regulate the tanzanite business.
The Gemstone and Minerals Act 2010 insists all tanzanite over the weight of one gram should not be exported in its rough state, but this rule has generally not been followed, and a lot of rough exports go straight to India for refining and cutting. The export ban was meant to be one of the incentives to encourage the establishment of cutting and polishing facilities in Tanzania, explains Kaseza, aiming to increase employment for Tanzanians.
"The government gets it revenue and the dealers get their profit."
"This is very tricky because this is introducing competition with India," says Kaseza. "India has been cutting this stone for so many years now and they have a lot of techniques and skills, and people to do this better than us."
"But…we have to start somewhere," he adds.
Kinyau thinks the Tanzanian Government should make a plan to import cutting and polishing machines, and then loan them to dealers. They're expensive, but an investment seems to be what the country needs to start profiting from their tanzanite. He also sees value in training people in "the scientific art" of gem valuation, so they can become gem cutters to international standards, thus reducing their need to smuggle.
A promising future
Kaseza believes that if the challenges are resolved, the future of tanzanite is promising.
"The main concern is to make sure that Tanzanians benefit more out of the resource that they have," he says. "Tanzanite…should be able to do that."
Kaseza is currently in the process of setting up a 'tanzanite pipeline' which aims to track the value of production in Tanzania from small independent producers to international traders. However, he has not yet been able to find out the figures for how much tanzanite India imports every year. The value for exports last year was $40m, but this was only the documented, taxed sales.
"We need to know how much India imports, then we will know [the scale of] the problem," he says. "If India imports $100m [worth], then we have a big problem."
Kinyau also believes that tanzanite could play a part in an advantageous future in Tanzania, if the government follows a plan to fix the problems associated with it.
"If all these are done," he says, speaking of the strategies, "it is my highest opinion that Tanzania will be in an advantageous position of utilizing the rarity of tanzanite with its beauty to profit from this gem."
All is not lost for the tanzanite market, but if the government wants to start seeing a turnaround in profits then it's going to have to crack down on those not playing by the rules.