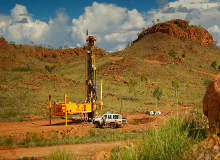 Sirius Minerals received $2.6bn funding from six banks, for its new North Yorkshire polyhalite project in the UK.
The banks providing the funding are JP Morgan, Lloyds Bank, Société Générale, the Royal Bank of Scotland, Export Development Canada and ING and are experienced in mining and infrastructure project finance.
Financial close for the funding is expected to take place in 2018.
Siemens launched a new drive system for underground mining vehicles as part of its expanding portfolio of automation and digitalisation solutions for the industry.
The electric drive system comprises Siemens propulsion and auxiliary inverters, control hard and software, as well as optional energy storage solutions.
The system also has a PEM Motor, which is connected to the wheels with a planetary type gearbox, and is suitable for tough mining conditions.
The Philippines' Department of Environment and Natural Resources recommended the suspension of 20 mines after completion of a government audit.
The audit was conducted to look into environmental violations.
Among the mines that the agency has recommended for suspension include Libjo Mining Corporation, Krominco Incorporated, Carrascal Nickel Corporation, Marcventures Mining and Development Corporation, Filminera Resources Corporation, and Strongbuilt Mining Development Corporation, reported Rappler.com.
De Beers opened the Gahcho Kué diamond mine 280km north-east of Yellowknife in Canada's Northwest Territories (NWT).
Comprising three open-pits, the mine is a joint venture between De Beers Group of Companies (51%) and Mountain Province Diamonds (49%).
Gahcho Kué is a fly-in/fly-out remote mine site and expected to produce approximately 54 million carats of rough diamonds from around 35 million tonnes of ore over its lifetime.
Australia's Queensland Government invited bids from mining companies for the state's North West Minerals province exploration.
Tenders are set to close on 2 February 2017 and a final decision will be taken in the first half of next year.
The inaugural exploration forward programme was released in July, also includes 273km² for coal exploration between Middlemount and Blackwater in the Bowen Basin in April 2017.
Volvo tested its fully autonomous truck in deep underground operations in Kristineberg mine, which is located 100km from Arvidsjaur in northern Sweden.
The new self-driving truck is part of the company's development project, which is aimed at improving transport flow and mine safety.
Covering a distance of 7km, the truck has the capability to reach 1,320m underground in the narrow mine tunnels.
Eldorado Gold completed the sale of its 82% stake in the Jinfeng mine to a wholly owned subsidiary of China National Gold Group in a deal worth $300m.
The open-pit and underground Jinfeng gold mine is located in China's southern Guizhou Province. It uses Biox technology and conventional carbon in leach circuit to produce gold dore.
Eldorado said that China National Gold has been the company's minority partner at Jinfeng for more than 14 years.
Rio Tinto sold Menar its 74% stake in Zululand Anthracite Colliery (ZAC) in Zululand, South Africa.
The underground mine ZAC produces quality anthracite for international and domestic customers. It has more than 1,300 employees and contractors.
Menar's Black Economic Empowerment partner Maweni Mining Consortium will continue to hold the remaining 26% of ZAC.
Hindustan Copper (HCL) signed a joint venture (JV) agreement with Chhattisgarh Mineral Development (CMDC) and PSE of State Government of Chhattisgarh to conduct mining operations in the Indian state.
HCL is a Miniratna Category-I company under the administrative control of the Ministry of Mines, Government of India.
The newly formed JV company will carry out exploration and mining of copper ore in Chhattisgarh state.
Scania.jpg" />
Swedish company Scania showcased its new solution to help mine operators create efficiencies by identifying savings in their work processes.
The Scania Site Optimisation will enable the company to bring its experience of efficient production in truck manufacturing to the mining sector.
Scania Site Optimisation measures and evaluates production performance factors in the five crucial areas of time, road, load, safety, and sustainability.