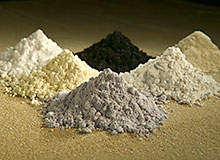 China
China is by far the world's biggest rare earth producer, its rare earth mineral production in 2013 stood at 100,000t accounting for more than 90% of global production. China's rare earth mineral consumption also accounts for 60% of global consumption.
The nation's rare earth reserves are estimated at 55Mt comprising close to 40% of the world's total reserve. The Bayan Obo deposit in Inner Mongolia, containing 48Mt of rare earth oxides (REO) resources, is considered to be the world's biggest rare earth deposit. The mine has been in production since 1957 and currently accounts for over 70% of China's light rare earth elements production.
United States of America
The US produced 4,000t of rare earth elements in 2013 accounting for 3.6% of global production. The country's domestic consumption of rare-earth imports in 2013 increased to 10,500t from 5,770t in 2012 making it the third biggest rare earth consumer after China and Japan.
The US is believed to hold 9% of the world's rare earth reserves, estimated at 13Mt. The Mountain Pass mine, operated by Molycorp, in California is the country's biggest rare earth producing mine. Mountain Pass mine had been producing since early 1960s but was closed in 2002 due to environmental restrictions, as well as lower prices for rare earth elements. It was however reopened in 2012 and now has a new processing plant with a capacity to produce over 15,000t of REO a year.
India
India's estimated rare earth mine production of 2,900t in 2013 accounts for 2.6% of global production, while its reserves are estimated at 3.1Mt comprising 2.2% of the world total.
State-owned Indian Rare Earths Limited (IREL) operates four rare earths divisions (RED) engaged in commercial scale processing of monazite sand. Two of these divisions are located at Aluva and Chavara in the state of Kerala, while the other two are located at Manavalakurichi in Tamil Nadu and at Chatrapur in Orissa. The Orissa Sand Complex (OSCOM) division based in Chatrapur is IREL's biggest producing unit.
Russia
Russia produced 2,400t of rare earth elements in 2013 accounting for 2.1% of the world total. Russia's annual rare earth consumption is estimated at 1,500t and demand is expected to reach 6,000t by 2020.
The Lovozero mine in Murmansk Oblast has however been the country's only rare earth producing mine. The TriArkMining joint venture (JV) was created in 2013 between state-owned Rostec and IST Group, a private company, to acquire and process 82,653t of rare-earth concentrate stockpiled for more than 60 years in warehouses of state-owned Uralmonatsit in the Sverdlovsk region. The JV is also developing the Tomtor deposit in the Yakutia region, which is estimated to contain 150Mt of rare earths reserves including ytrium, niobium oxides, scandium and terbium.
Australia
Australia's estimated mine production of rare earth minerals in 2013 stood at 2,000t accounting for about 1.8% of the world total. The country's rare earth reserves are estimated at 2.1Mt, which account for about 1.5% of the world total.
Lynas Corporation's Mount Weld mine in Western Australia, which commenced mining operations in 2011, is Australia's biggest rare earth producing mine. The mine's ore is, however, processed at Gebeng, Pahang in Malyasia, where Lynas has been operating a processing plant since September 2012. The Mount Weld deposit was estimated to contain 1.1mt of REO in reserves as of September 2012. The Nolans Bore project in the Northern Territory and the Dubbo Zirconia project in New South Wales are the two major rare earth mining projects currently under development in the country.
Vietnam
Vietnam's production of rare earths in 2013 stood at 220t and its rare earth output is expected to increase significantly in future as Japan – the second largest rare earth consuming country – shows an active interest in rare earth mining and processing in Vietnam in a bid to reduce rare earth imports from China.
Japan and Vietnam signed an agreement to co-operate in the exploitation of rare earth minerals in 2010. Vietnamese company Lai Chau-VIMICO Rare Earth Joint Stock Company and Japanese company Dong Pao Rare Earth Development Company entered into an agreement in 2012 to jointly mine and process rare earth resources in the Tam Duong district of northern Lai Chau province. The first phase production of the mining project is expected to be 10,000t a year.
Brazil
Brazil's rare earth mine production in 2013 was estimated at 140t, whereas its rare earth reserves stand at 22Mt, accounting for about 20% of the world total. Niobium and tantalum are the two major rare earth elements being produced in the country.
The biggest Niobium deposit in Brazil is located in Araxá and owned by Companhia Brasileira de Metalurgia e Mineração (CBMM), while Anglo American's Niobium business located in the cities of Catalão and Ouvidor in the Goiás state is one of the world's biggest niobium producers. The Mibra mine near Belo Horizonte, operated by the Advanced Metallurgical Group (AMG), is a major tantalum producing mine in the world. In April 2012, World Mineral Resources (WMR) announced that it had uncovered a large neodymium deposit containing 28Mt neodymium in the western Bahia state, while Vale, in October 2011, had discovered significant amount of rare-earth minerals at its Salobo copper-mine project at Carajas in Para state.
Malaysia
Malaysia's rare earth production in 2013 stood at 100t, while the country's estimated reserves of rare earth minerals stand at 30,000t. The rare earth minerals in Malaysia are produced mainly as by-products from tin.
The Perak state government of Malaysia signed a memorandum of understanding (MoU) with Hong Kong-based Commerce Venture Manufacturing (CVM) Minerals for creating a joint venture to mine rare earth resources in Bukit Merah in 2011. In January 2014, Verde Resources announced to carry out exploration at the Merapoh Mine in Pahang whose sample study had indicated the existence of 15 rare earth oxides.