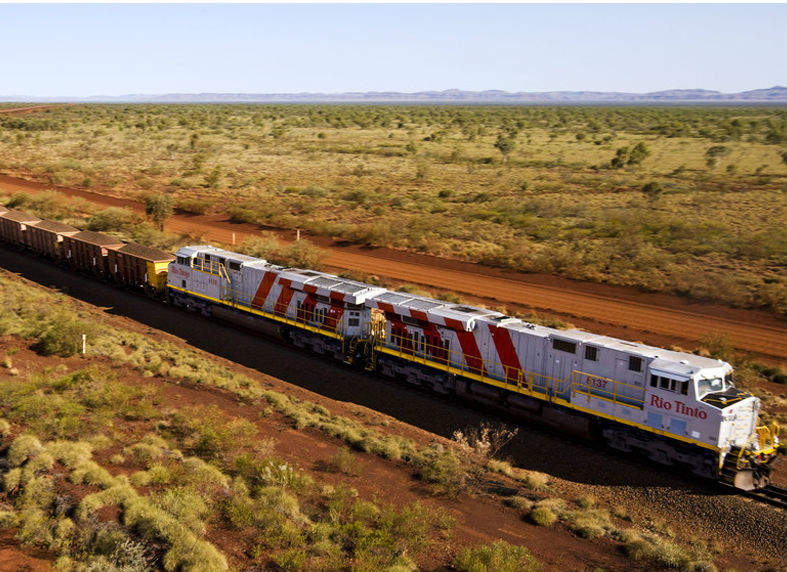 The mining sector has been awaiting the launch of Rio Tinto's autonomous freight train programme in Pilbara, Western Australia, for a number of years. Due to software glitches, the AutoHaul project has been delayed for at least a further three years beyond its original goal of 2015.
The driverless trains will be used to haul iron ore from Rio's 15 mines in Australia's Pilbara region, with the aim of shaping mining into a more autonomous industry. The project was approved in 2012, when Rio shared plans to build 800 miles of rail towards ports where loaded cargo ships will be sent to Asia.
The development was estimated to cost $518m, but the company's executives were confident that the money saved from cutting manpower and fuel would make it a worthy investment.
"This is a significant milestone which adds real value for our business and our shareholders by moving more iron ore through the Pilbara at low cost," said Rio Tinto Iron Ore chief executive Andrew Harding in 2014. "It builds on an impressive track record of delivery, achieved through our culture of driving performance and the quality of our people."
He also said the infrastructure was on schedule for completion in a little over 12 months, but that deadline has already passed.
Do we need more iron ore?
The project has yet to advance beyond tests conducted in April, and this has had a negative effect on Rio's iron ore production. The company, which is the world's biggest exporter of iron ore alongside Brazil's Vale, now expects to produce less ore next year.
"With the delay in AutoHaul, production from the Pilbara [region] is now expected to be between 330 and 340 million tonnes in 2017," a Rio Tinto spokesperson told the Wall Street Journal in April, down from the previous estimate of 350 million tonnes.
No further comment was made on the status of the tests or when they might be completed, and Rio has remained very quiet about the project since.
In April, the company posted its global iron ore shipments for the first three months of 2016, which were down 12% from the previous quarter. Analysts have said that disruptions to iron ore supplies from such a big player in the sector could have a noticeable effect on commodity prices.
Peaks and troughs
Iron ore has had a shaky financial performance over the past few years, seeing sharp spikes and declines between 2010 and 2015.
IBISWorld's 2015 Global Iron Ore Mining global market research report stated that the price of iron ore plummeted in 2012, and since then the industry has been weak due to stagnating demand from emerging markets like China, as well as the increase in production from companies like BHP Billiton and Vale.
"We continue to experience volatility in commodity prices across all markets."
However, in March this year prices spiked by a record 17%, which could be due to disruptions in iron ore shipments from Australia and Brazil. Whereas previously there was concern over a global glut in the resource, questions over whether supply is going to be as reliable over the next few years could increase iron ore's worth.
Glencore director Ivan Glasenberg and Fortescue Metals CEO Andrew Forrest have both called for Rio and BHP to purposefully slow their iron ore developments in order to achieve a knock-on effect.
Citibank has forecast that iron ore prices will fall below $40 per ton by the end of the year, down from about $60 per ton currently, but this could be subject to considerable change. The IBISWorld report predicts that the iron ore industry is expected to improve over the five years to 2020.
"We continue to experience volatility in commodity prices across all markets," said Rio Tinto chief Executive Sam Walsh.
Costs and savings
Rio relies on iron ore for a significant bulk of its earnings, so the company cannot afford to take risks with supplying its customers. In recent years Rio has countered the weak commodity prices by squeezing its spending, most notably with a freeze on global wages.
The AutoHaul project is an extension of this, as when the trains are set up, most workers will be based at the new operations centre in Perth, Australia. Trains will be monitored and controlled via satellite links, meaning that less manpower will be necessary on site.
The company also said that the driverless trains will make the entire process more productive because driver changeover times are eliminated. At the moment, workers have to travel more than 43,000 miles each week to get train drivers to where they start or end shifts, with a train trip from a mine to a port typically lasting 40 hours. Autonomous trains would completely eliminate this.
Trains would also not have to stop to switch drivers twice a day, as they currently have to do to relieve workers.
"When you consider that it takes 20 to 30 minutes to undertake a controlled stop of our locomotives each time a shift changeover is required, and a further 20 minutes to restart, you can see the benefits to productivity," said Greg Lilleyman, who oversaw AutoHaul until May. "We can gain back almost two hours loss-of-run time a day."
Rio's innovation and investment
Rio is one of the more daring mining companies when it comes to adapting to and investing in new technologies. For example, it has worked on 3D mapping its deposits, and the company's Mine of the Future™ programme is an ongoing project that uses advancements in technology to improve the safety and efficiency of operations.
There are 69 autonomous trucks already in operation at Pilbara, and Rio is planning on increasing this number every year. An automated drilling system was also successfully trialled in 2008 in preparation for deployment across Pilbara, which can drill hundreds of thousands of holes into the ground every year.
The main reason for AutoHaul's delay is software glitches. Problems are believed to exist on over 1300km of track, due to communication errors between the base and the trains.
"The main reason for AutoHaul's delay is software glitches."
"When you are the first mover, you are constantly learning, and we have," said Harding last year, although this month he has been dropped as the company's iron ore chief.
The project is massive, and communication dropouts with 29,000-tonne trains could have disastrous consequences, especially as they travel across level crossings and take 2km to fully brake to a halt.
Rio had fitted about 90% of the 180 trains in the AutoHaul plan with the necessary on-board equipment, and developed 86% of the software last September. Whether the project will be ready this year is still unknown, as is whether further delays will be intentional to cause a global industry-wide stir.