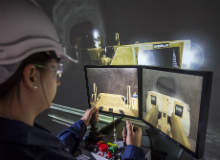 The resources they identify, extract and refine may differ, but the mining and oil and gas industries face many of the same challenges – low commodity prices, a widening skills gap combined with an ageing workforce, and an increasing reliance on new technologies.
Protecting human capital, industry's most precious resource, and preventing serious accidents also remain priorities in both sectors. Offshore, personnel training and safety are increasingly bywords for automation, as operators replace workers on the drill floor with remote monitoring systems.
In the mining arena, demand is growing for more advanced simulation-based training solutions and semi-autonomous equipment, both of which are proven to improve safety and profitability.
"Good training is essential to a miner's performance, helping to initiate new operators, up-skill existing miners and track skill degradation over time," explains Wayde Salfinger, executive director – marketing at Immersive Technologies (IMMT), a leading supplier of advanced equipment simulators.
"In the past, remote training in the mining industry was only possible with a machine that otherwise would have been assigned to production. Now, simulator training allows operators to be trained and assessed without the need to borrow machines, meaning new operators can practice and develop skills before being placed in a mine's production circuit.
"This new approach not only shortens training time; it also negates the risk and cost of machine or mine damage during training, and speeds up the introduction of new operators at mines."
Joint enterprise: IMMT and RCT collaborate in Kazakhstan
IMMT currently deploys simulator modules in 39 countries and has support offices everywhere from Peru to Perth, a testament to the global reach of the company and the mining industry in general.
The company's latest project is based in Kazakhstan – a joint venture with RCT, an established supplier of customised mine vehicle control and guidance systems.
"Demand is growing for more advanced simulation-based training, including for tele-remote and semi-autonomous equipment."
While IMMT solutions focus on simulation training, RCT provides its own skills training programmes for its ControlMaster Smart Automation and Control products. Together, the two companies have interfaced a remote control to an advanced simulator, allowing clients to improve operator training.
"IMMT and RCT have joined forces to deliver a unique remote control training solution designed to enhance safety and profitability," explains Salfinger. "The client, a prominent Kazakhstan zinc miner with a strong ongoing commitment to safety, conducts remote and tele-remote mining, as well as manual loading across many sites to boost production. The advanced underground loader simulator integrating RCT's ControlMaster CM2000D line-of-sight remote control will be used to comprehensively train miners in the safe operation of loaders in manual and remote-control modes."
With the pressure on to increase margins and maximize productivity, mining operators are turning to simulation technology to expand employee skill sets and minimise key equipment downtime.
"Demand is growing for more advanced simulation-based training, including for tele-remote and semi-autonomous equipment," Salfinger confirms. "Remote operation training technologies not only minimise the impact of new technology, they increase equipment availability, reduce maintenance costs, and increase mine efficiency and productivity.
"Because IMMT's simulator-trained operators are consistently monitored, coached, supervised and assessed on correct operating techniques, they gain a better understanding and knowledge of real-mine machine operation. Miners can now start on manual operation, then progress to learn line-of-sight remote control, all within the safe confines of a simulator."
Virtually flawless: CYBERMINE, SimMine and Simio technology
Routinely employed for mineral exploration, blast-hole drilling typically uses a piston-driven hammer to create holes in large quarries and opencast mines, into which explosive charges are then placed.
ThoroughTec Simulation reports growing demand for its CYBERMINE simulator cabs to help train blast-hole rig operators, without mines having to take equipment out of production for long periods.
"Despite advances in automation, these complex machines need a skilled operator to run safely and efficiently," says Richard Bellengere, vice-president of research and development. "Besides learning how to accurately position the rig and the mast, the operator needs to know how to change rods on the carousel, and drill at the right angle and pressure so the rods and drill bit don't burn up or break."
Controlling the load on the rod and bit is vital, and blast-hole drill rig operators often have to work with an outside assistant. ThoroughTec has catered for this by creating an artificially intelligent mine worker that simultaneously works in the 3D virtual world while the operator is training in the cab.
Simulation Engineering Technologies (SET) creates computer simulation models that help companies perform due diligence of new mines, carry out process design and change design parameters.
Based in South Africa, SET employs state-of-the-art SimMine and Simio software and its product portfolio covers underground, open-pit and surface operations. The company models rock-handling systems such as conveyer and feeder equipment; primary, secondary and tertiary crushing systems; hoisting technology; and ore loading and handling, as well as different mining methods and cycles.
SET also specializes in modeling rail and truck haulage systems, giving mining operators granular insight into field operations and allowing them to analyse fundamentals such as overall system capacity, quantify potential queuing at rail and truck dumps, and optimize ore pass capacity.
SimMine optimises resource planning and scheduling, while Simio allows mining clients to create an object-based 3D-modelling environment; SET offers novice and advanced training in both packages.
The company also makes use of Rockwell Software's Arena simulation software. Employed by companies as diverse as General Motors, NIKE and Lufthansa in order to simulate and streamline business processes, the technology is used in a mining context for everything from smelting plant optimization and ore conveyer mining simulation to scheduling and planning with mine models.
Next-generation training: the future of mining simulation technology
Remote technology offers mining operators multiple benefits, including increased productivity and safety, reduced maintenance costs, and improvements in KPIs such as load factor and swing times.
"Operating equipment remotely requires a different set of skills than from inside the vehicle cab".
However, increased automation also brings with it the need for more advanced training techniques – a trend that can also be witnessed in the oil and gas industry. It's an industry space that simulation and mobile-machine technology in general – and IMMT in particular – are ideally positioned to fill.
"Remotely operated mining equipment and systems have created many new opportunities for mining companies," states Salfinger. "However, operating equipment remotely requires a different set of skills than from inside the vehicle cab. This change in operational requirements often results in increased machine damage and a reduction in productivity when remote operation is introduced.
"Training solutions from Immersive Technologies give remote equipment operators the skills and understanding to transition from traditional operation to remote operation quickly, minimising impact to production and ensuring that machines remain in operation for longer periods.
"Our remote operation training solution can provide a blend of computer-based, classroom and simulator training, to deliver a high level of training effectiveness and consistent learning outcomes."