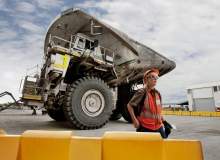 The mining industry is in a state of transformation – while global mining deals declined by 74% to $20.6bn in the first half of 2013, exploration in countries such as Australia has quadrupled. In whichever direction you look, the mining industry is changing – and fast. From all electric vehicle fleets, advanced data capture software, innovation in seabed mining and reducing gender inequality, this year's 'Ones to Watch' have been selected for their contributions to radical transformation within a challenging environment.
The shortlist for the Ones to Watch 2013 has been carefully selected by our editorial team, with help from our network of regular contributors and noted industry professionals.
Atlas Copco – Green Line
Achieving maximum efficiency has been described as the new Holy Grail in mining as companies look to cut back expenditure and focus on the potential of current projects, rather than take risks on new ones. Machinery makers have been impacted too and have made remarkable strides in the past few years to develop machines that save energy and get the job done quicker. At the forefront is Atlas Copco, who this year launched The Green Line, a fleet of two electric underground trucks, four electric underground loaders and new portable generators, all powered by electricity only. By replacing a single diesel loader with an electrically-powered loader, the company believes they can reduce CO2 emissions by the equivalent of 140 cars a year. While the environmental benefits are plain to see, so are the economic benefits. The electric vehicles are up to 70% more energy efficient than diesel options, resulting in huge fuel savings. Did we mention they're also twice as fast as their diesel counterparts?
Maxwell GeoSciences – LogChief 3.0
Making the most of accurate data has become the bedrock of modern digital mining operations; reducing administration, streamlining core operations and ultimately harnessing data as a way to make the best of out a tricky investment. Maxwell Geosciences was one of the first companies to see the glint of gold in data management and with their latest offering LogChief 3.0 the new version brings split-screen views, customised workflows and user profiles, cloud visualisation of data and comes complete with a comprehensive suite of new optional plug-ins. The result of which is exceptional photography management, integrated spatial viewing, customisable reporting via SQL Reports and streamed geological data management with cloud-based data access. Collection however is only the beginning and LogChief 3.0 has been designed to run seamlessly with DataShed, the company's flagship data management software.
Metalysis – Transforming Metals
Setting out with the goal of transforming all mining operations, Metalysis, a spin off from Cambridge University, has developed what could be a game changing technology capable of producing a wide range of metals and alloys with a reduced carbon footprint and cost. The Metalysis process, which they own exclusive rights to, works by introducing metal oxides into a molten salt bath where it is electrolysed to form metal powders. At its core the company is hoping to offer another business opportunity for mining companies increasingly looking to protect themselves from volatile markets. The results could have wider environmental consequences too as the process is simpler and could provide a promising outlet for dealing with waste. Currently, the company is focusing on higher value specialist metals, titanium and tantalum and hopes to "play a critical role in two manufacturing revolutions".
Anglo American – diversity in mining
This year PricewaterhouseCoopers put the share of women in mining at just ten percent, while only five percent of board positions in the top 500 globally-listed mining companies are held by women. Anglo American however is a leading light when it comes to addressing the balance – at present more than 15% of the workforce is women – and the company is aiming for 30% by 2014. In Australia Anglo American's Metallurgical Coal business employs 4,500 women and has improved the representation of women in its total workforce by 32% since 2010. Today, 12% of its mine site employees are women and the target is to grow this to 20% by 2018.
Lockheed Martin – UK Seabed Resources
Forget mining asteroids, the seabed is surely the most promising new frontier when it comes to large-scale mineral exploration. At the forefront of this exciting frontier is Lockheed Martin in the form of wholly owned subsidiary UK Seabed Resources, who this March were granted licence and contract to explore a 58,000 sq kilometre area of the Pacific for mineral-rich polymetallic nodules. Hailed as a major victory by UK Prime Minster David Cameron, the company will set out to find nodules containing copper, nickel, cobalt and manganese, as well as rare Earth minerals, for use in construction, aerospace, alternative energy and communications industries, among others. Special attention has been paid to the ecological impact of such a venture. Collection will consist solely of polymetallic nodules and not sensitive manganese crusts, which are found on hydrothermal vents. The project will be conducted in close co-operation with the International Seabed Authority (ISA), established under the United Nations Convention on the Law of the Sea to govern seabed mining beyond any nation's territorial waters.
ABB – Advancing Automation
The benefits of automation in mining are well publicised and no one company has led the transformation quite as energetically as ABB. Through various technologies the company has transformed operations at mining operations such as Xstrata Copper's Antapaccay project in Peru where synchronous condensers and harmonic filters have allowed power to flow at an exceptionally remote location. But perhaps the greatest boost to automation is the company's desire to shape the future of power and automation. This February the company selected 40 research projects for funding, after inviting academic and research institutes around the world to submit proposals for grants. The 40 projects were chosen from more than 500 proposals submitted by more than 250 universities in 46 countries and will be used to support promising graduates and senior researchers to bring industrial applications in the power and automation area to life.
Glencore Xstrata & Sinclair Knight Merz (SKM) – Air Quality Control System
To minimise the impact of blasting and high noise levels on adjacent communities in the Hunter Valley and coal fields across New South Wales, Glencore Xstrata and Sinclair Knight Merz (SKM) worked together to develop an innovative approach to management that would both predict and react to adverse noise issues. The project, which has already won acclaim in Australia, built an Air Quality Control System based on daily, automated modelling of meteorological conditions, dust emissions and noise attenuation designed to give workers the heads up they need to mitigate and communicate environmental issues. A key feature of the project is a website with detailed information including an environmental forecast summary report and a tool to assist sites in predicting blast plume paths in the next 48 hours. The system has been accredited with creating awareness within the company and the community at large, reducing impact, increasing productivity and putting environmental responsibility in the hands of workers on the ground.
Related content
---
New Zealand coal mining company Solid Energy has developed a new method of using biosolids to rehabilitate old mining sites.
Rail infrastructure is often crucial for mining operations to become effective and economically viable.
---