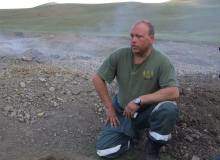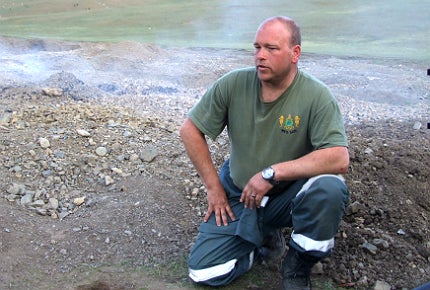 A huge mining boom has boosted Mongolia's economy to unprecedented levels. This year, the industry contributed to a 16.7% first-quarter GDP growth rate – more than double that of China.
But while big business and government heads are rolling in the riches of the land, a third of the country's population of 2.8m people is living in poverty.
Harsh climatic conditions have wiped out much of the herding trade, and in a desperate attempt to cash in on natural reserves, thousands of artisanal miners, often made up of young families, are digging for gold with few tools and little or no safety equipment.
It was the in the small mining town of Uyanga where British miner Craig Notman visited Sukhbaatar, an ex-Nomadic herder, his wife Gansuvd and son Sumya, as part of a documentary broadcast by the BBC.
Safety-conscious Notman, who after 12 years of working in the industry is now based at the Rawdon Mine Rescue Centre in Leicestershire, was shocked to see this family digging holes manually with no pit props to stop the ground from caving in around them, and no legal mining permit.
The government claims artisanal miners are destroying a land Mongolians hold sacred. Meanwhile, big mining firms have been given approval to extract metals with bulldozers, explosives and drills, all the while draining rivers and pushing more herders off the land.
Here, Notman recalls his Mongolian experience and explains how non-government organisations are working to encourage responsible mining.
Sarah Blackman: What did you expect from your Mongolian mining experience before you stepped on the plane?
"The government claims artisanal miners are destroying a land Mongolians hold sacred."
Craig Notman: I wasn't told I was going to Mongolia until a few days before I went out there. I didn't know anything about the country and I didn't realise they mined anything there at all, so when I was told I was going to be mining there I expected to see what we've got in the UK – big coal mines.
Once I got there, saw what we were supposed to be mining and found out it was illegal I was very, very shocked and wanted to come back home.
The site looked like a prisoner-of-war camp. It was totally shocking to me and something that I don't think I'll ever see again in my lifetime. The holes we worked in were similar to the holes we dig in the UK when we have to try and get people out of the ground during a rescue effort.
SB: What went through your mind when you had to enter one of these holes?
CN: First and foremost, everything I do is risk-assessed. It took me 24 hours to decide that I was going to do it. We had a member of the Mongolian rescue team with us but he didn't have much equipment with him.
"Once I got there, saw what we were supposed to be mining and found out it was illegal I was very, very shocked."
I told myself I had to do this, so I went back into brigadesman-mode and had a look down it, gas-tested the area, checked the sides and went cautiously into the hole.
They had a tripod and some line that I could have used if anything went wrong. I got the translator to tell the rescue-worker to get my head clear if the ground came in around my shoulders.
I did pre-warn them though that if it starts coming in I shall be out quicker than anybody else.
SB: You often said in the documentary that certain mining procedures would never take place back home. What can Mongolia and other developing countries learn from British mining?
CN: We have procedures in place in Britain – we have HSE, mine inspectors and the management is highly trained. We have organisation. There is no organisation in Mongolia; it's just each man for himself.
When I was in Mongolia I was trying to get the miners to work together as a cooperative, look after each other and share the wealth.
We risk assess everything here. Sometimes Mother Nature will bite you in the backside and there have been people killed in the past, but we can try and remove all the risks and if it's too unstable, no work will happen.
SB: Does it anger you that the Mongolian Government allows big mining companies to mine there, but claims families like Sukhbaatar's are damaging the environment?
"When I was in Mongolia I was trying to get the miners to work together as a cooperative, look after each other and share the wealth."
CN: I'm not going to name names, but everybody knows which companies are there. They are making a lot of money, and their policies which say they are going to protect the environment are untrue.
In [the UK] you'll see that where old pits are, there are now nature walks where visitors can preserve the wildlife and plant trees. There is nothing like that in Mongolia; it's just a massive scar across the landscape. One of the big mines I visited used to be a river bed, but this dried up because the owner dammed the rivers off and used the water as a pressure washer to remove the copper from the soil.
For me to get into a political discussion is quite difficult because I don't have a full understanding of the politics of the country, but I do believe that they [the government] are not going to give the small man a chance. They choose to turn their back on the fact that people are dying in illegal pits – not just men but women and children too.
But I know that change is afoot for Mongolia. There are a lot of charities and non-government organisations, such as Sustainable Artisanal Mining, which are promoting safety in mining and contributing to rural development and poverty reduction. So, there are things in place, but you can't change a country in a day.
SB: At the beginning of the programme you said, when referring to minerals, nature has given this to us, we should take it. Do you still feel that way?
CN: Yes I do, but I believe in doing it the right way. In the UK, when a pit is closed, the land is covered in grass, trees are planted and the wildlife is reintroduced to the land. I do believe that nature has given it to us for a purpose, but as long as we treat it with respect and make it as if we've never been there.
In Mongolia, the big mining companies aren't interested in that. They want to get in and get out.
It's not just like that in Mongolia, but in some other developing countries it takes a lot of pressure from the rest of the world to make big mining companies protect the environment, but they won't do it if they don't have to because it's down to cost, and everybody's out for a profit.
SB: How has the experience changed you as a miner? Do you approach your job differently now?
CN: I've always approached my work very carefully and with caution. Now, I still do the same thing, but I always think that I am lucky being in the position I am. I can sense danger and that is why I had to try and teach Sukhbaatar to work more safely. I also think that working all the hours that god sends doesn't mean anything. If you've got family to go home to you are a very rich person.
---
Related content
---
The Khushuut coal mine is situated in the Khovd Province of western Mongolia.
The Ovoot Tolgoi mine is in the south-west corner of the Omnogovi Aimag (South Gobi province), within the Gurvantes Soum (township).
China's mines have suffered appalling accidents and high fatality rates.
---