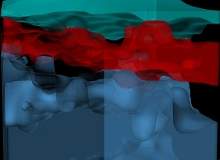 GVK Hancock received environmental approval from Australian authorities for its Alpha coal project in the Galilee Basin in Central Queensland.
The company said in a statement that the mine was granted environmental authority (clearance) after more than six years of comprehensive environmental assessments and detailed planning.
GVK Hancock is a 79:21 joint venture between India's GVK Group and Australia's Hancock Prospecting.
Mining giant Rio Tinto deliberately missed the 30 September deadline to finance $4.2bn for the underground expansion of the Oyu Tolgoi copper-gold mine in Mongolia.
According to Rio Tinto copper CEO Jean Sebastien Jacques, the company reached a point where the government must decide on the project proceedings, reported The Australian.
Jacques told the news agency: "That is why we have been very patient, and we have been negotiating for 18 months in good faith.
The Oyu Tolgoi mine is 66%-owned by Rio Tinto's Turquoise Hill, while the Government of Mongolia holds the remaining stake.
A new mining venture started by former Xstrata CEO Mick Davis, X2 Resources, managed to secure further investor funding of $1bn.
With this additional money, X2 has amassed up to $4.8bn of funds including $3.3bn of committed equity capital and $1.5bn of conditional equity capital.
Davis said: "With almost $5bn in equity and access to significant additional debt funding, X2 Resources is uniquely positioned and we are currently reviewing a number of opportunities in the metals and mining sector.
BHP.jpg" style="padding: 10px" width="199″ />
A 50:50 joint venture between BHP Billiton and Mitsubishi Development, BHP Billiton Mitsubishi Alliance (BMA), opened its new $3.4bn Caval Ridge metallurgical coal mine in central Queensland.
Located in the northern Bowen Basin, the open cut Caval Ridge mine will initially produce around 5.5 million tonnes of premium quality metallurgical coal a year.
The mine is BMA's eighth in the region and has a mine-life of around 60 years, with the potential for further expansion.
The company plans to increase its equity production of metallurgical coal to meet global demands, especially from Japan.
The Indian Government announced its plans to issue an ordinance to allow an e-auction for 74 coal mining licences to private mining companies in the next three to four months.
The decision came after India's Supreme Court cancelled 214 of the 218 coal mining licences awarded to private and public companies between 1993 and 2010, last month.
According to the government, the coal mining licences were allocated illegally to both private and government firms without performing competitive bids.
Australia-based mining technology firm Maptek released the latest version of its mine modelling and planning software Vulcan 9.1, which has some major upgrades.
Vulcan's 9.1 version has added advanced features, including Gantt Scheduler for underground operations, level designer for stope access design and enhancements to facilitate implicit modelling.
The software comes with upgrades to its pit optimiser, borehole geophysics and stratigraphic modelling tools.
An advanced version of the tool is undergoing the final stages of beta testing, after which it will be released to customers around mid-November.
Mining giant Anglo American received a licence from Brazil's environmental agency Ibama to start production at the Minas-Rio iron ore mine and processing plant in the Minas Gerais state.
Located on the south-east border of the São Francisco Cràton, the Minas-Rio iron ore project will explore the iron deposits located in the mountain ranges of Serra do Sapo and Itapanhoacanga.
During its first year of production, Anglo anticipates an output of around 11 million tonnes to 15 million tonnes. It has plans to raise the capacity to 26.5 million tonnes a year in 2016 and continue till the end of its mine life of 28 years.
Swiss power and automation technology group ABB unveiled a new technology designed to help engineers easily resolve mines' electrical problems from the safety of a control room.
The new technology called the System 800xA mining integrated distribution automation system (MIDAS) Library, features an enhanced substation control and monitoring platform that provides the team with real-time analytics, including graphical status, interlocks and measurement and phasor diagrams.
The library is integrated with ABB's System 800xA, which monitors and controls various automated industrial processes.
The operator can monitor and gain access to the entire electrical infrastructure of the mine from a single workstation and a single software package, the company said in a statement.