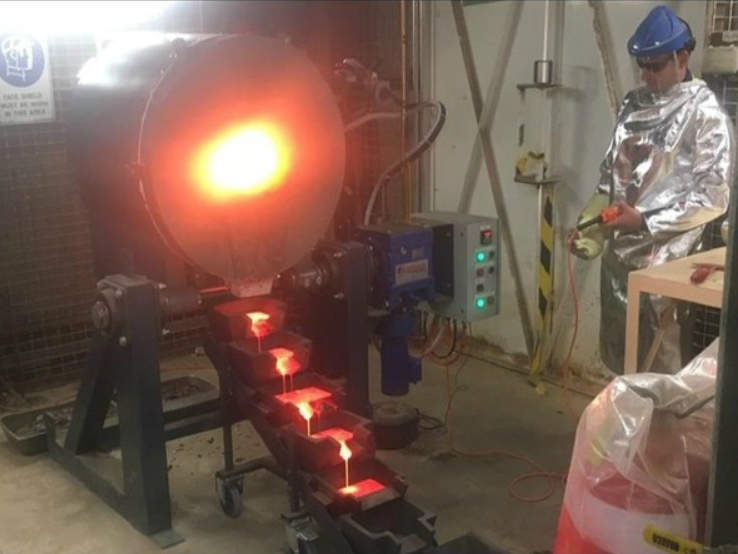 Blackham Resources Limited completed the first gold pouring from its 5.1Moz Matilda Gold Project in Western Australia.
Blackham Resources director and CEO Alan Thom said: "We are extremely pleased to be Western Australia's newest gold producer and are delighted at reaching the milestone in just 16 months from completing our funding deal with Orion Mine Finance."
In order to have the first gold poured after the Orion funding deal, Blackham team had to complete a preliminary and a definitive feasibility study and procured all mining and environmental approvals.
Copper Fox Metals announces study results of Arizona's Sombrero Butte copper project
Copper Fox Metals and subsidiary Desert Fox Copper released results of the recent study on the chemistry of six hydrothermal breccia pipes of Sombrero Butte copper project in Arizona, US.
These six hydrothermal breccia pipes are all located within an area of 300m by 400m at the project's north end.
The study did not include hydrothermal breccia pipes situated at the centre of the property due to lack of geochemical data.
Glencore announced plans to sell its Glencore Rail (GRail) coal haulage business in the New South Wales Hunter Valley to Genesee & Wyoming Australia (GWA) for A$1.14bn ($866m).
The company's latest move forms another part of its debt reduction programme.
Upon completion of the sale, GWA will service the majority of Glencore's coal haulage requirements in the Hunter Valley through a contract for 20 years for the haulage of export coal to the Port of Newcastle.
The GRail transaction will include acquisition of nine train sets, which include 30 locomotives and 894 wagons.
Canadian-based Centerra Gold completed acquisition of US company Thompson Creek Metals for $1.1bn.
Under the agreement, Centerra acquired all shares of Thompson Creek in exchange for 0.0988 of a Centerra common share for each Thompson Creek common share.
The common shares of Thompson Creek were then transferred to Centerra's newly formed wholly owned subsidiary, Centerra.
Thompson Creek operates the Mount Milligan Mine in British Columbia, Canada.
Dynacor Gold Mines poured the first gold from its new Veta Dorada plant at Chala in Peru.
This first gold bar poured weighed almost 22kg, which was immediately shipped out and sold.
This 300tpd (102,000tpa) ore processing facility was officially opened on 3 October 2016.
The company CEO and president Jean Martineau had then said: "As a modern fully permitted ore processing plant, we believe that we can make a difference and contribute to the development of Peru, the economic and social wellbeing of small artisanal miners and the ongoing formalisation process for the small mining sector, which is very important in Peru."
Queensland opened the expanded exploration data centre at the suburban Zillmere site on Brisbane's northside in Australia.
The centre houses 810km of rock samples that are essential to explorers and academics and analyses the mineral content of rock samples using Commonwealth Scientific and Industrial Research Organisation (CSIRO) developed HyLogger system.
Queensland natural resources and mines minister Dr Anthony Lynham said: "The core samples and the low-cost, expert analysis done here are the lifeblood of an industry that has helped to develop our state, to fund our infrastructure, and continues to provide thousands of jobs today.
Mining and smelting company Boliden chose industrial machinery company Metso to provide equipment for a new surface crushing station at the Aitik copper mine in northern Sweden.
The supply comprises two primary gyratory crushers, two rock breakers, two apron feeders, chutes, conveyors, spare and wear parts, engineering and installation.
The order is included in Metso's Q3 orders received, with its value not currently revealed.
Boliden's Aitik copper mine is located north of the Arctic Circle in Sweden, with large quantities of rock mined and transported at its open-pit.
The University of British Columbia (UBC) researchers successfully identified and isolated the organisms that cause acid-rock drainage at mining sites.
UBC's engineering professor at the Okanagan campus Deborah Roberts said: "Mining waste is an environmental concern in many parts of the world and currently costs a great deal of time and money to the companies that deal with it responsibly.
"Now that we have isolated the type of micro-organisms contributing to this issue, further research may help us manage them with antibiotics, like other bacterial infections."
Canada-based Barrick Gold resumed normal operations at its Veladero gold mine in Argentina's San Juan province after securing approval from regional authorities.
The company suspended operations at the mine on 15 September, a week after a pipe carrying process solution in the leach pad area was damaged due by falling ice, causing some material to be displaced from a leach pad.
The material was contained on the mine site and then returned to the leach pad.
Following extensive water monitoring in the area, it was confirmed that the incident did not result in any environmental impacts.
Winston Gold Mining started a Phase-1 drilling campaign on its fully owned gold project near Helena, Montana, US.
This campaign will comprise 15-to-20 holes (4,800ft) using two drill rigs that will target potential high-grade mineralisation in the historic past-producing Custer Vein, as well as along the Edna Vein Trend.
The Winston Gold Project is key to a historic precious and base metal mining district where most of the ore was mined from structurally controlled high-angle fissure veins and lode/replacement zones.