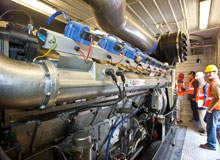 Methane monitoring and control technologies
Methane gas explosions are one of the most common causes of underground coal mine disasters. Methane is an odourless, colourless and highly combustible gas that leaks out during mining of coal seams and, if left undetected and uncontrolled, can explode violently with a small spark. Therefore, it is of paramount importance to control the methane through adequate ventilation when it is present in small amount in the air.
For detecting methane gas level, the coal mining equipments are recommended to be fitted with methane monitors in order to enable the machines as well as the electricity to be automatically shut off once the methane level reaches 1.5%. Recently developed sensor-based methane detectors utilising radio frequency identification (RFID) technology can be deployed in any part of a deep underground coal mine transmitting methane concentration readings wirelessly to the surface. US-based Tunnel Radio, for instance, has developed a wireless detection system for monitoring methane gas and carbon dioxide (CO2). It comprises of an easy-to-install gas sensing module suitable for battery-powered application. The device can send precise gas-level readings to the surface computer system on a continuous basis even in the harshest environments.
Dust monitoring and control technologies
Dust build-up in the underground mining area is another major cause of coal mine explosions. The inhalation of silica and coal dust also poses serious health hazards for the miners. The use of air ventilators and water sprays, and the regular cleaning of coal dust lying on the surface are some of the basic techniques to prevent coal dust explosions. An array of dust-buster agents including binders, foams and antioxidants are also being developed to mitigate the chances of coal dust related disasters. GE's newly launched CoalPlus technology, for example, can reduce coal dust by up to 90% in different coal mining operations.
The coal dust explosibility meter (CDEM), a portable and handheld instrument for instant monitoring of the ratio between coal dust and rock dust levels in the underground mine, is currently available in the market. The device originally developed by USA's National Institute for Occupational Safety and Health (NIOSH) is being commercialised by Sensidyne. Personal dust monitors (PDM) have also been developed to give miners a tool to track exposure to respirable coal dust in real-time.
Automated underground mining
Automated underground mining is the most promising technology to prevent fatal mining accidents such as drilling, blasting, loading and hauling at deep undergrounds and can be performed using unmanned vehicles and machines operated from a remote location. Apart from efficiency and productivity, the biggest advantage of mine automation is the fact that humans can be kept out of harms way.
Mining companies around the world are either using or considering to use automated mining technologies. De Beers Finsch diamond mine in the Northern Cape, South Africa, Codelco's El Teniente copper mine in Chile and Rio Tinto's West Angelas Mine in the Pilbara region, Australia, are among the first underground mines to adopt automated haulage and transport systems. BHP Billiton has also started experimenting driverless trucks and an automated remote operating centre for its iron ore operations in the Pilbara region of Australia. Vale has decided to make its Carajas Serra Sul S11D iron ore mine automated and completely truck-less. Rio Tinto has announced that it will deploy the world's biggest underground automation system for block caving operations at the Argyle underground diamond mine.
Rock -falls prevention technologies
Rock and roof falls is one of the most common cause of underground mining accidents. The basic precautionary measures to prevent such accidents are taken during the preparation of mining layout designs with the aim of minimising the effects of potential geologic hazards. Constant monitoring of rock faces is required to prevent such accidents. Some big pit mines are also using electronic surveillance systems checking for loose rocks and tension cracks to prevent rock fall from high walls.
Few processes in underground mining such as rock bolting and pillar recovery are prone to rock-fall and rib-fall related injuries. Automated Temporary Roof Support (ATRS), Mobile Roof Supports (MRS), and automated roof bolting system involving self-drilling injectable rock bolts are some of the new technologies providing protection against such injuries. Companies such as Fletcher, JOY, Hilti and Orica are at the forefront in producing a range of such solutions.
Paste backfill is a promising technology capable of preventing roof falls effectively in underground hard rock mines. The paste backfill material prepared by mixing tailings with appropriate proportions of cement and water is transported underground by pipeline to be used for vertical roof support, ground and pillar support, pillar recovery, and for creating working platforms.
Proximity detection and collision warning
Collision between machinery or between machinery and personnel is one of the common causes of accidents in underground as well as open pit mines. Proximity detection technology can be installed on mobile machinery to detect the presence of personnel or machinery within a certain distance of the machine.
NIOSH developed an active proximity warning system, called the Hazardous Area Signalling and Ranging Device (HASARD), for warning workers through visual, audible and vibratory indicators as they approach dangerous areas around heavy mining equipment. Caterpillar has also developed detection technology called Cat Detect Personnel that features as one of the five sub-modules of its integrated mining management suite Cat MineStar. The technology involving RFID tags worn by the workers and the detectors mounted over the machines to warn operators with audio and visual indications of possible collisions, speeding or rollovers.
Computerised permit-to-work system
The effective management of a permit-to-work system is critical to mine safety as it tracks the authorisations and competencies of employees while identifying the key risks involved with a particular job.
A computerised permit-to-work system collating all required documentation for specific types of work, taking into account the specific identified hazards and the precautions needed to be taken by workers, is helpful in ensuring mine safety at the work authorisation level. ApplyIT, a South African software company, for example, has developed a permit-to-work authentication system called IntelliPERMIT that integrates all aspects of permits-to-work, access control and risk assessment, tracks the authorisation levels of each employee at work, and ties permits into access control with biometric fingerprint identification. IntelliPERMIT has been installed at Newmont Mining Corporation's Boddington mine in Australia.
Fatigue monitoring
Distraction caused by long working hours creating tiredness in truck drivers and machine operators working at the mine site is a common cause of accidents. The technology, capable of constantly detecting the onset of fatigue and micro sleeps in the operators and creating an alert for them, is helpful in preventing such accidents.
Seeing Machine, an Australian company, has developed fatigue monitoring systems called Driver Safety System (DSS) using patented eye and head tracking technology. The DSS comprises of a dash-mounted camera constantly detecting the fatigue and distraction in the driver's eyes. Caterpillar entered into an agreement with Seeing Machine to market the fatigue monitoring system in March 2013.