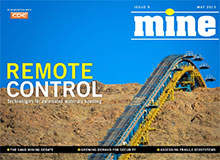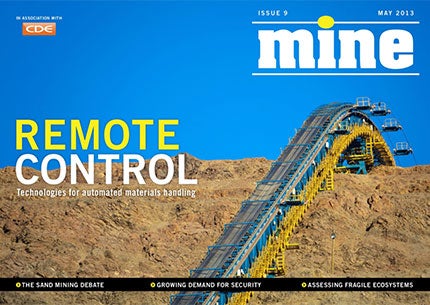 Automation is moving into the industry as mining companies look to improve worker safety and reach deposits that are ever more difficult to get to. We take a look at cutting-edge automated materials handling technologies, such as Technologies Global's Rail-Veyor and a fleet of robotic haulage trucks developed for Rio Tinto.
With Deep Space Industries joining in the mission to mine metals and precious resources from space, we find out who will get there first, and what they might find. We also ask security group G4S about the growth of the mining security sector and challenges for the future.
Moreover, we investigate if opposition from activists and a lack of regulation could put an end to the silica sand mining boom in the US, and find out about the challenges of assessing the environmental risks of mining operations in fragile ecological areas, such as those found on Australia's remote peninsulas.
Click here to read your free copy.
In this issue
Rise of the Robots
Automated technologies are setting the tone for a future of mining characterised by increase in production rates, safer operations and high profit margin. MINE takes a look at cutting-edge automated materials handling.
Read the full article.
The Space Race
Deep Space Industries became the second company to join the mission to mine metals and precious resources from space. We ask who will get there first, and what could they find?
Read the full article.
Succeeding in Security
Security company G4S recorded exceptional growth last year in its mining security division. We ask division director Andrew Hames about recent challenges and what the future will hold for the mining security sector.
Read the full article.
The Sand Rush
Legislators in Minnesota have come under pressure to halt silica sand mining, which is vital for oil and gas fracking but, opponents say, has taken off without proper regulation.
Read the full article.
A Fragile System
The remote peninsulas of Western Australia hold important deposits hidden in some of the world's most fragile ecosystems. As ecologia environment gears up to survey the thunderbird site, MINE finds out more about the challenges of environmental appraisals in sensitive areas.
Read the full article.
Boleo Project, Mexico
The Boleo project is an advanced stage copper/cobalt/zinc/manganese development located in Baja California Sur, Mexico.
Read the full article.
Alpha Coal Project, Australia
Alpha Coal Project is a high thermal coal mine located in the Galilee Basin in Queensland, Australia.
Read the full article.
Next issue preview
Data management technology for mining applications has made huge leaps forward, making a wide range of environmental, operational, hydrological and geotechnical information available on demand. Next month we take a look at innovative data solutions.
We also investigate the reasons behind a surge of investment and exploration in Latin America and find out what effect mining activities are having on the region's rainforests and rivers, and ask UK Seabed Resources about its plans to explore the Pacific Ocean for metals.
Moreover, we ask the Clean Mining Alliance about new research into technologies to make mining more environmentally sustainable, and take a look at accusations against Canadian mining companies, which include human rights abuse and environmental irresponsibility, and ask how the Canadian Government is responding to the issues its mining industry is facing abroad.
Digital Magazine FAQ
The digital magazine is viewable on any computer with Flash Player installed. It is also viewable on mobile devices, iPhones and iPads, although some features and videos may be disabled.
View the archive of back issues.