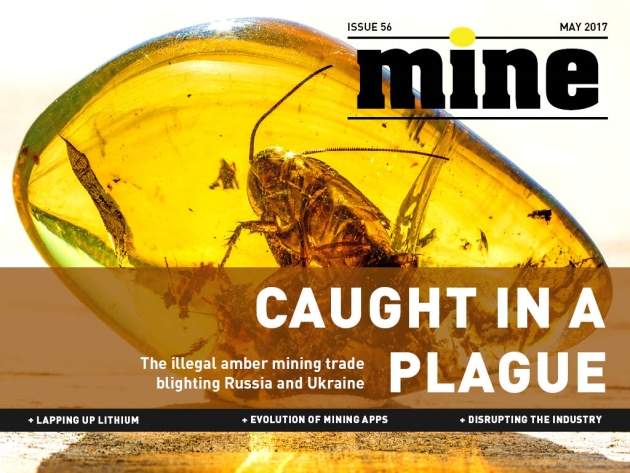 Illegal amber mining is becoming a serious problem as mining gangs are fighting for territory across Ukraine and Russia to profit from this 'Baltic gold'. Added to the turf wars, the process being used decimates the ground so that when miners move on they leave large stretches of land incapable of sustaining vegetation. We investigate this industry blight and the market for illegal amber.
Keeping with commodities, we take a closer look at a partnership exploring for lithium in Cornwall to see if this could herald a new industry for the UK, and ask why do minerals fall out of fashion and will they ever run out?
Also, we speak to the organisers of Goldcorp and Integra Gold Corp's #DisruptMining innovation competition to discover whether such events can really transform this conservative industry, hear about the ever-expanding role of mobile apps in the sector and find out how advanced drones are supporting remediation and safety works at Australia's extraordinary amount of abandoned mines.
Read MINE magazine free on iPad by downloading our app or on your computer via the webviewer.
In this issue
#DisruptMining
Goldcorp and Integra Gold Corp's joint #DisruptMining competition was held during the annual conference of the Prospectors and Developers Association of Canada in March to great success, with a deluge of innovative pitches. We talk to the organisers about the winning ideas and the challenge of disrupting an industry known for its conservative mindset.
Read the article
Amber: An industry trapped in tragedy
Illegal amber mining is an increasingly serious problem, with mining gangs forming across Ukraine and Russia to profit from so-called 'Baltic gold'. With violent outbreaks rife and the extraction process decimating the soil, we examine the allure of this blight and what's being done.
Read the article
Lapping up lithium
Strongbow Exploration has entered into an agreement with Cornish Lithium Limited to explore for and potentially develop lithium in hot spring brines in Cornwall, UK. We hear more about the scope of this unusual project.
Read the article
Excavated to extinction
Of all the minerals mined over the centuries, have any been forgotten, lost their lustre or been cast aside? And more worryingly, are we exhausting our reserves? We discuss the world's forgotten resources and the reality of running empty.
Read the article
The evolution of mining apps
MiPlan which produces mining apps to optimise drilling, blasting, hauling, digging and other operations, is riding high after being acquired by Hexagon Mining. We speak with the new partners to discuss the current and future role of mobile apps in the mining sector.
Read the article
Getting the bigger picture
Australia's Northern Territory has started using drone technology to inspect abandoned mine sites. Advanced drones help produce digital terrain models to gain a better perspective with a view to improving future remediation work and improving safety. We find out how the project could help tackle the extraordinary number of abandoned mines across Australia.
Read the article
Next issue
Changes are afoot as the chairmen of Anglo American, BHP Billiton and Rio Tinto have all announced their intentions to stand down. With several industry titans on the hunt for new leadership, we profile the likely contenders and consider the essential qualities required to guide businesses through the complex current landscape.
Mongolia is also looking to new horizons, doubling its percentage of land for exploration in an attempt to uncover a second Oyu Tolgoi. We assess the country's mineral potential, while, in Australia, we examine if the new iron ore tax is in the industry's best interests.
Then in operations, we find out if palladium is heading for difficult times with the growth of electric and clean energy cars, take a look at Cementation Canada's award-winning injection hoisting system, and hear about an initiative set on utilising genomics to treat mine waste naturally.
Digital Magazine FAQs
You can read MINE for free on the iPad. Download our app from the App Store to read the latest issue and browse the back issues in our archive.
You can also continue to read the desktop version for free on our web viewer. (Browser compatibility: The web viewer works in the latest two version of Chrome, Firefox and Safari, as well as in Internet Explorer 9 and 10. Some features may not be compatible with older browser versions).