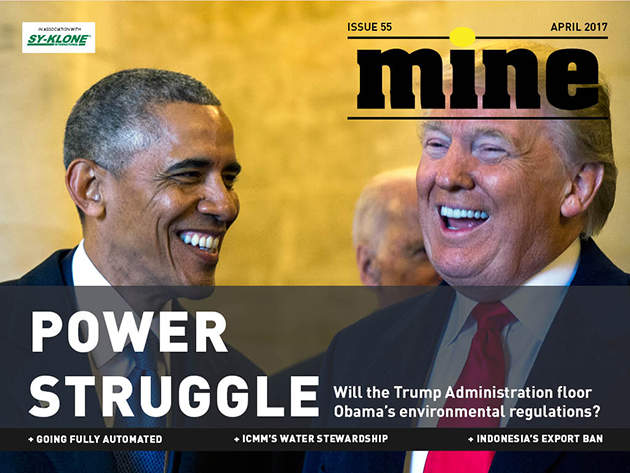 In its last few weeks the Obama administration pushed through a crack-down on the pollution of US streams and waterways by coal mining. The new regulations would hike operational costs, but was passed despite stiff opposition. Then President-elect Trump called the regulation "excessive", but now in office, will he manage to flatten these new rules and resurrect coal?
In other environmental matters, we speak to the International Chamber on Mining and Metals about strengthening water governance regulations, and hear from TOMRA Sorting Mining on how sustainability is shaping the future of excavation activities.
Also, we examine Indonesia's easing of a law to ban ore and concentrate exports, take a look at cobalt's human rights record, and discover how Atlas Copco's new underground LHD vehicle could spell total automation.
Finally, we enter the Canadian Mining Hall of Fame as it prepares to welcome this year's inductees in a celebration of outstanding contributions to mining.
Read MINE magazine free on iPad: download our app to read the latest issue and browse our back issues.
In this issue
Trump's blow to Obama's legacy
When the Obama administration rushed a last-minute crack-down on the pollution of US waters by coal mining, many Republicans, including Trump, were vocal in their opposition. The regulation was passed, but with Trump now in office, will he be able to flatten the new rules and resurrect coal?
Read the article
Arrested development and the Indonesian export ban
Indonesia has eased a controversial mining law that would have banned exports of metal ore and concentrates of other minerals. While designed to encourage in-country investment, the instability sparked fear of an industry crash. Do the new rules go far enough to placating the industry?
Read the article
Cleaning up cobalt
Cobalt is an essential component in electronics such as phone and electric car batteries, but extraction is complicated and supply chains are often controversial with accusations of human rights abuses. So who stands to gain or lose from an expected surge in demand?
Read the article
Sorting automation
Underground mining vehicles have become automated in many ways, but automating the loading process is very difficult. Now, Atlas Copco is launching a new loading system for underground LHDs this year. Could this system bring us closer to total mine automation?
Read the article
Containing water stewardship
The International Chamber on Mining and Metals (ICMM) issued a position statement bringing new commitment to responsible use of water. The binding statement obliges members to commit to strong and transparent water governance. We speak to ICMM to find out more.
Read the article
Rock Stars: Mining's hall of fame
The Canadian Mining Hall of Fame is set to welcome its latest inductees, recognising the careers and leadership demonstrated by those who have made outstanding contributions to the mining sector. We find out why it's so important to honour individuals in this industry.
Read the article
Sustainability shaping the future
Sustainability has always been a key consideration in the mining industry, and here Tord Svensson head of TOMRA Sorting Mining discusses how it will continue to shape excavation activities today and beyond.
Read the article
Next issue
Illegal amber mining is a serious problem, with gangs popping up in Ukraine and Russia to profit from this 'Baltic gold'. Extracting amber is done by pumping water into the ground, forcing the resin to float while decimating the surrounding environment. We take a look at the market for illegal amber.
In other commodities, we look into prospecting for lithium in hot springs at Cornwall, UK, and find out why certain minerals fall out of fashion. While in technology, we see how drones could help address Australia's mass abandoned mine problem, and speak to Perth-based MiPlan about the evolution of mining mobile apps.
And we speak to the organisers of #DisruptMining, a competition being held during the annual conference of the Prospectors and Developers Association of Canada in March, which is encouraging disruptive innovation and investment.
Digital Magazine FAQs
You can read MINE for free on the iPad. Download our app from the App Store to read the latest issue and browse the back issues in our archive.
You can also continue to read the desktop version for free on our web viewer. (Browser compatibility: The web viewer works in the latest two version of Chrome, Firefox and Safari, as well as in Internet Explorer 9 and 10. Some features may not be compatible with older browser versions).