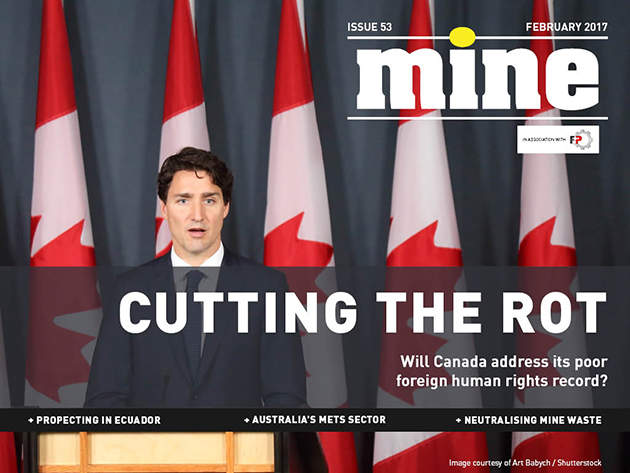 Canada is seriously reviewing whether it needs to appoint a human rights ombudsman following growing allegations of violations in overseas operations. With controversy rife amongst some Canadian mining firms, we assess how an independent international ombudsman could affect the industry and workers.
Also, we speak to Med Air Africa founders to hear how they provide emergency medical assistance to operations in the most hostile regions, see how major companies' interest in Ecuador has highlighted this region as an option for exploration, and look into the finer details of Australia's plan to reinvigorate its METS sector.
Plus we find out what it takes to unearth and identify new minerals and their uses, speak to Terra CO2 Technologies about its pilot plant technology to reduce acid rock drainage and carbon emissions, and catch up with Wealth Minerals on the position of demand for lithium in Chile.
Read MINE magazine free on iPad: download our app to read the latest issue and browse our back issues.
In this issue
On the Brink: Ecuador's Investment Explosion
Ecuadorian officials are reportedly in talks with major mining firms over a potential entry into exploration projects. This seemingly simple action has highlighted Ecuador as an investment opportunity, but will it spark interest from other companies?
Read the article here
An Inspector Calls
Canada is 'seriously reviewing' the idea of appointing a human rights ombudsman to monitor and investigate its mining companies operating abroad. With seemingly endless controversy for some Canadian miners' foreign operations, how could an international ombudsman improve the situation?
Read the article here
Microscopic Curiosities and Finding New Minerals
Scientists are still pouring over the tiny silver-grey philaments of Merelanite – a newly identified mineral from the Merelani Mining District in Tanzania. This begs the question, what other minerals remain undiscovered, what are their uses and how do we find them? We find out.
Read the article here
Waste Not, Want Not
Terra CO2 Technologies has created a solution to reduce or eliminate the effects of mine acid rock drainage using captured carbon dioxide. With a pilot plant scheduled for July this year, we profile this promising environmental technology.
Read the article here
Igniting Australia's METS Sector
Australia's industry and government are working to strengthen the global competitiveness of Australia's mining equipment, technology and servicies (METS) industry across five programme areas. We examine METS Ignited's ten-year Sector Competitiveness Plan.
Read the article here
Flying in Medical Support
Set up to provide essential medical support for remote locations across Africa, Med Air Africa provides doctors and emergency assistance to mining operations in hostile regions. We spoke to the founders to find out just what it takes.
Read the article here
A Wealth of Opportunity for Lithium
Wealth Minerals is embarking on a new lithium project in the Atacama Salar of Chile. Lithium demand is growing and Atacama seems promising. Wealth Minerals CEO Henk Van Alphen talks lithium.
Read the article here
In the next issue
NASA is working on automated mining technologies that could help a potential Mars colony sustain itself using local resources and has built a robotic digger prototype, while SpaceX founder Elon Musk has discussed the need for tunnelling robots to uncover pressurised industrial spaces. We examine the tech behind the dawn of the space age.
Also, as microbes can play a vital role in mining operations but also cause havoc, such as acid rock drainage, we ask which are the ones to look out for.
Plus, with diamond miners pushing back against synthetic diamond technology we see if progress be halted, we profile the top ten risks facing the industry according to Ernst & Young, find out how Pakistan plans to restart its mineral after repealing an eight-year ban on legal miners, and take a look at the new technologies helping achieve safe and successful site shutdowns.
Digital Magazine FAQs
You can read MINE for free on the iPad. Download our app from the App Store to read the latest issue and browse the back issues in our archive.
You can also continue to read the desktop version for free on our web viewer. (Browser compatibility: The web viewer works in the latest two version of Chrome, Firefox and Safari, as well as in Internet Explorer 9 and 10. Some features may not be compatible with older browser versions).